GOLDENTALES.CA
HUMAN ADVENTURES
Link back to home page of Goldentales.ca, the home of Abby & Keeper
Trips with Carol and Rick
Running Melissa's Half Marathon, Banff, 2017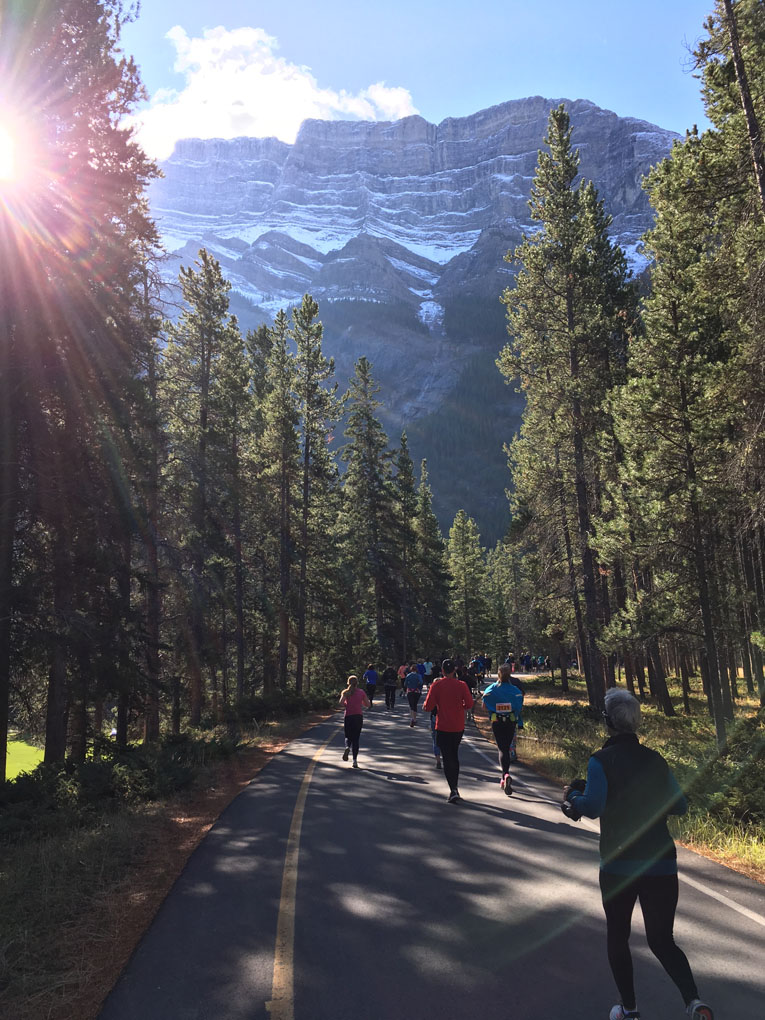 Catching a Skunk in October, 2017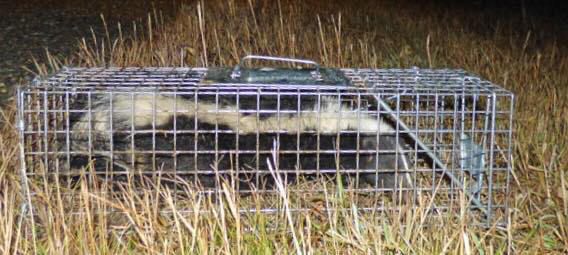 Total Solar Eclipse, Porphyry Peak, Idaho, August 2017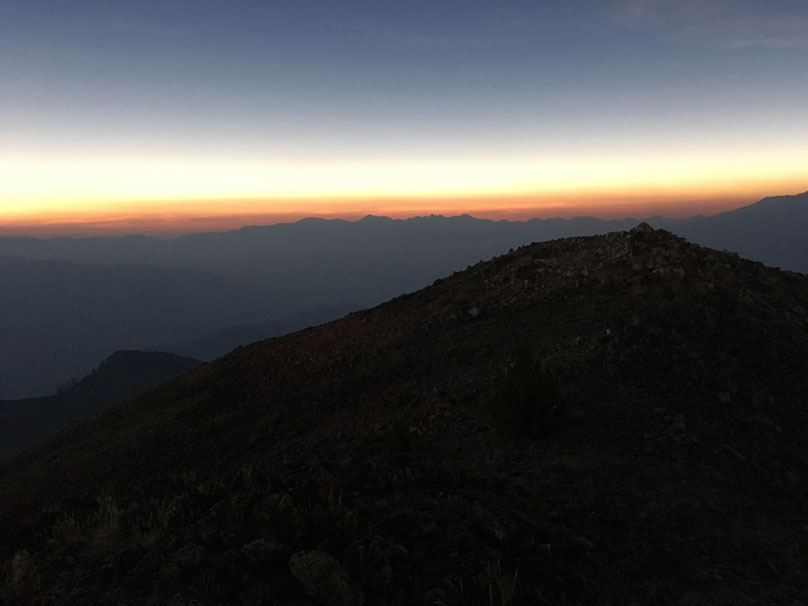 Total Solar Eclipse, about 11:33 a.m., August 21, 2017, from the top of 10,012 foot Porphyry Peak, central Idaho.

It was a ring of fire at all directions of the compass, sunrise/sunset colours through 360 degrees. That was the most surprising thing to see. And above, the moon blotting out all but the sun's blazing corona, safe to look at with the naked eye.

The temperature had dropped about 15C to 20 Celcius and it was freezing at this moment.

The eclipse saw darkness arriving gradually and then suddenly as the hour lead-in came to a climax with about 2 minutes of totality, roughly 7 miles from the eclipse centre line.

I had climbed up the mountain the day before and camped on a ridge just below the summit. At midnight, there wasn't a single light to be seen in any direction below me in this isolated place. The Milky Way was awesome.

I was alone.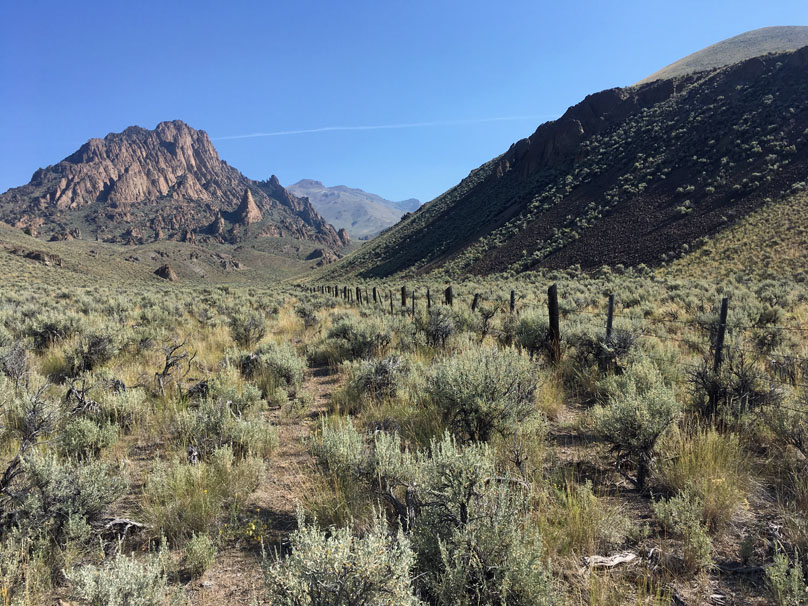 After a sketchy start wading through waist-deep, flowing water to cross the East Fork Big Lost River, setting out first past Castle Rock in the foreground and then onward to Porphyry Peak, out of sight to the right.

There's not really a trail here and the river is crossable only a few months of the year. I saw many old cow patties here, an occasional horse footprint and very rarely, the outline of a human shoe to let me know that others do indeed come here occasionally. But I was quite alone here these days.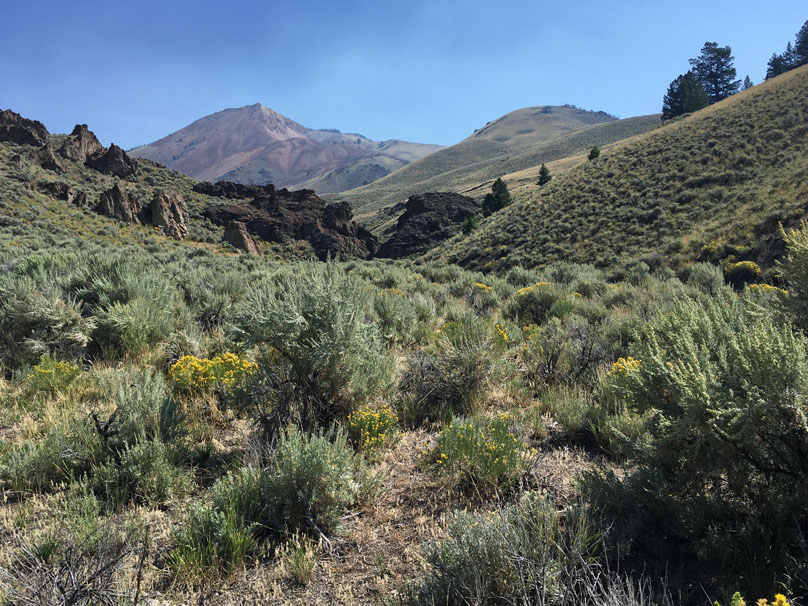 First glimpse of Porphyry Peak. I had programmed some waypoints into my Garmin Inreach that basically said walk through that narrow canyon in the foreground to 8,000 feet, then turn right, climb the ridge and then follow the ridge in a roundabout way to the top of the mountain.

Distance about 7 KM from the river and about 2,850 feet of altitude gain. I took my time and used my Garmin 235 watch heart rate monitor to keep from pressing the altitude disadvantage too hard. I'd stop for a second if my heartrate was topping 130, which is a low, not too strenuous, running rate for me.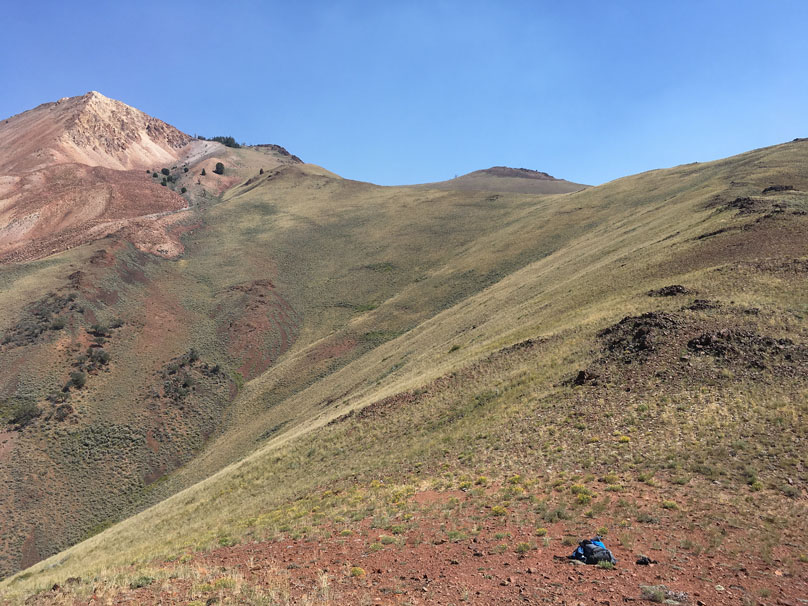 Aiming for that tiny copse of trees just to the right of the summit. I'd camp on the ridge, about 300 feet below the summit.





Nice walking but steeper than it looks.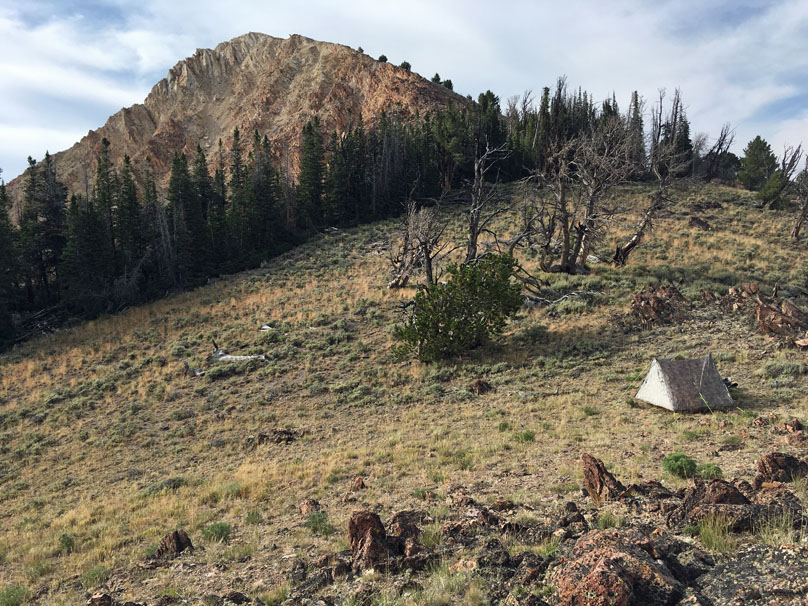 Camping just below the summit.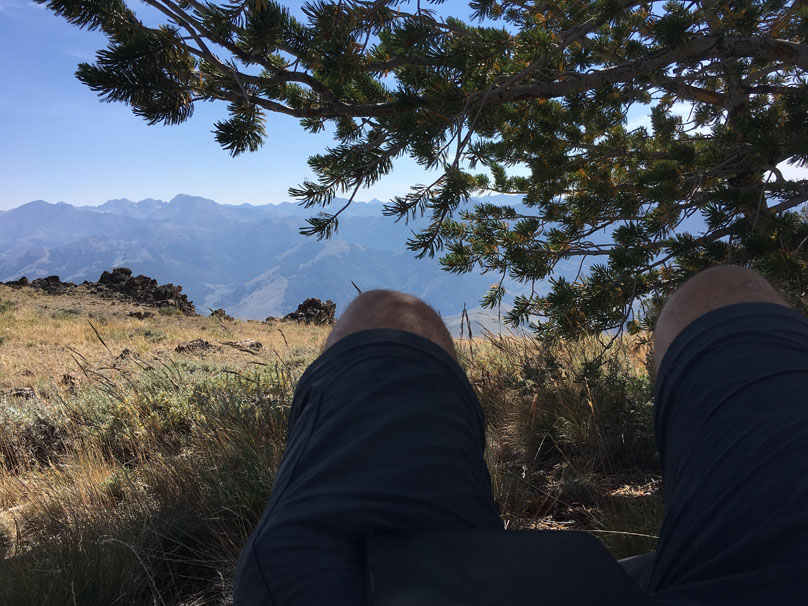 Taking a break to let the heat of the day fade away




The view over the ridge. In the valley I had come from, I couldn't even pick up a single a.m. radio station but within moments of topping the ridge, a decent cell phone signal came on. Mackay, Idaho would be about 7 miles over that direction. The peaks on the other side are about 10 miles away and close to the centre line of the eclipse. They're about 12,000 to 13,000 feet.





Sunset that night, looking back towards where I came from on the right.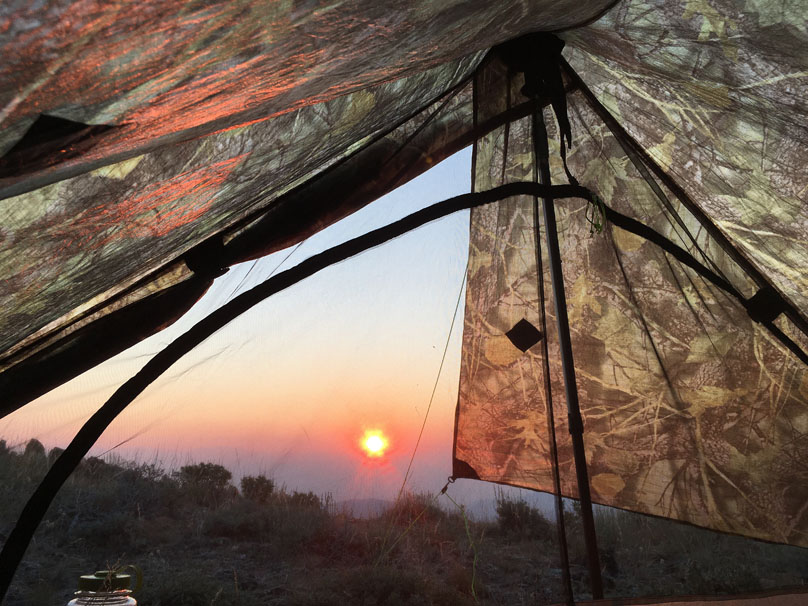 Sunrise on eclipse morning. Unfortunately, forest fire smoke had blown in through the night, obscuring the valley's somewhat.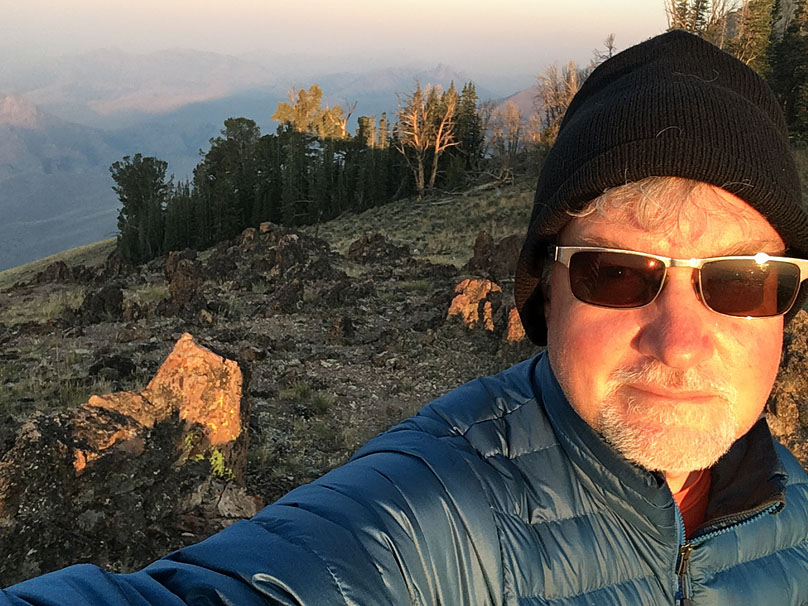 One of the benefits of being alone is being able to walk around in your thermal long johns without a bunch of judgy people judging you!!!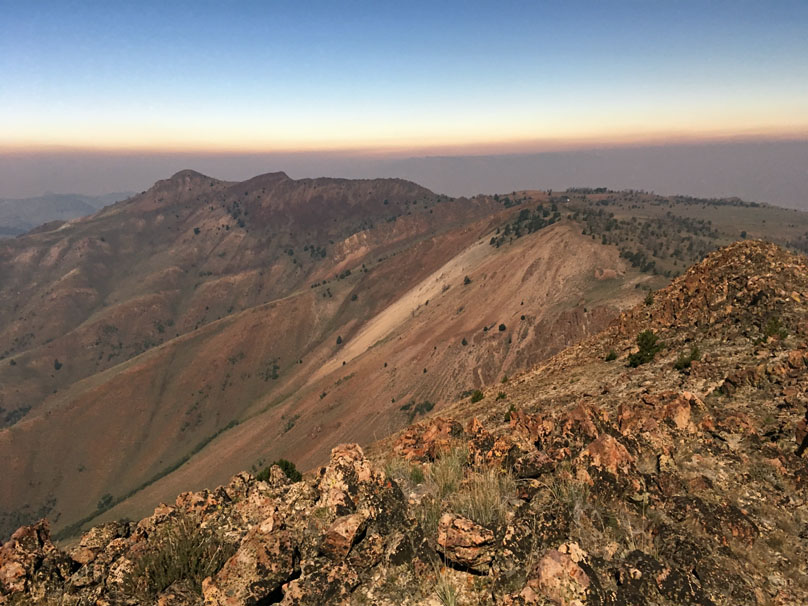 I packed up and climbed up to the summit with about 45 minutes to spare, then settled in. I had some fanciful hope of seeing the eclipse shadow crossing the landscape at 2,000 mph but alas, not to be. You might have to be in outer space to see that.

The skies and landscape darkened gradually and my eclipse glasses allowed me to watch the moon crossing the sun.

The temperature started to cool almost immediately though and I soon had my coat on.

As ten minutes before totality arrived the pace started to quicken, darkness and cooling and then you could see sunset/sunrise starting to surround you in all directions.

With only a few minutes to go, totality started to arrive very quickly and then suddenly, it was here.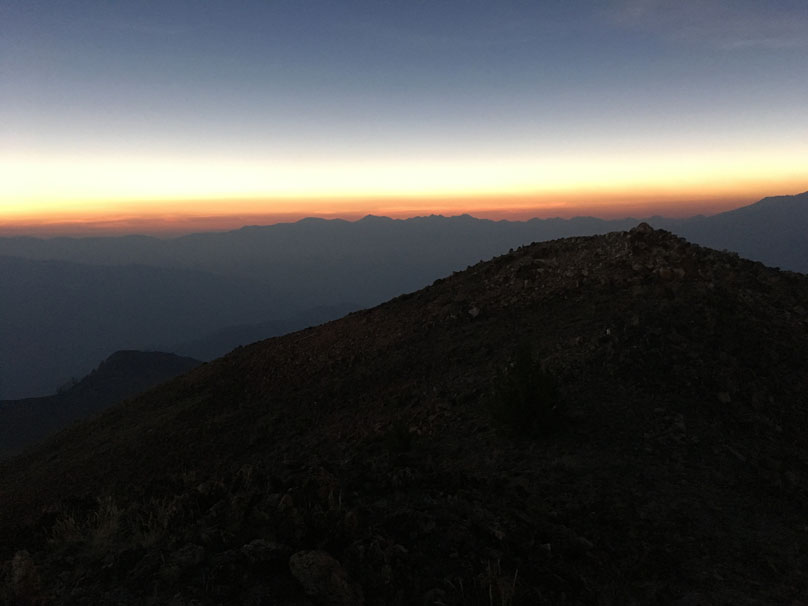 Totality. Sunset/sunrise, a ring of fire, in all directions. I didn't spend a lot of time taking pictures during the two mintues of totality, just enjoying the moment, turning around and looking skyward, somewhat in awe of the whole thing.

Then light started to return, first suddenly brightening in only a few minutes, and then, just as the eclipse had come, it left gradually.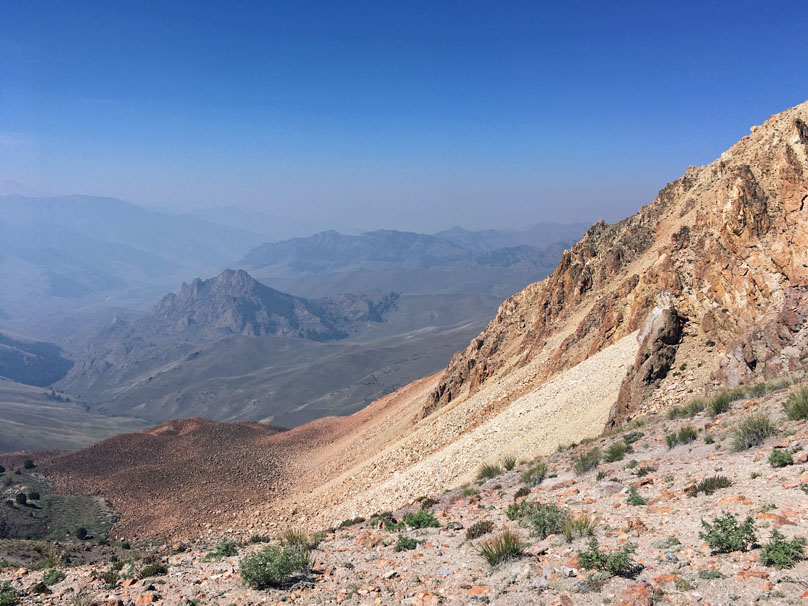 Starting my journey downward, a more direct, steep, grinding, physical route, aiming for Castle Rock and flatter ground in the distance.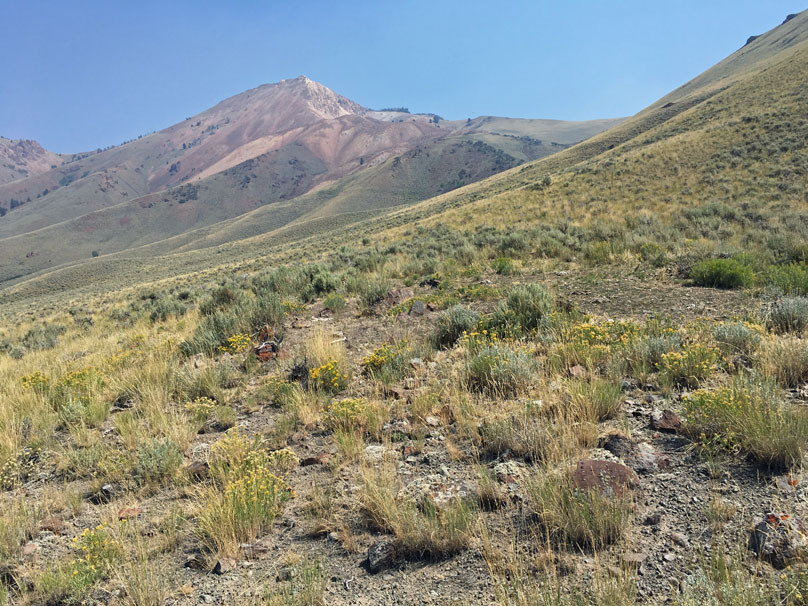 About an hour into my descent, a look back at Porphyry where I'd been standing on the top, the eclipse now a memory and the temperature climbing.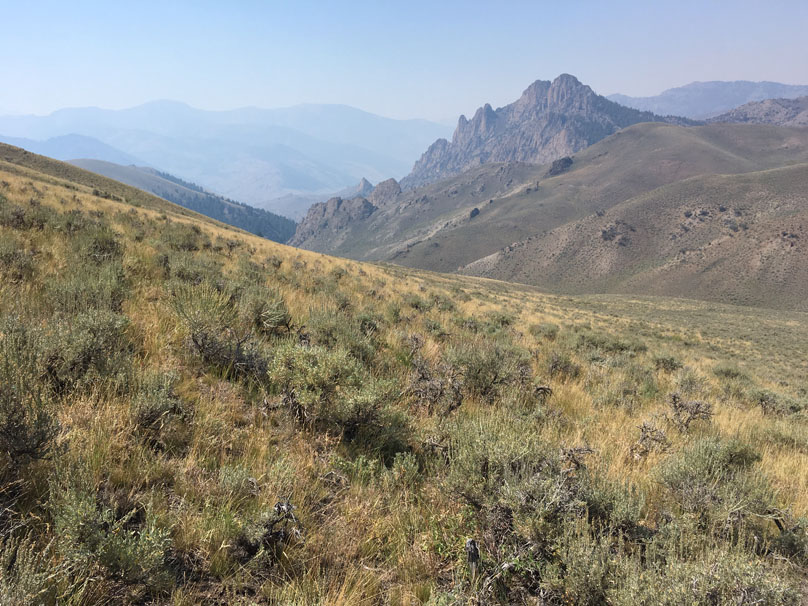 Heading to the creek below Castle Rock, then following the creek out to the valley below. I had been worried about rattlesnakes on this trip but saw nothing. The scrub brush in the foreground, stiff, small, trees, was a constant obstacle on this pathless route.


Last look at Porphyry before I turn a corner. Not sure I'll ever get back to such an obscure place but definitely a fun, beautiful, hike.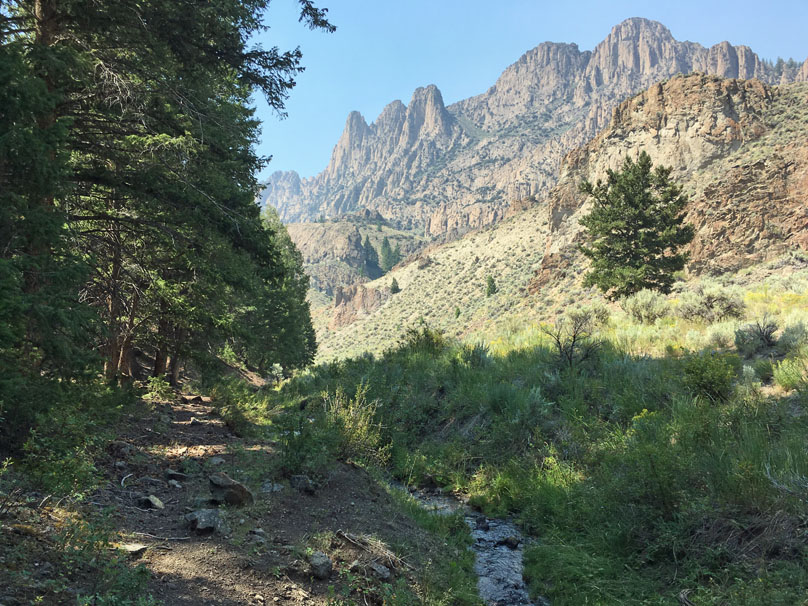 A nice shady spot beside Castle Rock.

I still had another few KM's to go to the valley floor and then had to wade the river again, this time scouting out what I hoped would be a safer spot for crossing. But got wet up to my waist again anyway.

From there I walked a dusty gravel road, found the jeep, loaded up and was outta there, like everyone else, finding travel light as I jumped on the Nez Perce Scenic Byway on my way to Salmon, Idaho.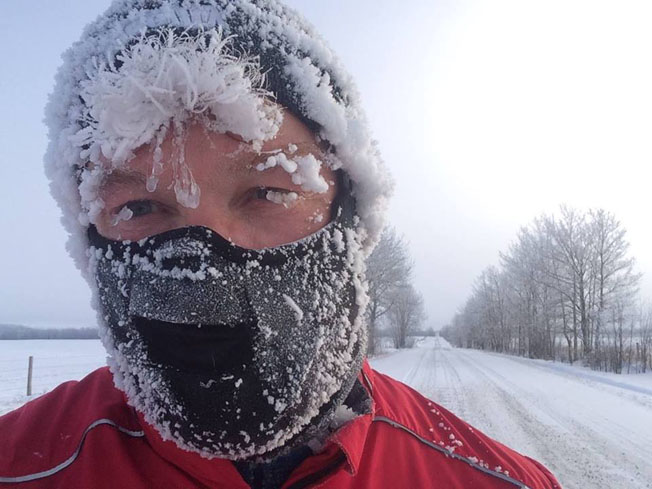 California, April/May, 2014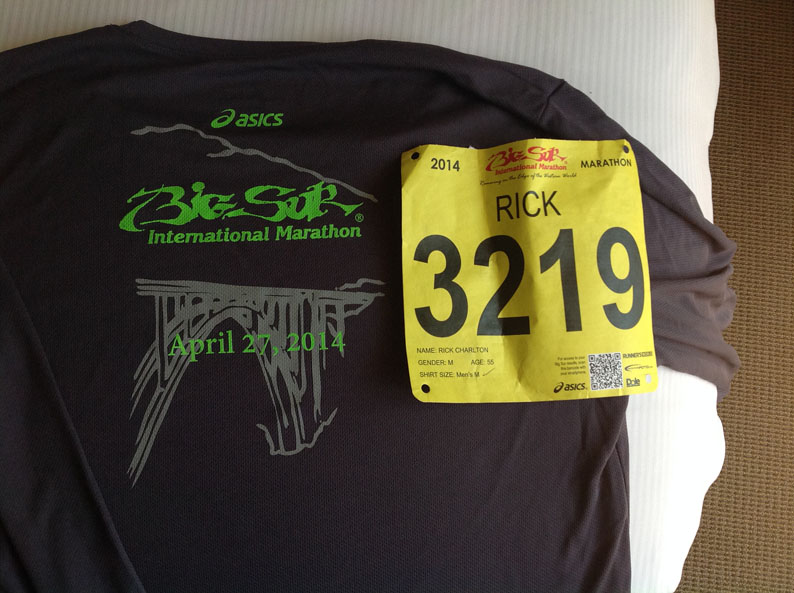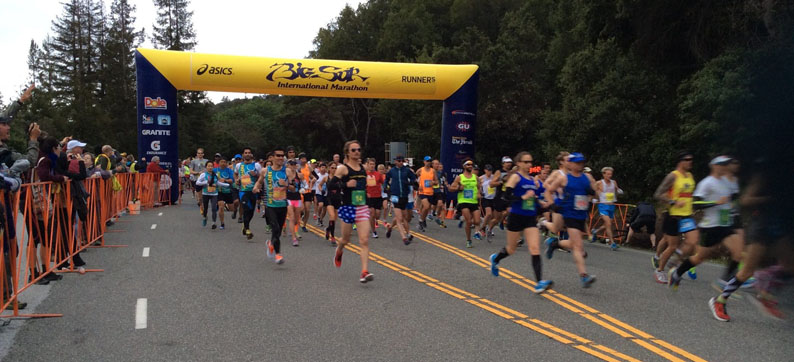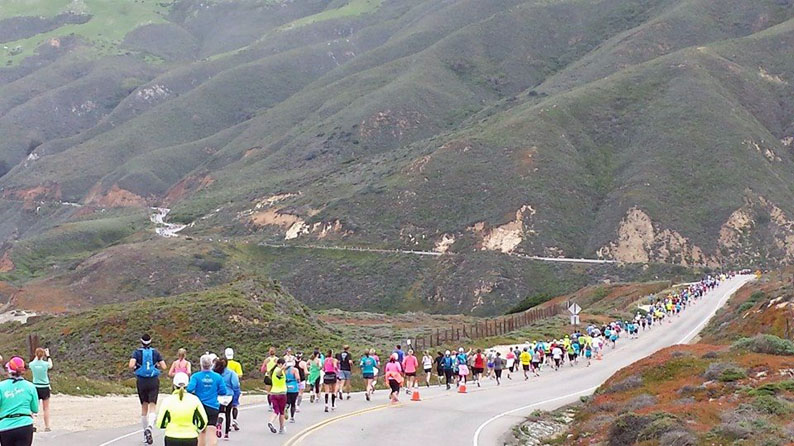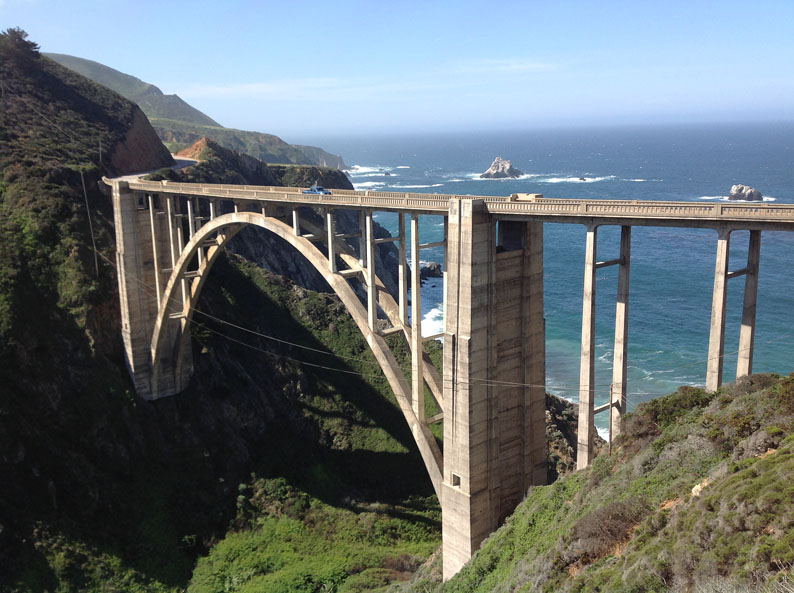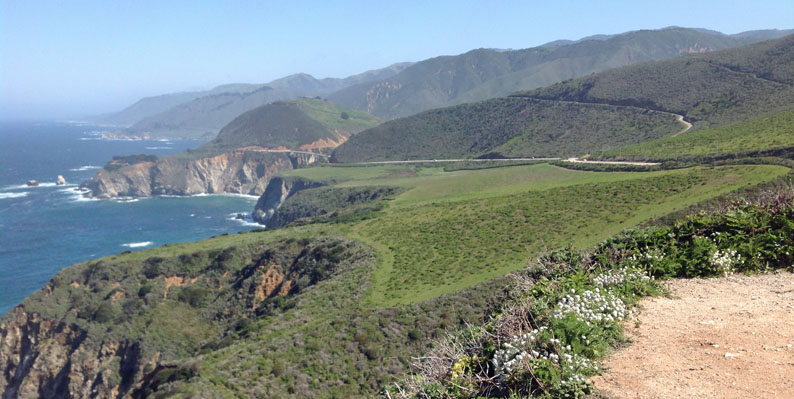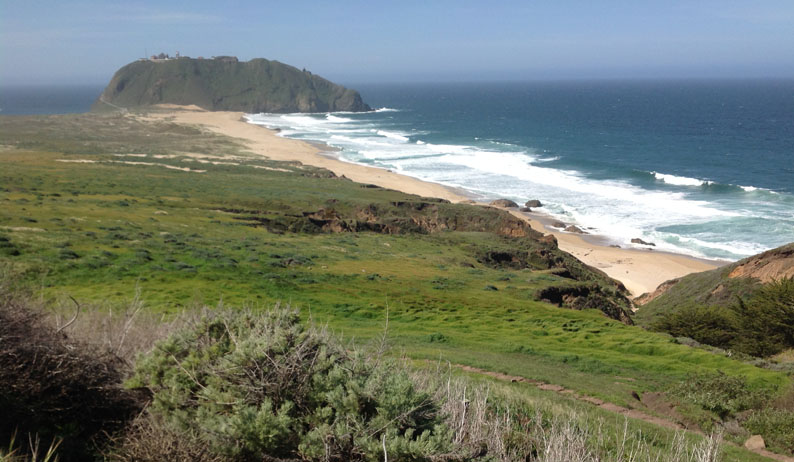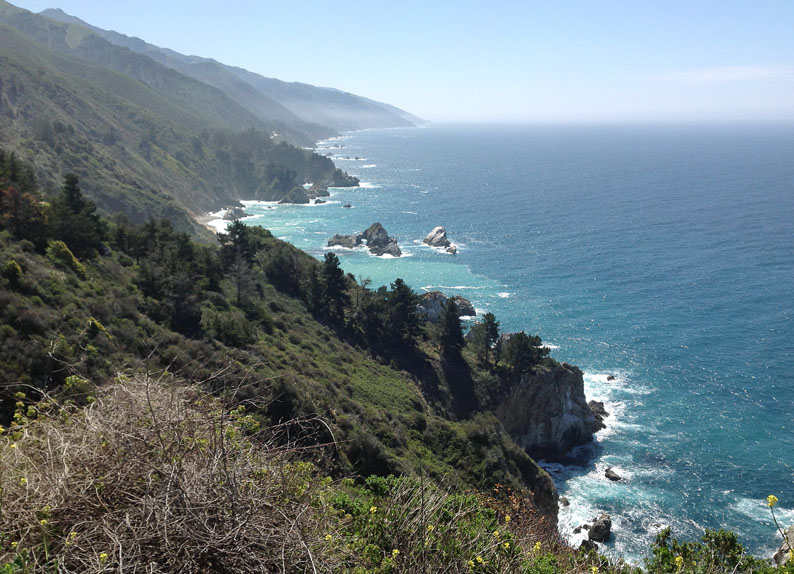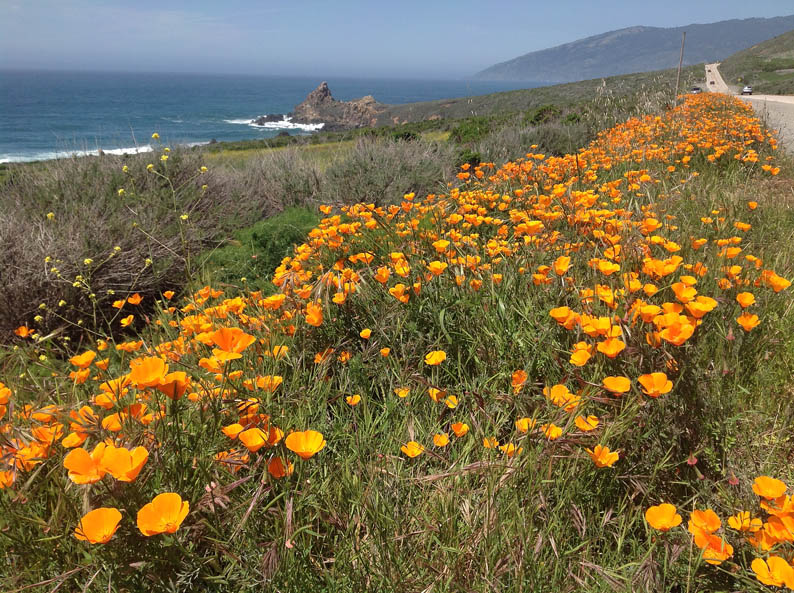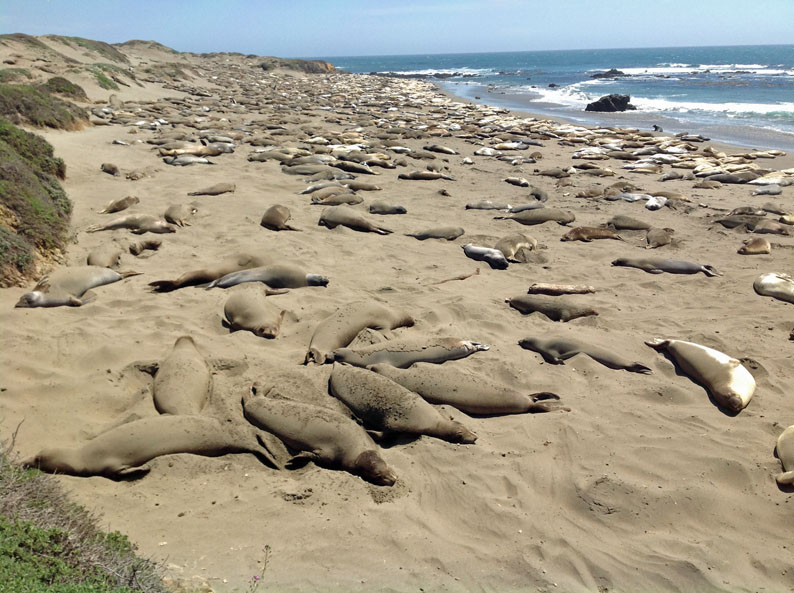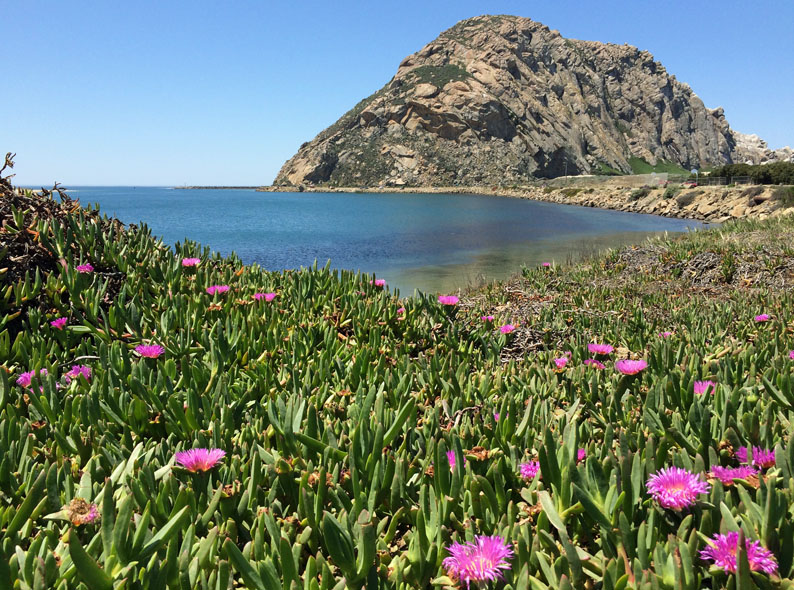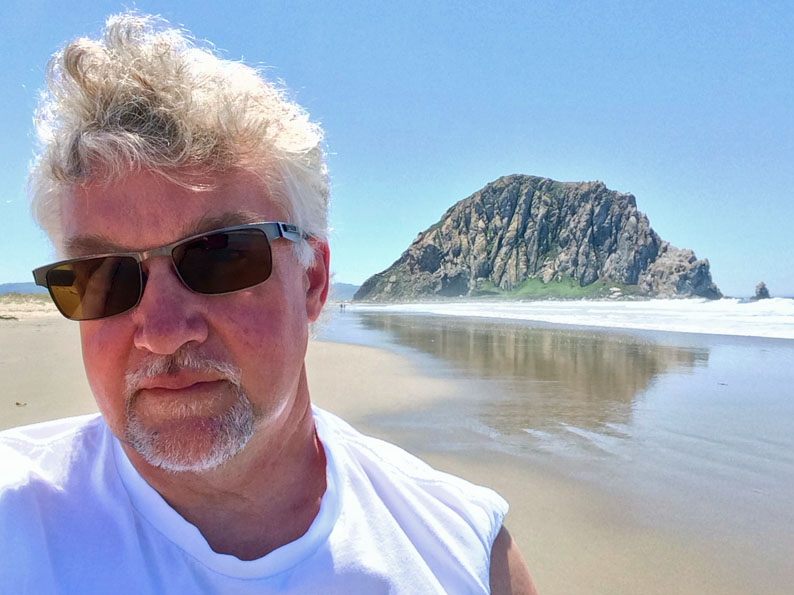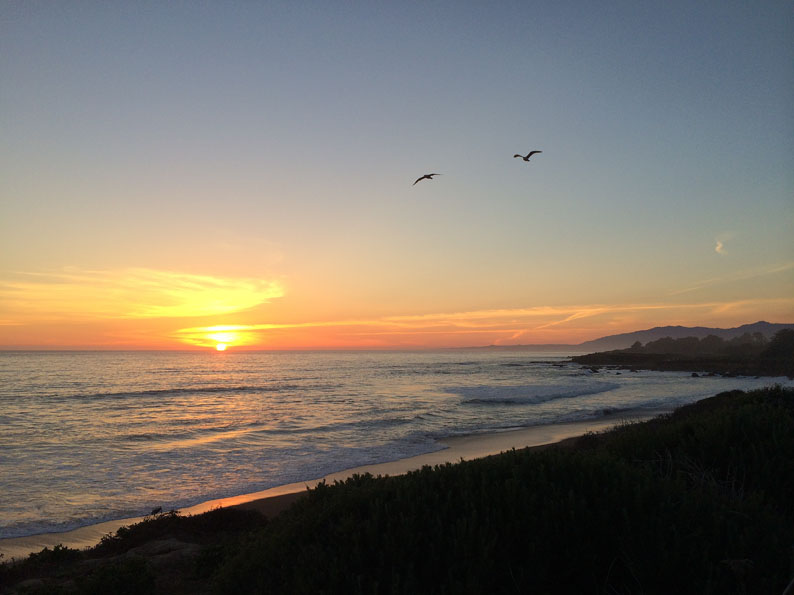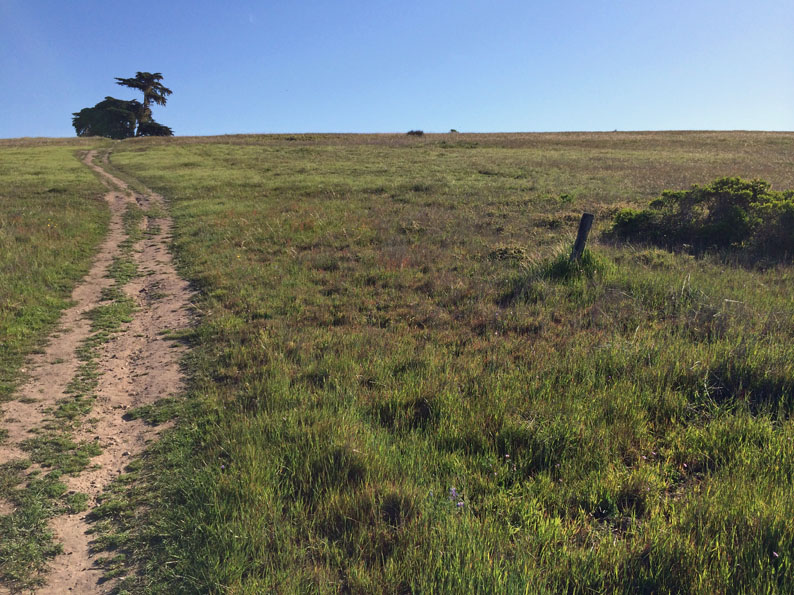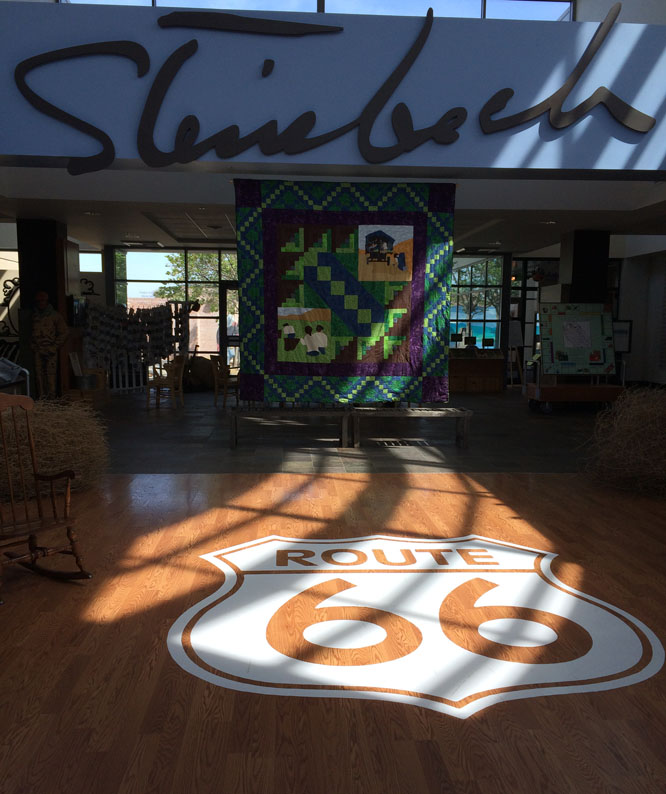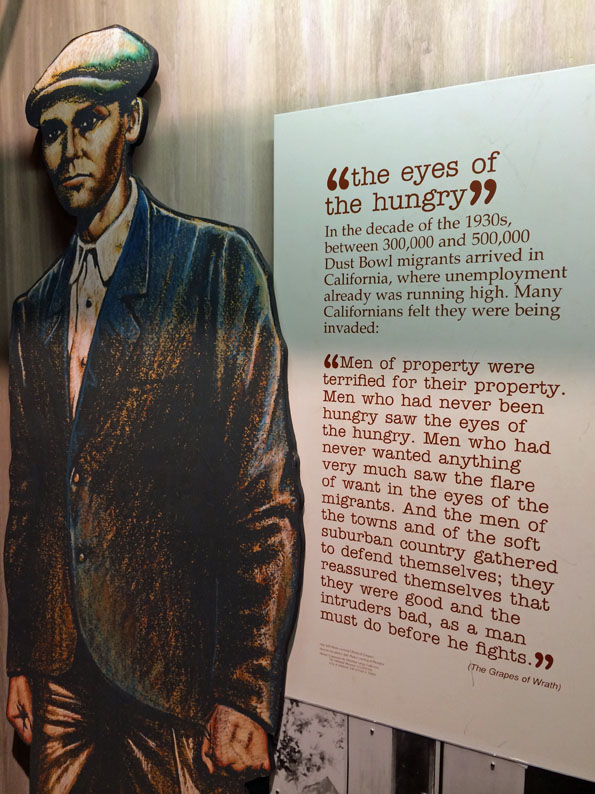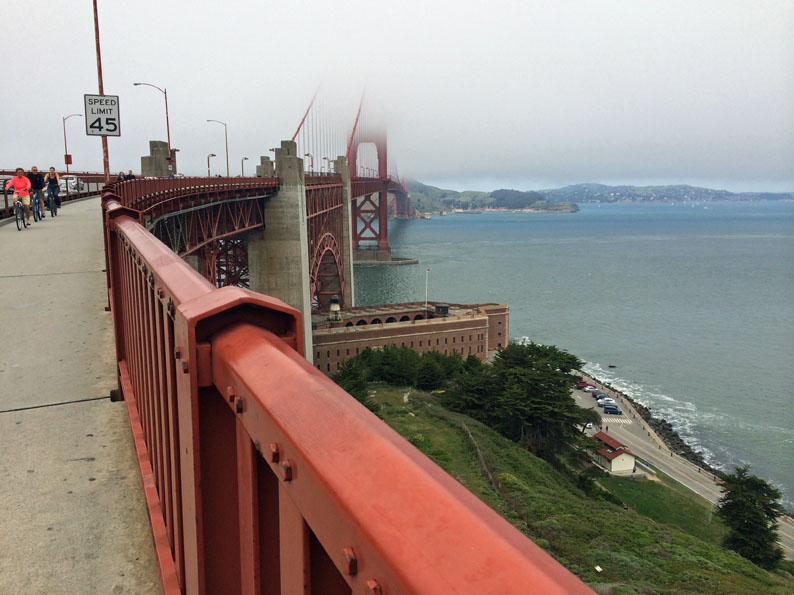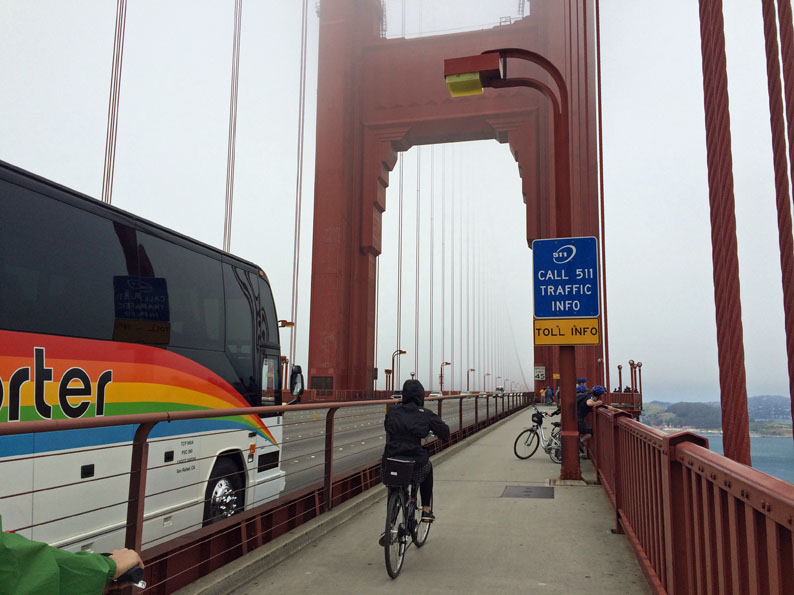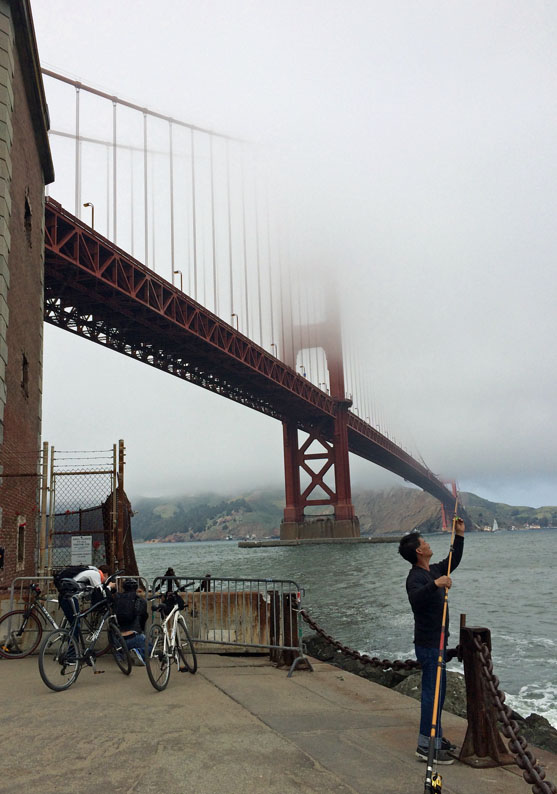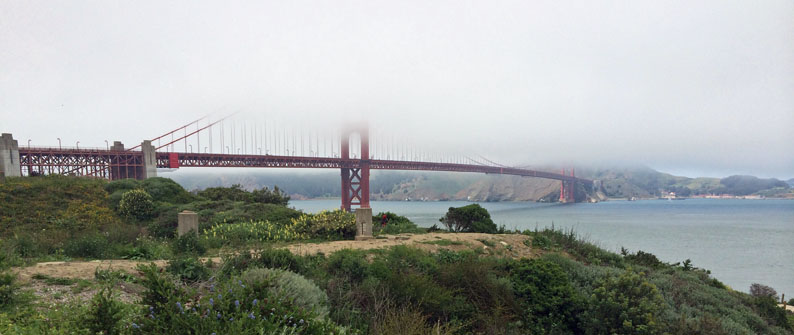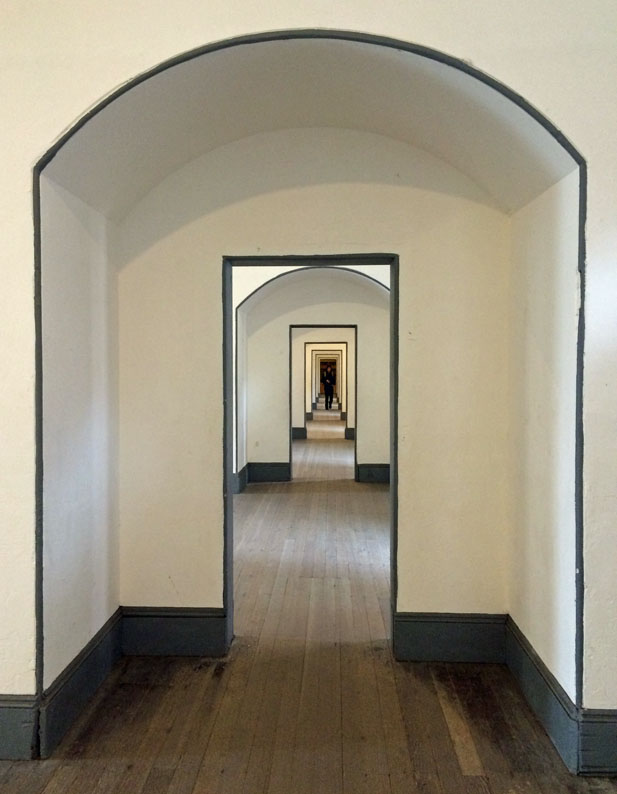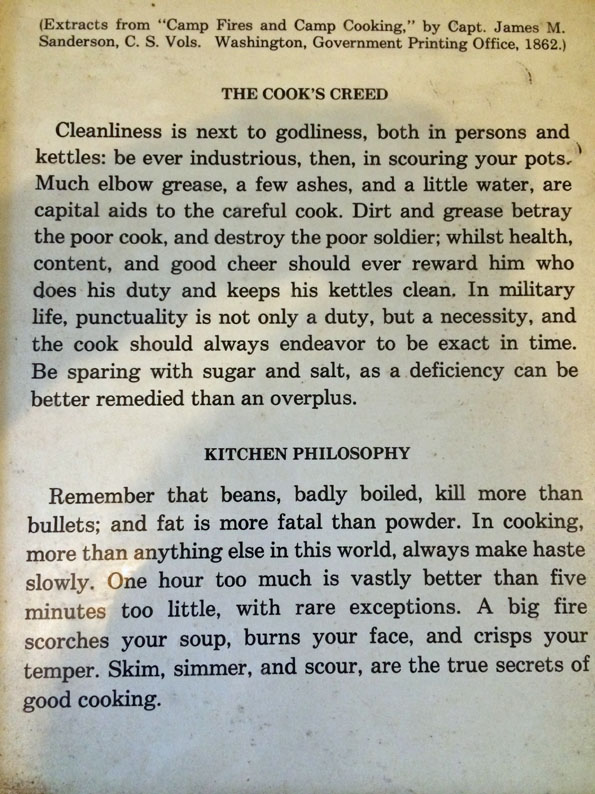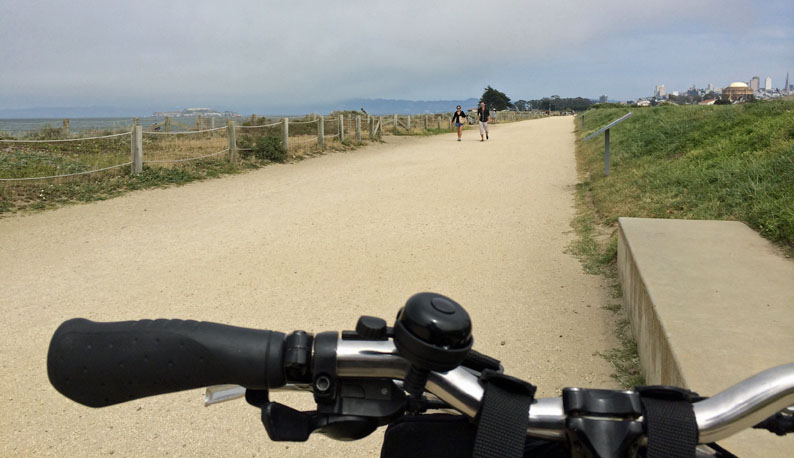 Arizona, Nov/Dec, 2012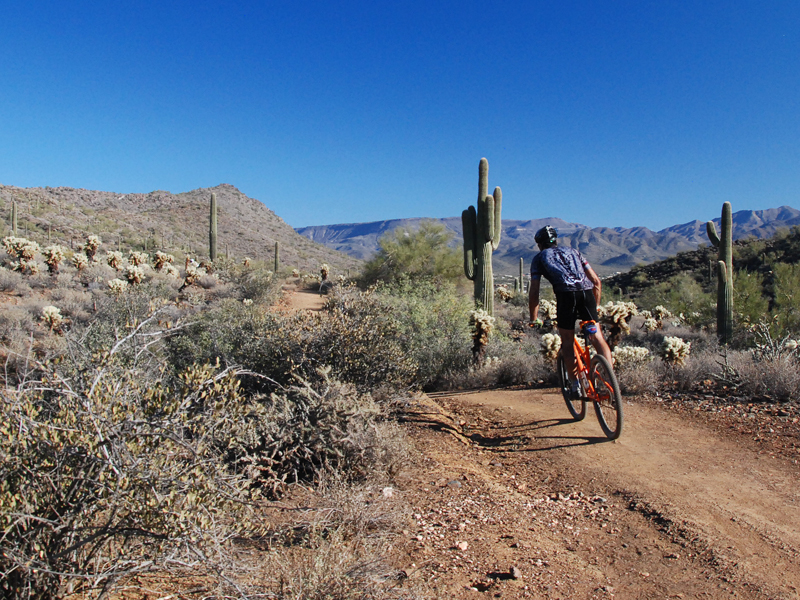 Walking/Cycling the Cave Creek Area in north Phoenix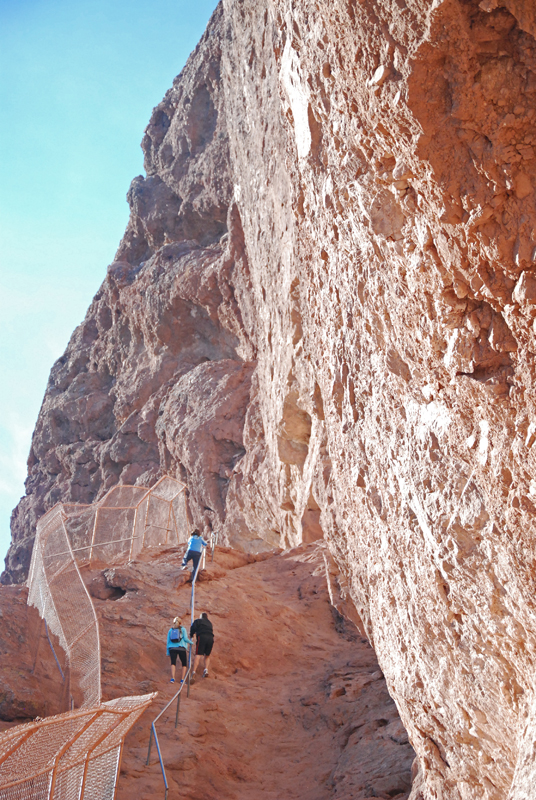 Climbing Mt. Camelback in Scottsdale . . . . a steep incline needs some assistance from a railing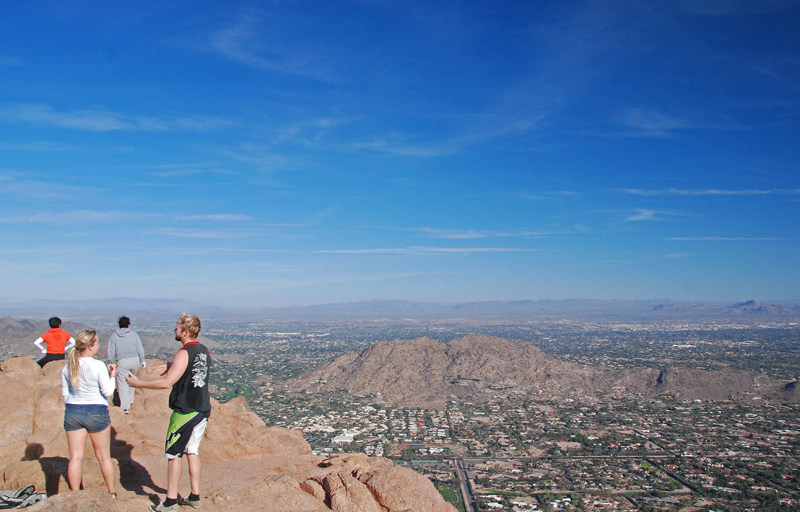 On top of Camelback with a view of Scottsdale . . .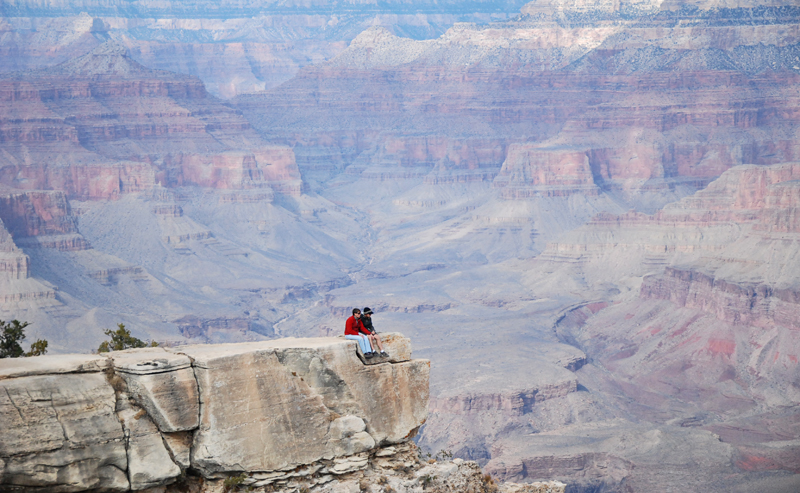 The Grand Canyon . . . . . and a few thousand feet of nothing below their feet
Too big in its depth and perception to explain in a photo . . .
Widening out to reveal the Colorado River in the distance . . .
Early morning walk along a creekbed in Sedona . . .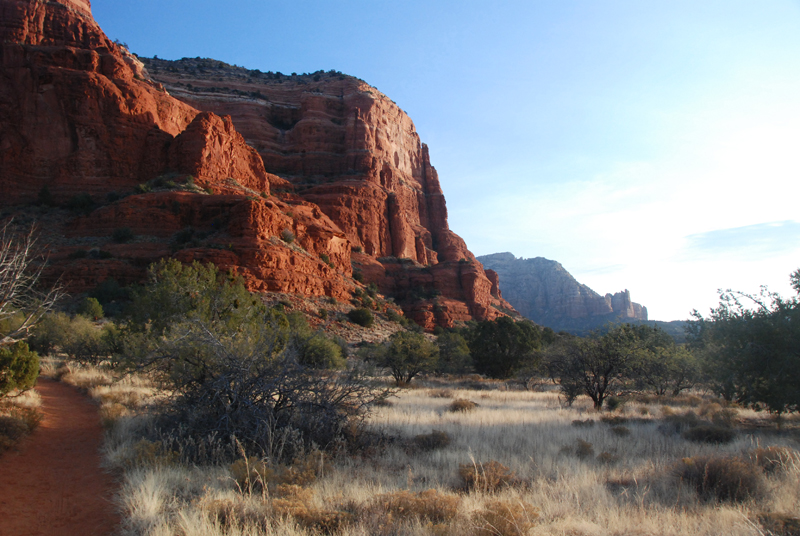 Another day, another early morning walk at sunrise in Sedona . . .
Another walk at sunrise in Sedona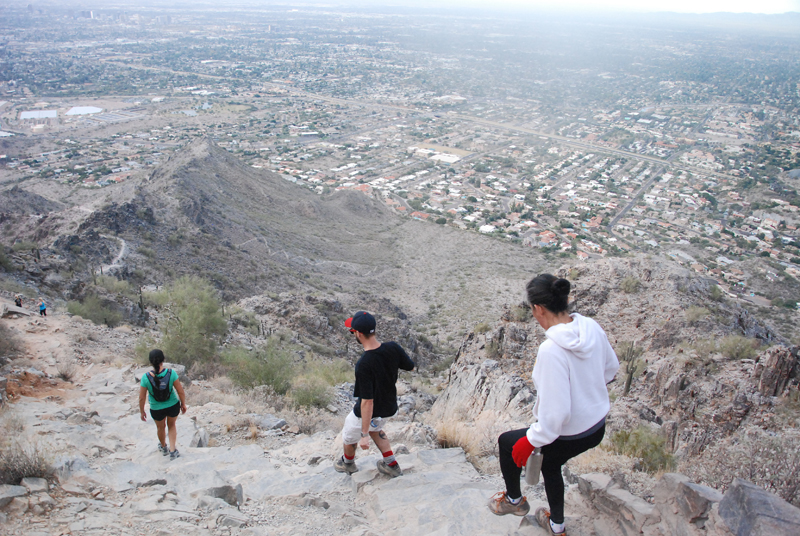 Descending Mt. Piestawa in the Phoenix Mountains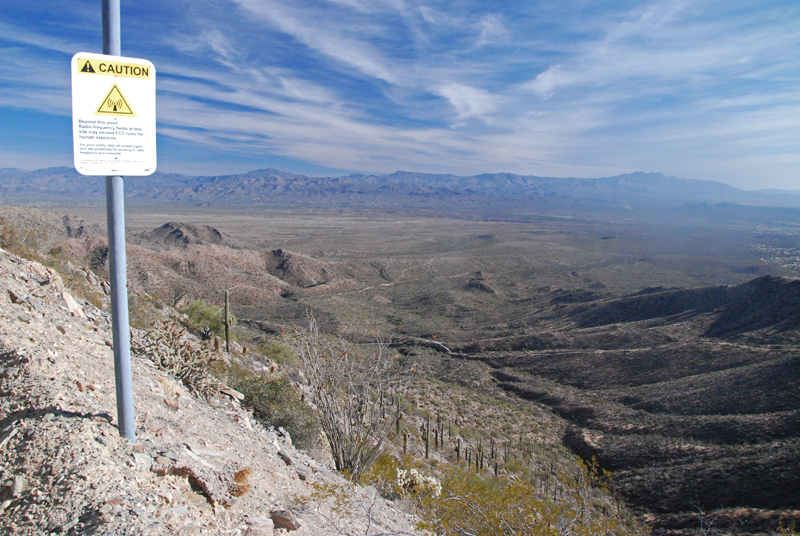 In the McDowell Mountains, an hour walk across the desert and then a 40 minute climb up to this spot where this sign warns against going the extra ten minutes to get to the summit. A radio tower and building there overlooking Scottsdale and Fountain Hills apparently emits more than a healthy dose of radio waves, implying you'll fry your brains. So, a 40 minute walk back downhill and then an hour walk across the desert again. Beautiful walking in the desert on the trails you see in the distance.
The Big Island, Hawaii, March, 2011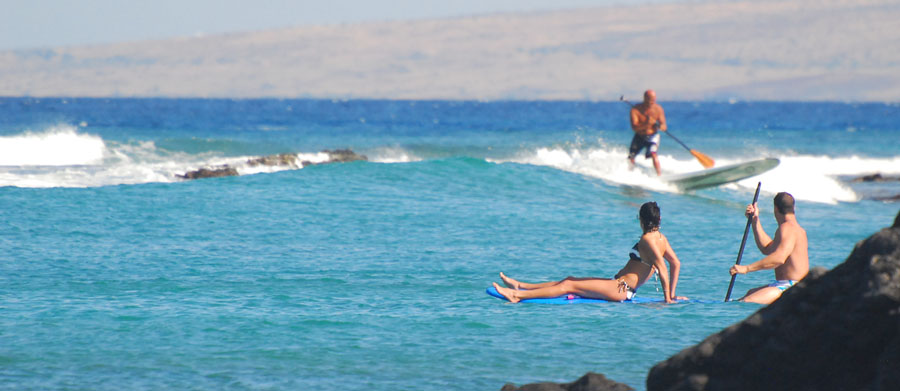 You know you're in Hawaii when . . . . .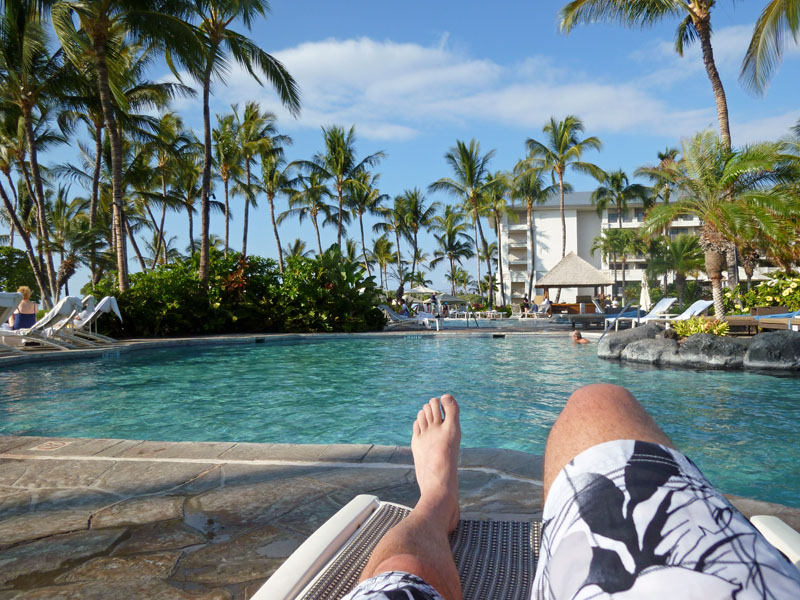 . . . . . poolside and . . . . . .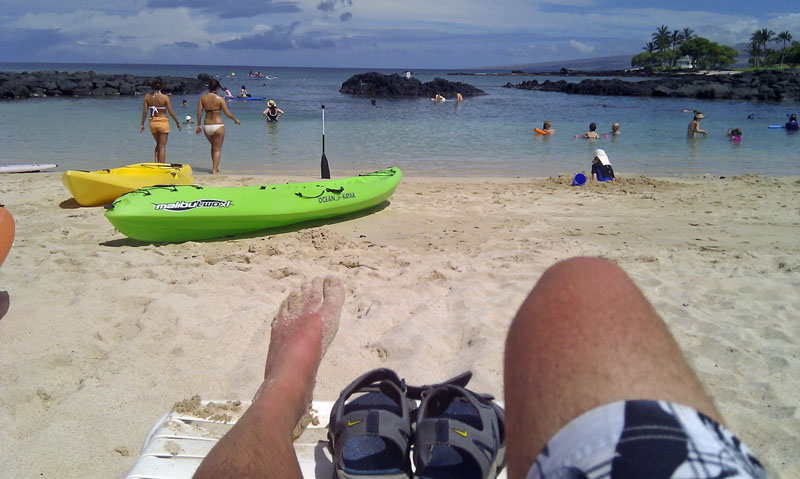 . . . . . beachside are equally heavenly . . . .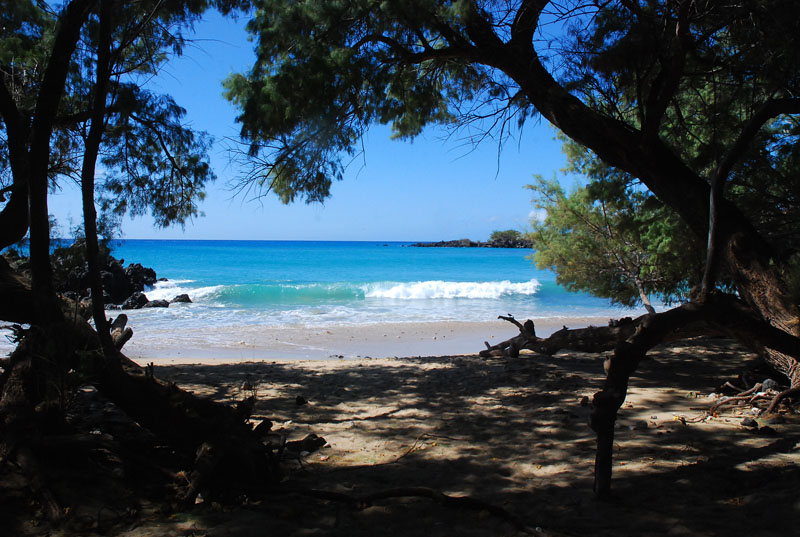 . . . . . as are obscure, hidden beaches.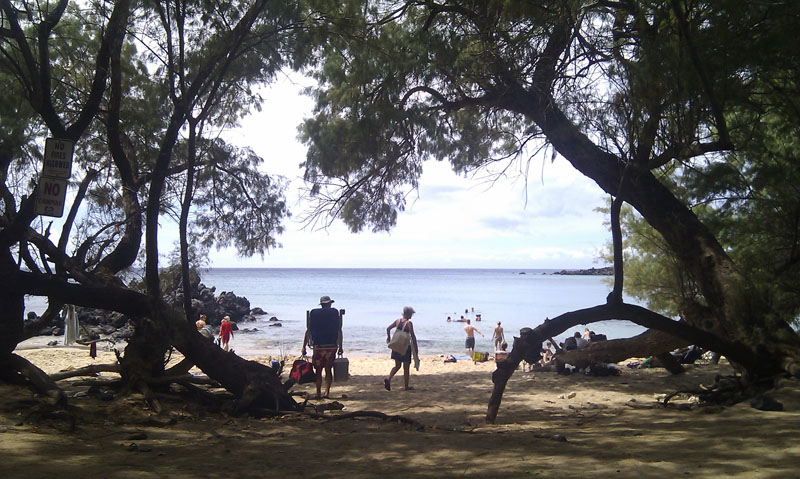 . . . . and some found by others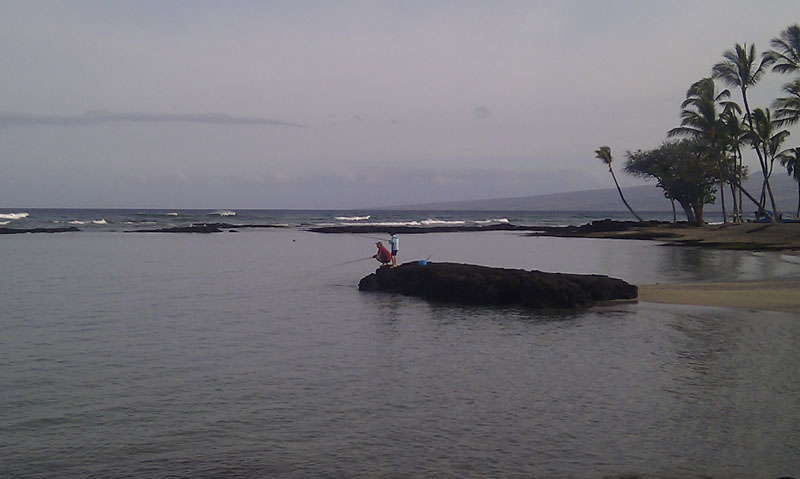 A family moment . . . .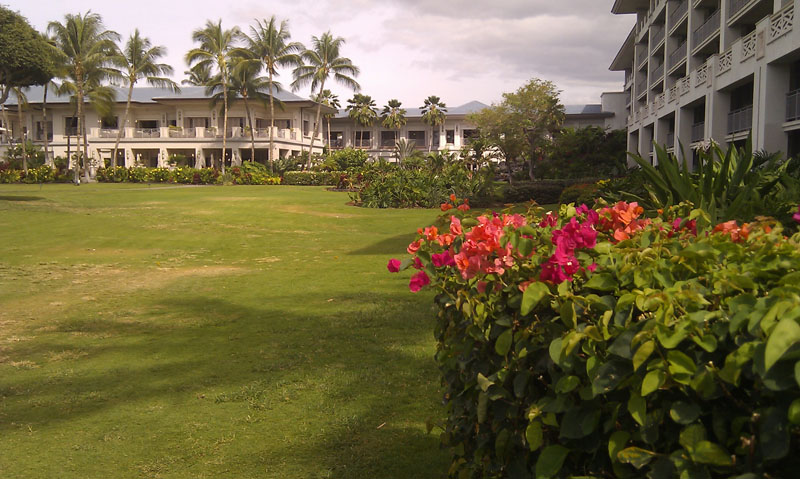 Lovely grounds . . . .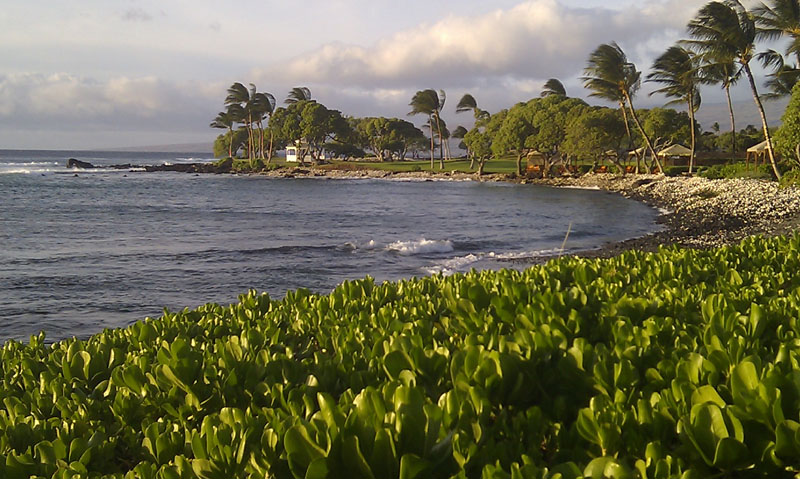 . . . . by the beach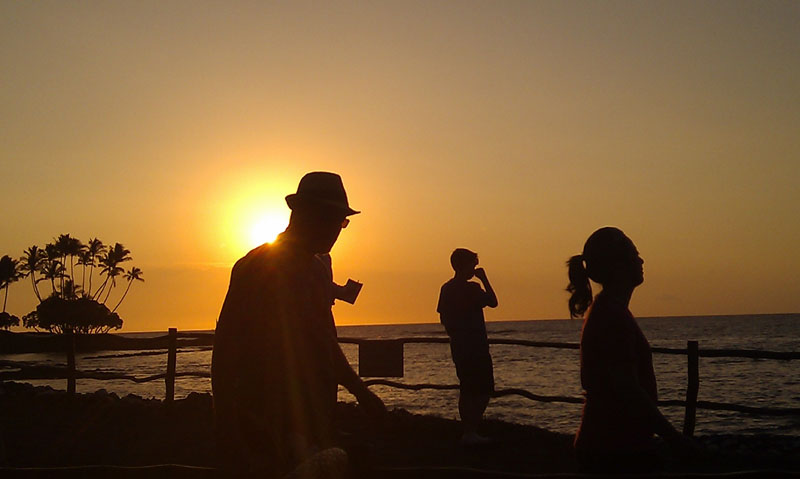 Sunset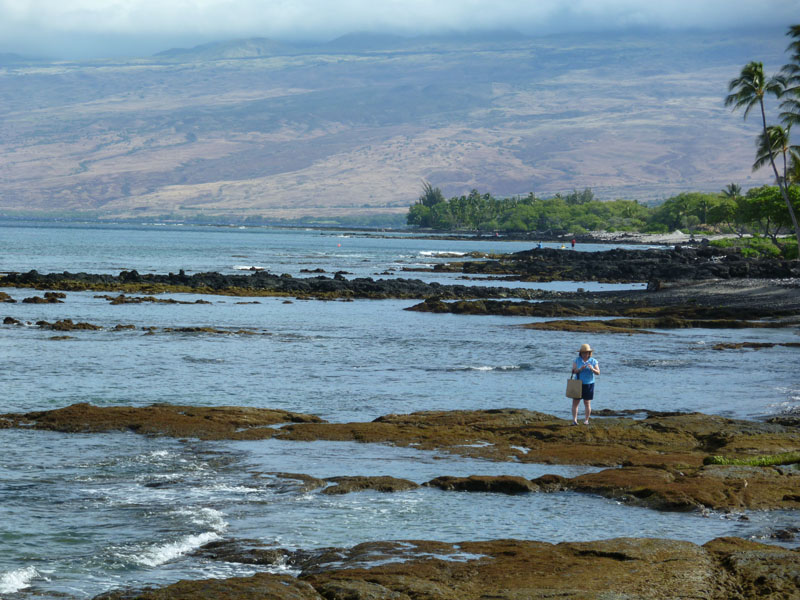 . . . . . a lonely beachcomber . . . .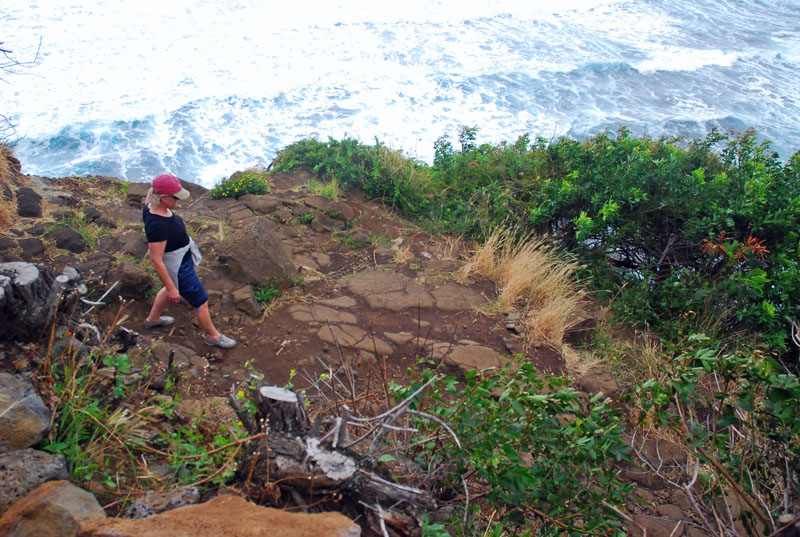 . . . . . Carol descending to . . . .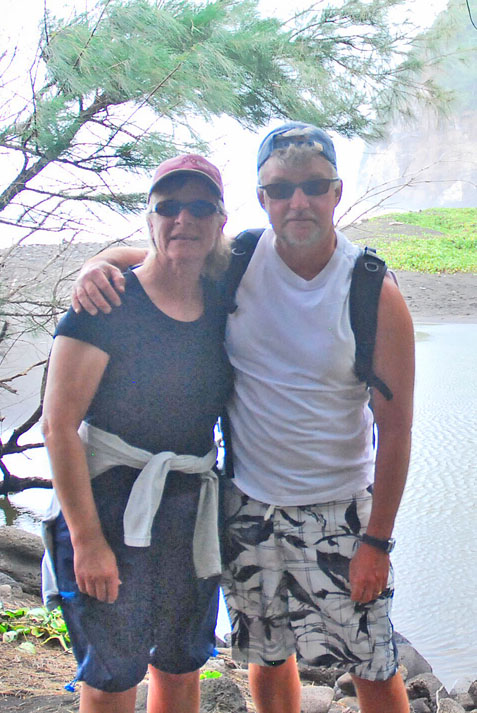 . . . . . this place . . . . . Carol and Rick . . . . at the bottom of the hill . . . .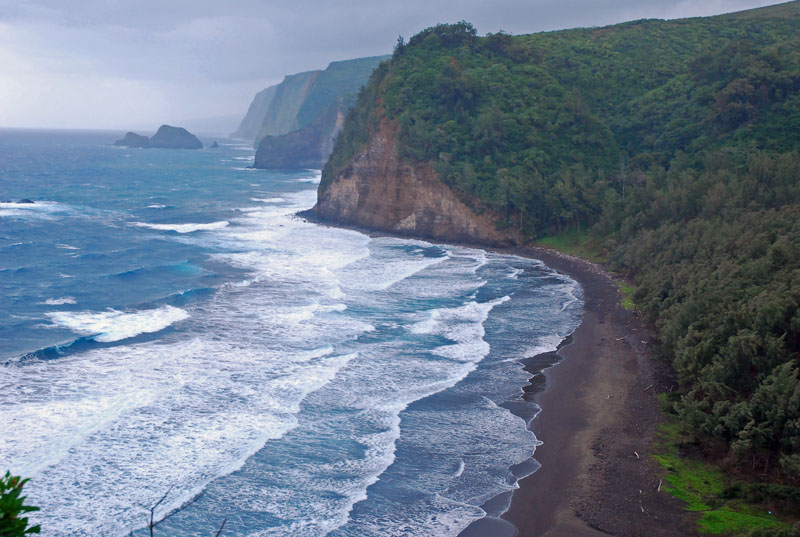 . . . . and what a hill and beach it was . . .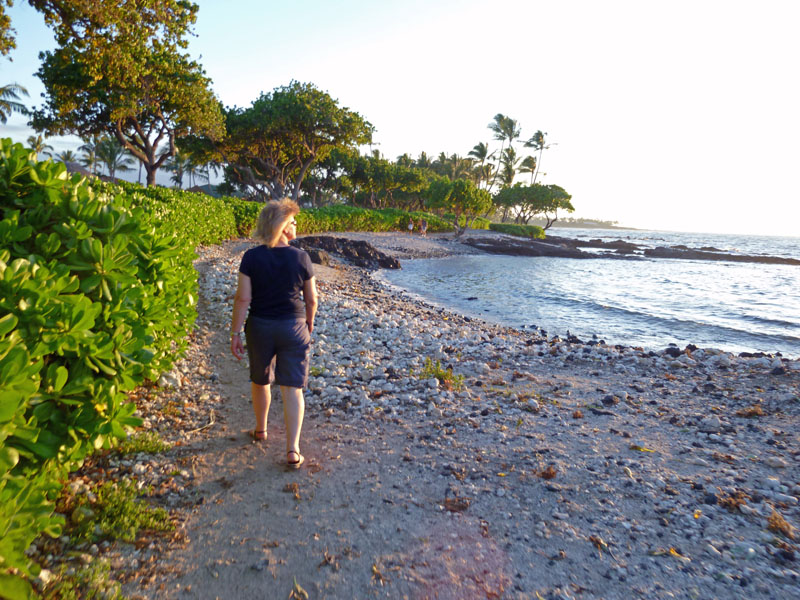 . . . . . and evening walk . . . .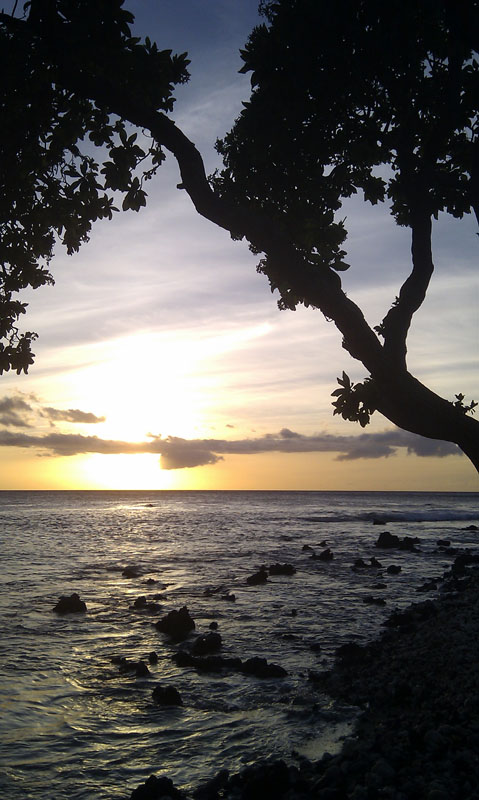 . . . . another Hawaiian sunset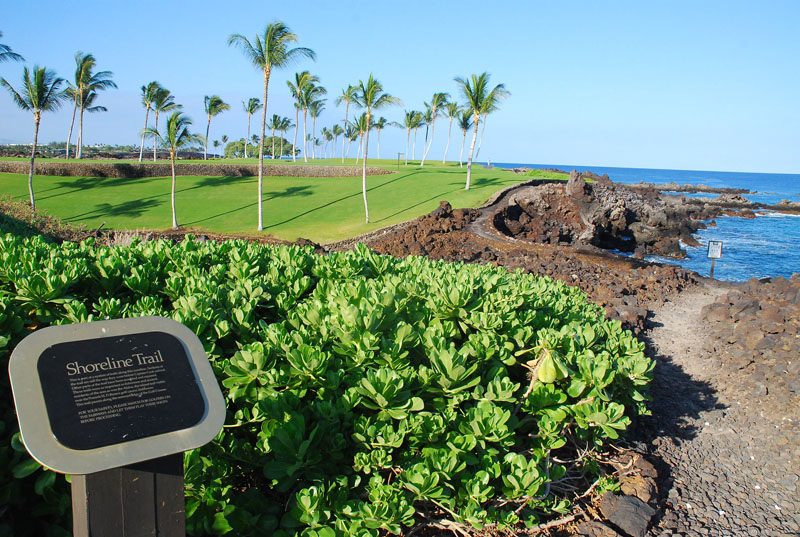 . . . . . and a morning walk . . . . .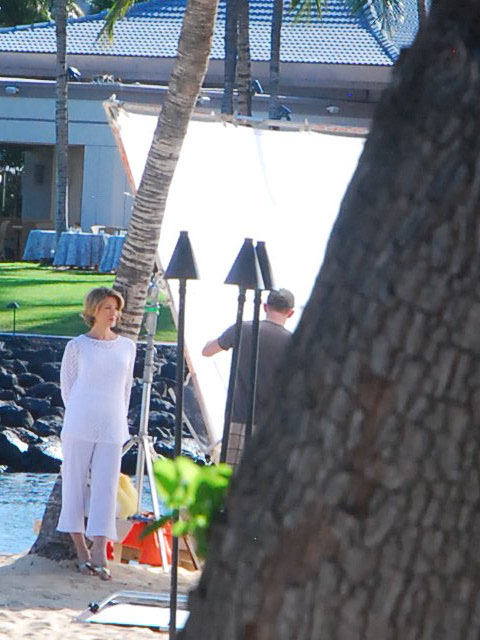 . . . . a photo shoot at the hotel . . . . . look for this picture in a catalogue or magazine somewhere . . . . .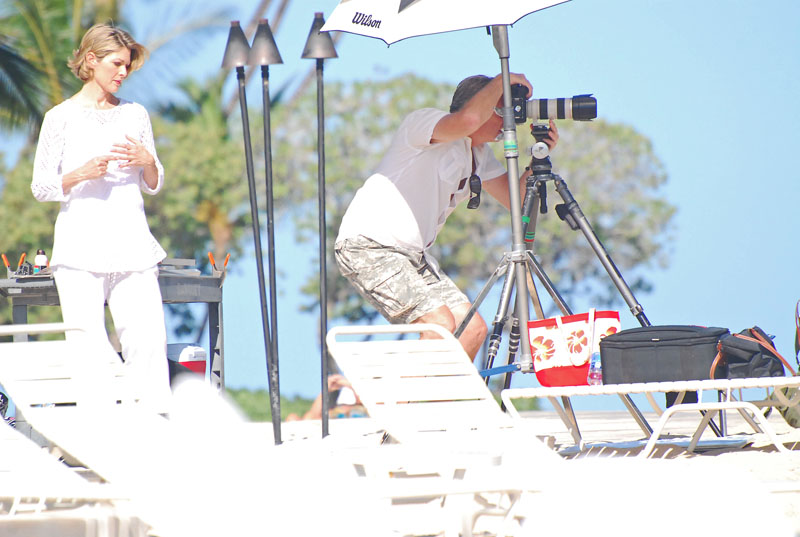 . . . . behind the scenes . . . .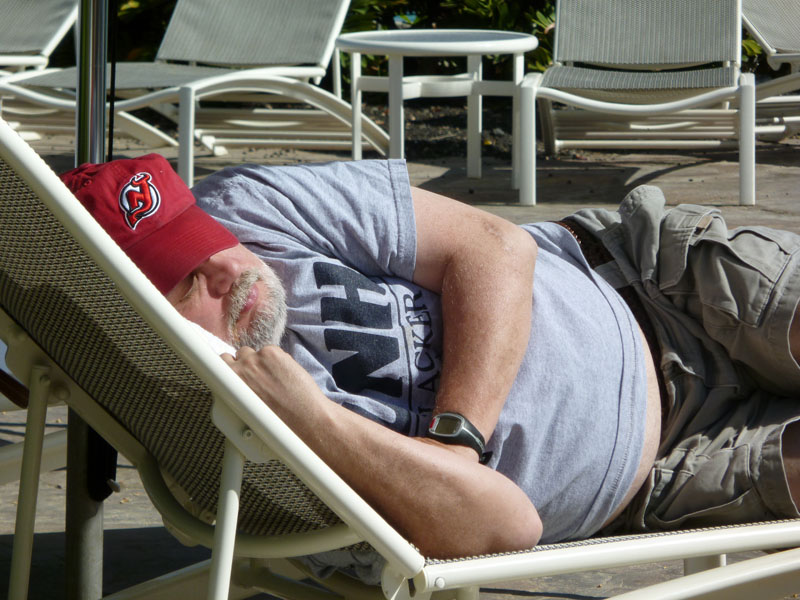 Hangin' with a Devils fan . . . . . don't laugh, he was snoozing poolside in Hawaii and you were shovelling snow. . . .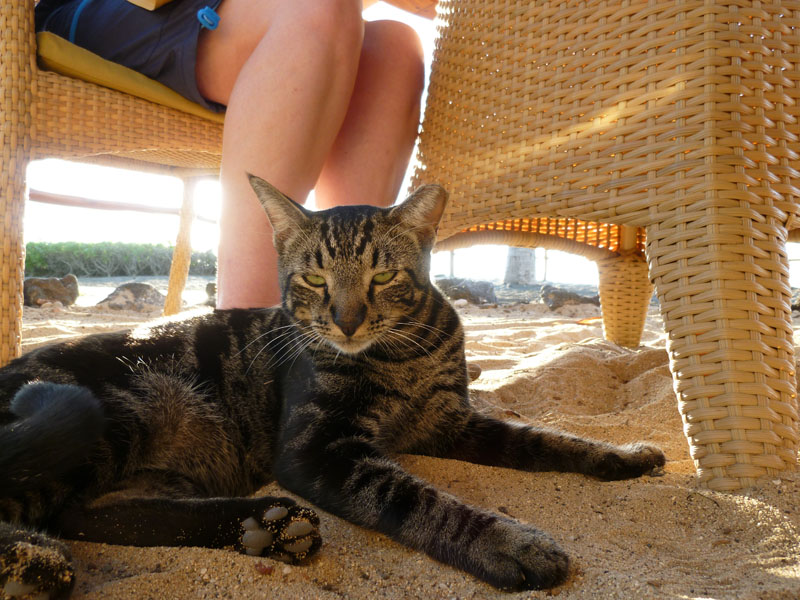 One lucky cat . . . . . one of a few feline denizens of an outdoor, beachside restaurant at our hotel, the Fairmont Orchid at Mauna Lani. This one and his/her chums seemed to have some sort of deadly rivalry going with the also-resident Mongoose clan, although the felines seemed to be the bullies.
Driving Saddle Road to Hilo . . . the high country of all the Hawaiian Islands are cooler, special places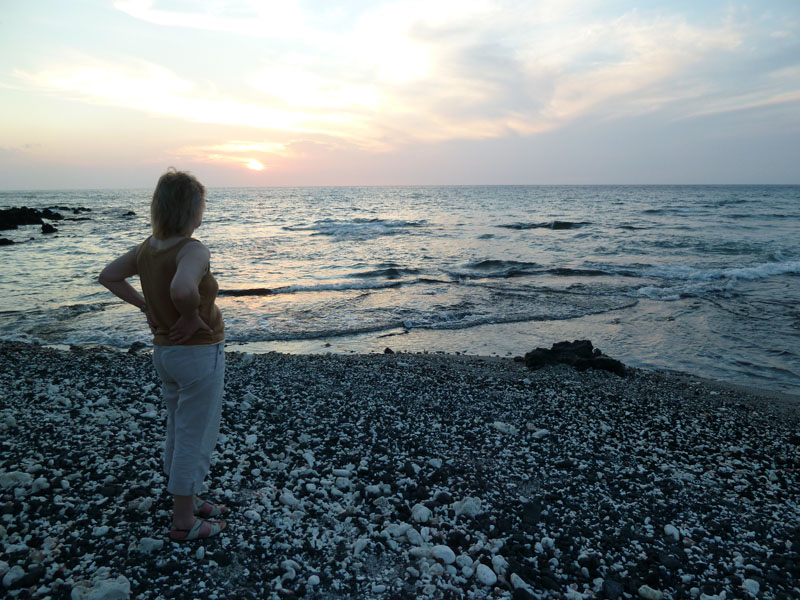 Carol at sunset
Our interesting story of the trip was having to evacuate this idylic setting one night.
The earthquake that devastated Japan caused a Tsunami Watch for all of Hawaii about 9:30 p.m. or so at night, upgraded a bit later to a full Tsunami Warning. By 10:30 p.m. we had gathered our passports, some bottled water we had in the room, a few snacks, coats, etc, and were out the door, into the car and up the hill, out of the Tsunami Evacuation zone identified in our local Hawaiian phone book. A while later the Tsunami warning sirens were blaring and a bit after that a police officer in a vehicle with a bullhorn warned all residences next to our parking spot to clear out to higher ground. So . . . . . we went higher, to a dead, lava-shrouded highway where we parked in the pitch black on the side of a road with about a dozen other cars stringed along. Traffic was fairly heavy, heading upwards still. We discovered sleeping in a Cavalier is no picnic!!! We listened to the radio as all the local stations gathered forces and shared resources, the bulletins, the updates from the Governor and local officals, the foolish antics of some people who refused to heed the warnings and stayed near the shore. The first wave was due for the Big Island at 3:37 a.m., so after sleeping fitfully we awoke to watch and see if the lights below us would be obliterated in one dramatic blow. But nothing happened that we could see. So we eventually drifted off again. At daylight, as the radio reported nothing Japan-like happening, we descended to try to get into the Hotel but the way was blocked two miles away by emergency officials. So we went higher again, into Waikoloa and Waimea, towns overrun with hotel refugees, parking lots full and local grocery stores doing a brisk business even at 7:30 a.m. Finally, the emergency was over and we were back at the hotel again about 12 hours after leaving. Later, we would learn hotel guests had been interrupted abruptly by banging on their doors and anyone who couldn't transport themselves were evacuated in three large buses, taken to local emergency shelters where many spent fitless and cold nights sleeping on the grass outside. A morning later, I would run the 10 km. Run For Hops in Kona, about 30 minutes up the coast where several millions of dollars in damages occurred, with two hotels shut down for three months, six houses swept to sea, businesses waterlogged and the cruise ship pier closed for repairs. But I saw no damage, even though I was running nearby. The race had been re-routed, away from the damage. In the Hawaiian Islands at least, the tsunami hurt no one. Our beach was closed that morning, high tide and low tide - about two or three feet - oscilating every three minutes as our bay emptied and re-filled, a reminder that the events of the previous night really did happen.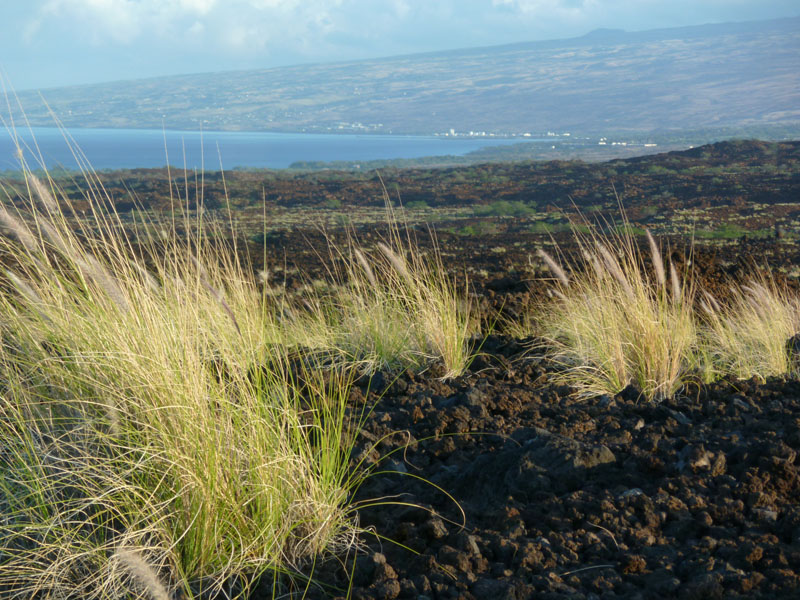 The next morning, the view from our lonely parking place where we waited out the Tsunami . . . an obscure view we're probably not going to forget for some time.
Oregon, Washington and BC, September 2010
For Rick, it was off to Oregon for a half-marathon in the Williamette Valley, then to Seattle for a day of Bumbershoot and finally to Vancouver and Whistler for a conference. Above, lounging over the lunch hour on Granville Island, looking across False Creek in Vancouver .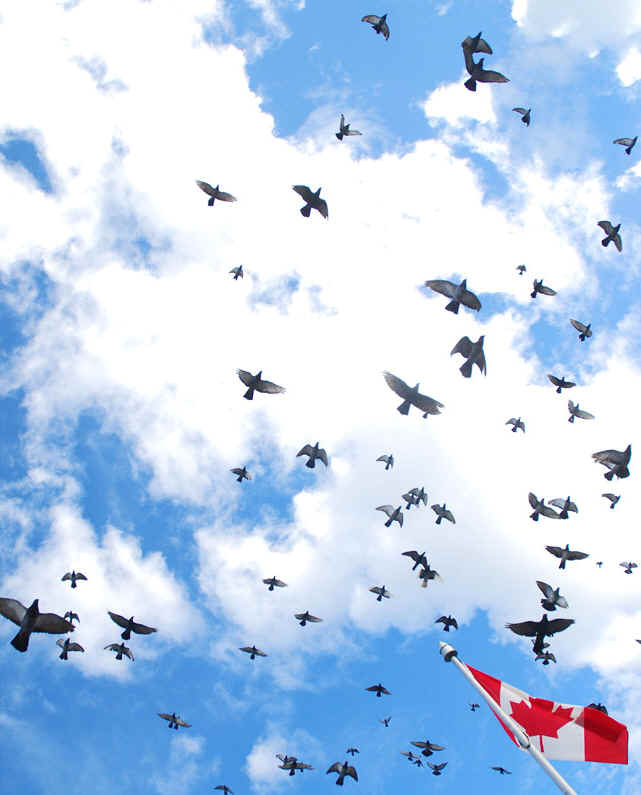 The birds . . . .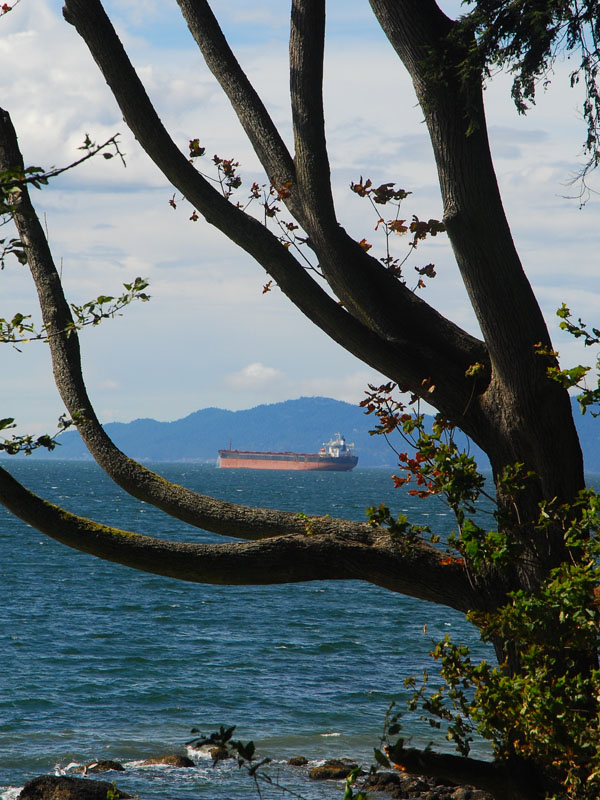 Vancouver waterfront . . . . there were 10 freighters anchored in English Bay, waiting to enter the harbour.
Vancouver life . . . . . relaxing on the Seawall surrounding Stanley Park
At Beaver Lake in Stanley Park, a double duck. I walked to Granville, then took a sea taxi accross False Creek . . . . then set out on the long walk around the Sea Wall, taking some hours, with a diversion into the depths of the park to sea this pond.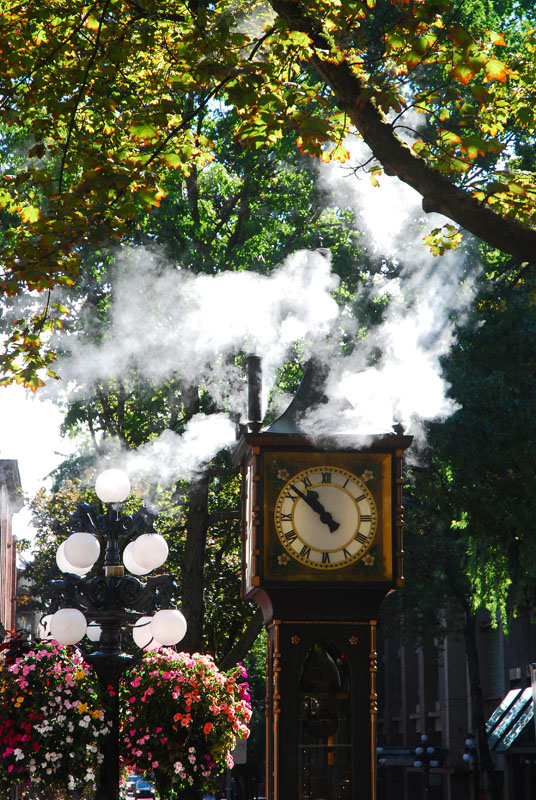 Vancouver's landmark steam clock in Gastown blows off . . . .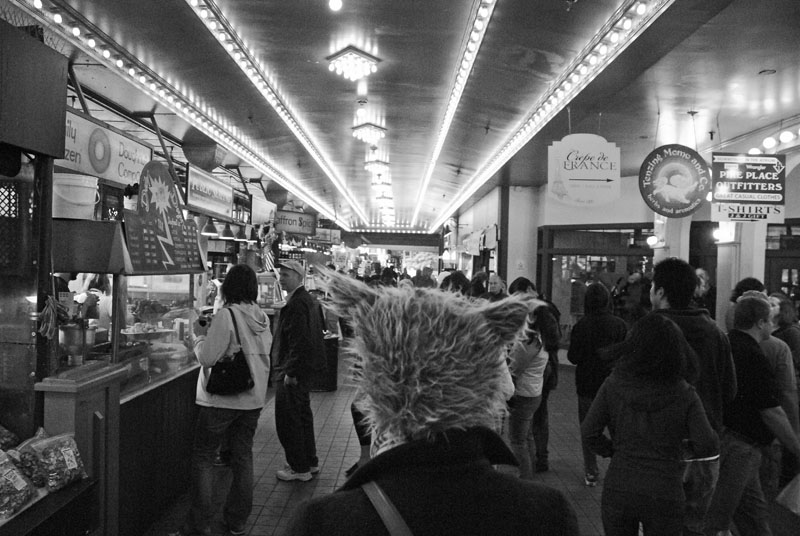 At Pike's Public Market in Seattle, there is anything and everything, including cat ear toques . . . . .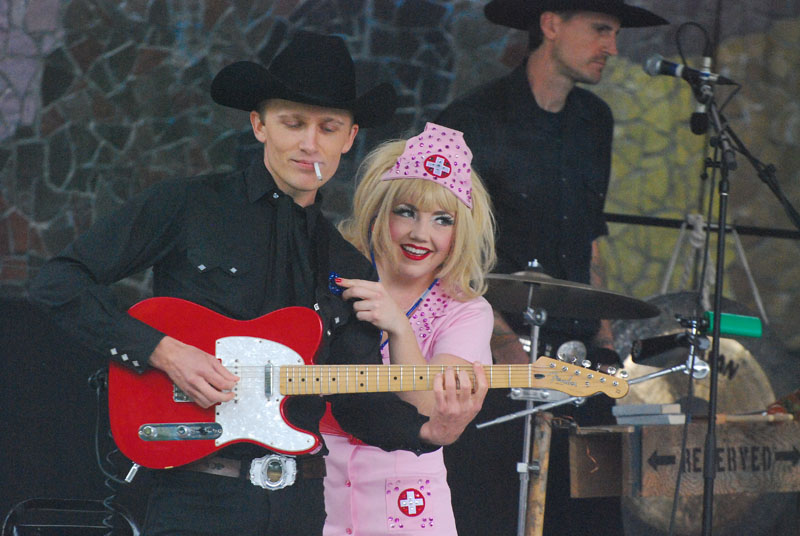 "Brent Amaker & The Rodeo" is a hot, high-tempo rockabilly band - and apparently employing a necessary nurse who helped this gentleman light his cigarette - who were awesome on the Starbucks Stage at "Bumbershoot" in Seattle . . . .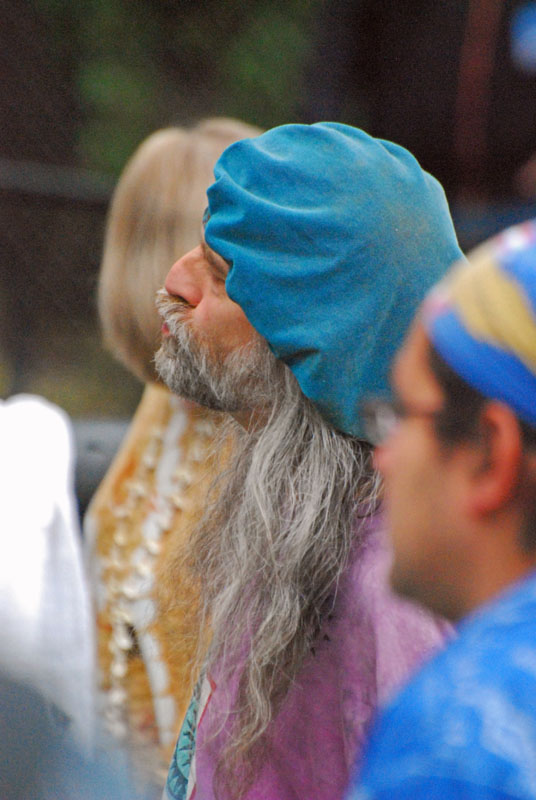 . . . . and I can fairly say the hippy crowd hadn't changed much from the last time I was at Bumbershoot in roughly 1984. I'm sure this guy was at that one too.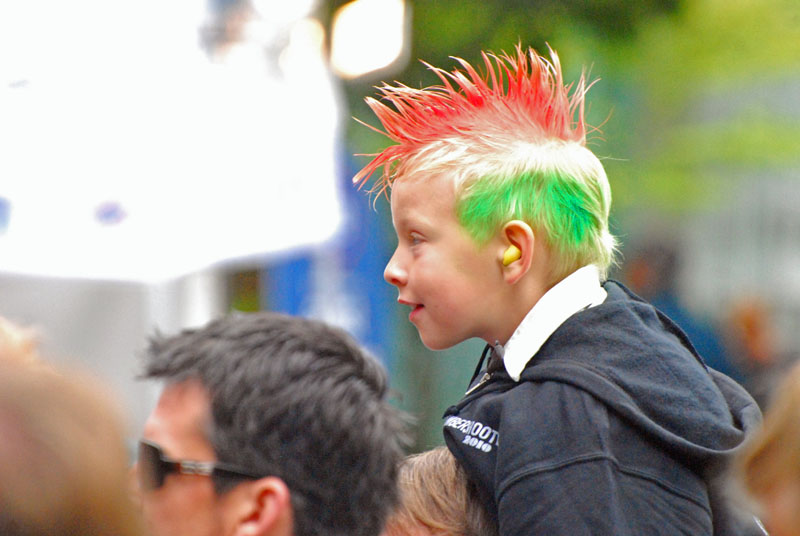 . . . . . and this young lad will be there a quarter-century from now too . . . .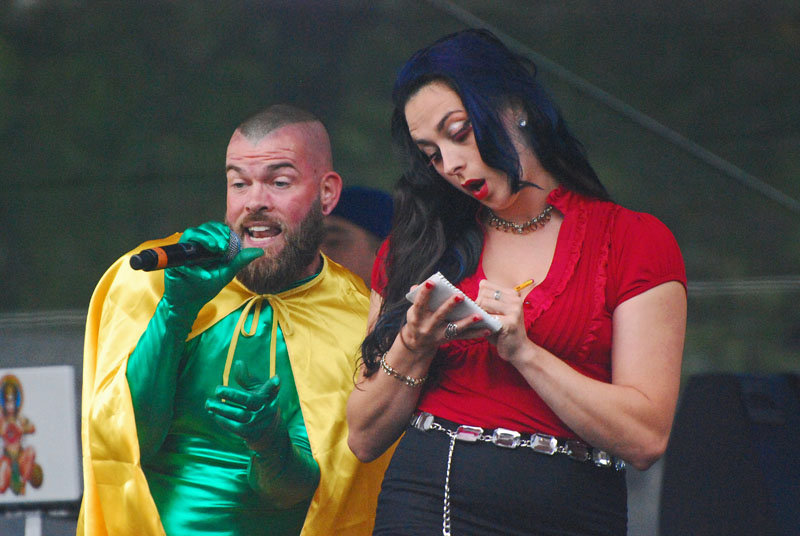 . . . . but the difference between a quarter-century ago and now is terrible rap music, exemplified by this decorated gentleman and lady. . . . .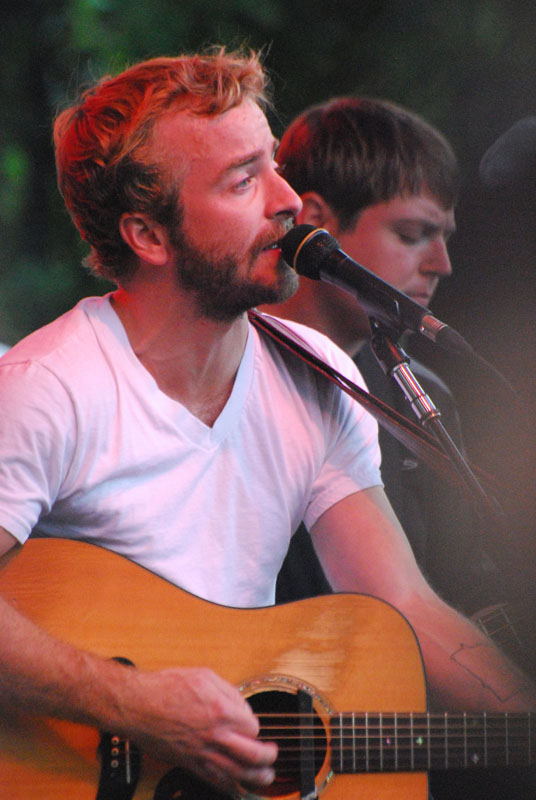 . . . . which was fortunately balanced out by great performances like "Trampled By Turtles," from Duluth Minnesota . . . . .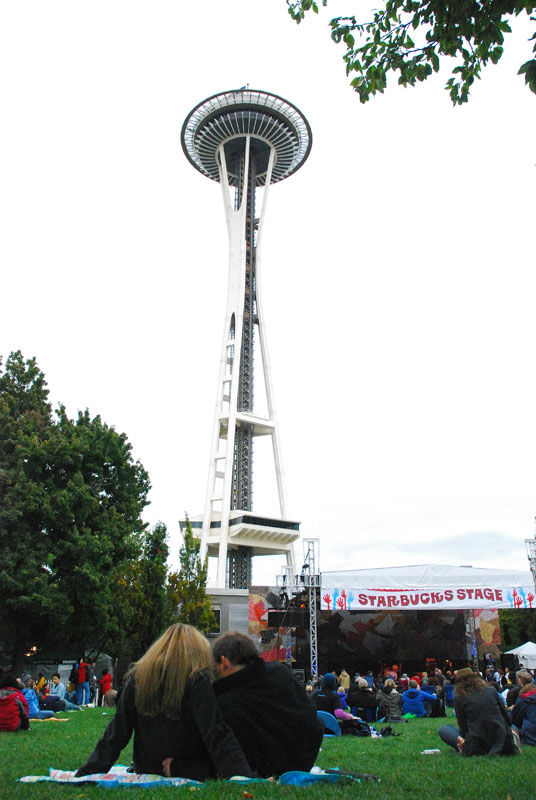 . . . . all under a drizzling, cool day beneath the Space Needle.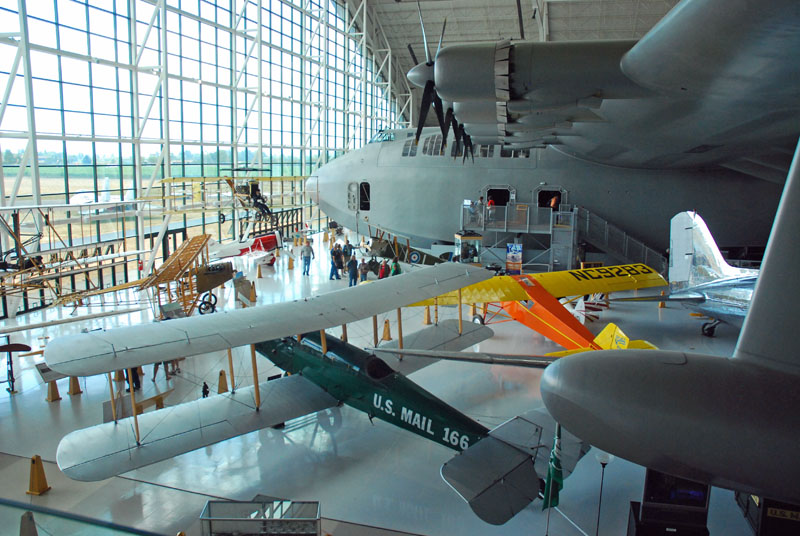 The Evergreen Aviation & Space Museum in McMinnville, Oregon was a thing of beauty, including Howard Hughes' legendary Spruce Goose, the largest plane to ever fly.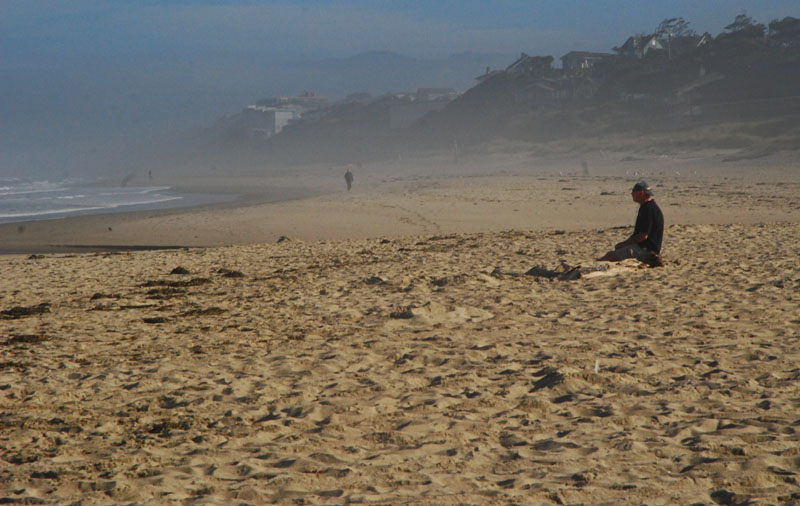 . . . . and the Oregon coast was awesome . . . .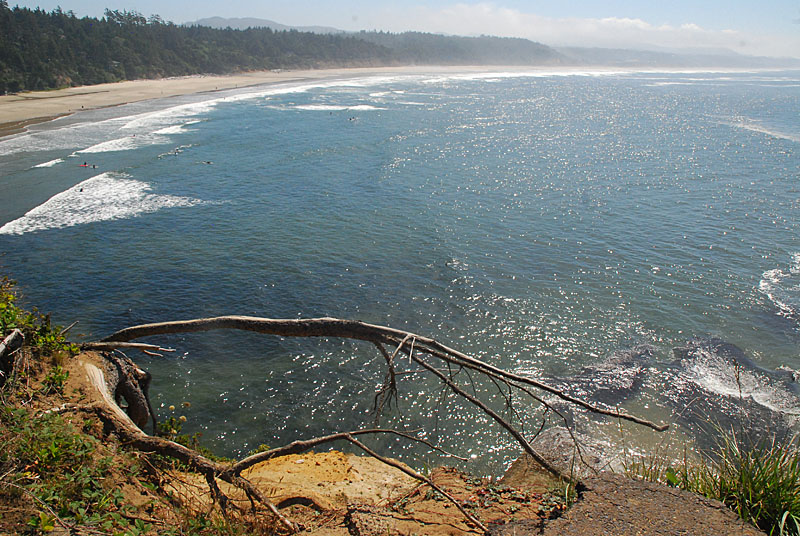 . . . . especially the deserted places . . . .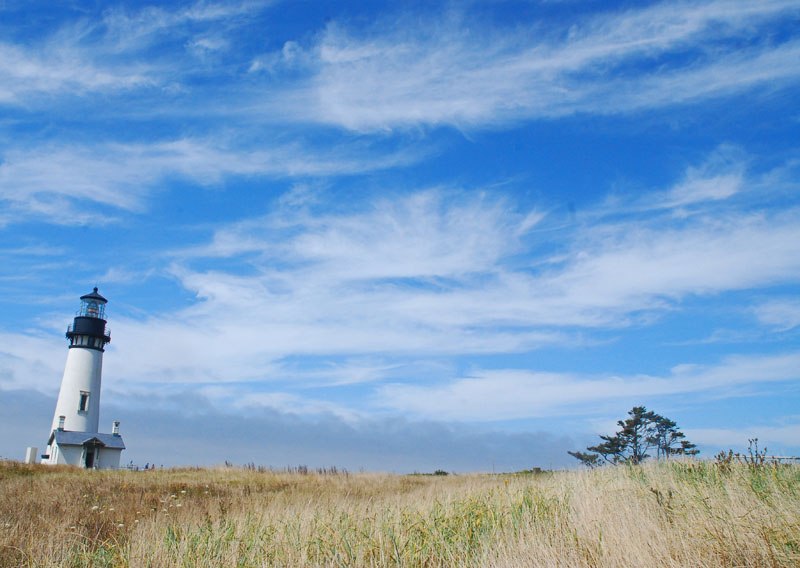 A remote lighthouse . . . .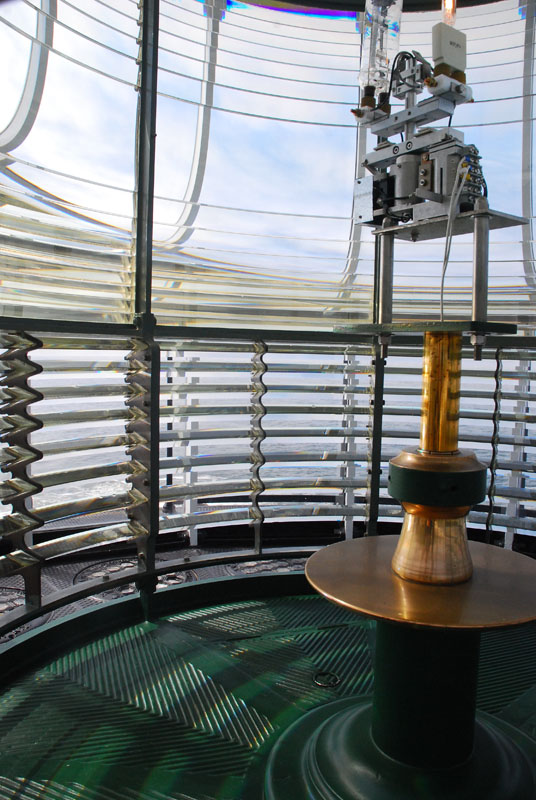 . . . . reveals its secrets . . . . . and I did not know until this day that all lighthouse beams have different patterns of rotating beams, thus allowing passing ships to not only know they are near land but also where the beam happens to be originating from.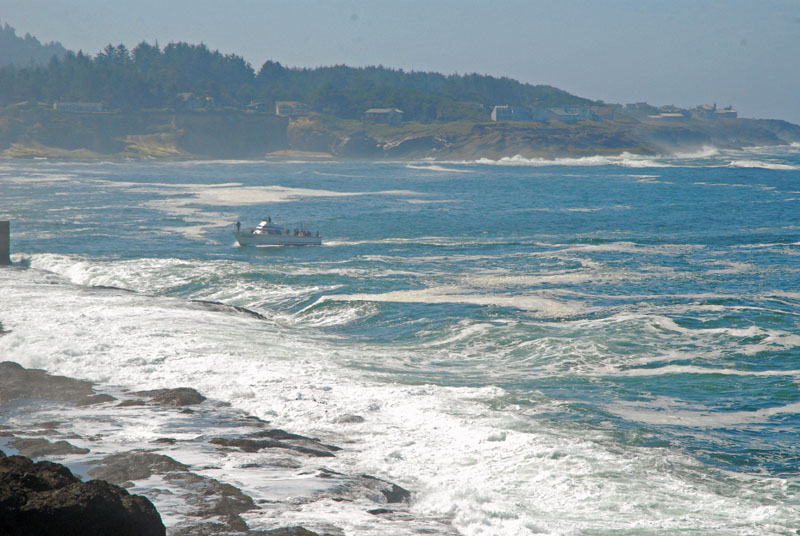 At Depoe Bay Oregon, a boat makes a run for an ulikely harbour . . . .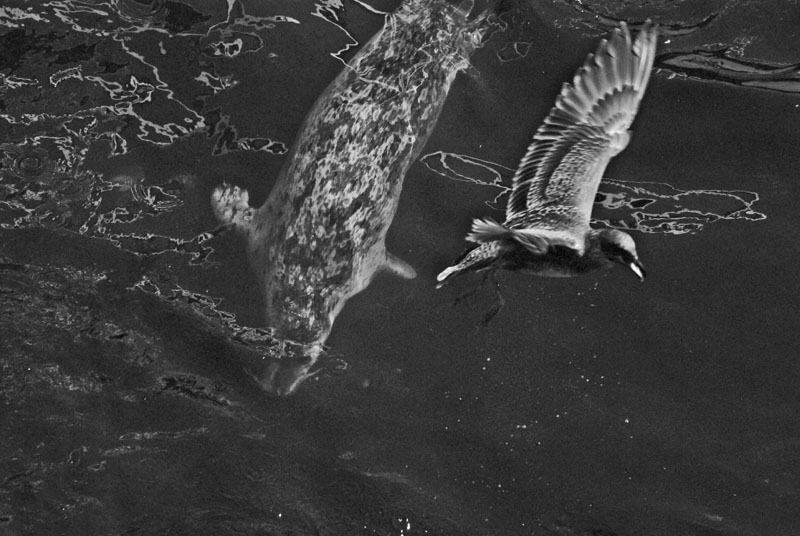 A marauding sea lion submerges as a sea gull flies by . . . . . both were hanging around a pier where fishermen were filleting the days catch.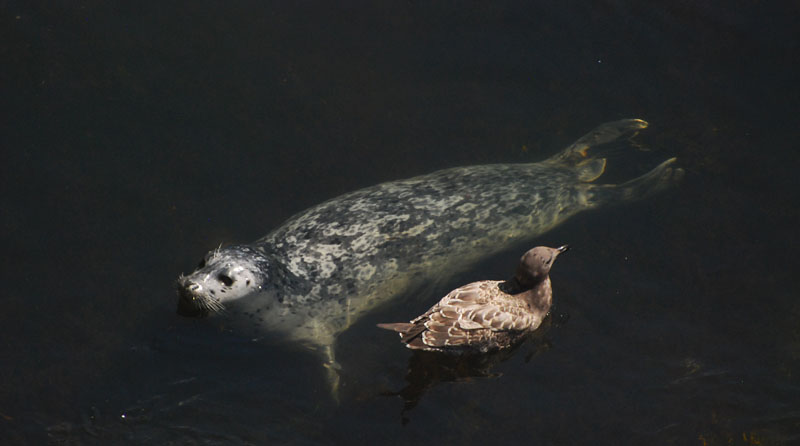 . . . . . and strangely, they seemed to be best buddies . . . . . or the sea lion liked the free food being tossed into the water more.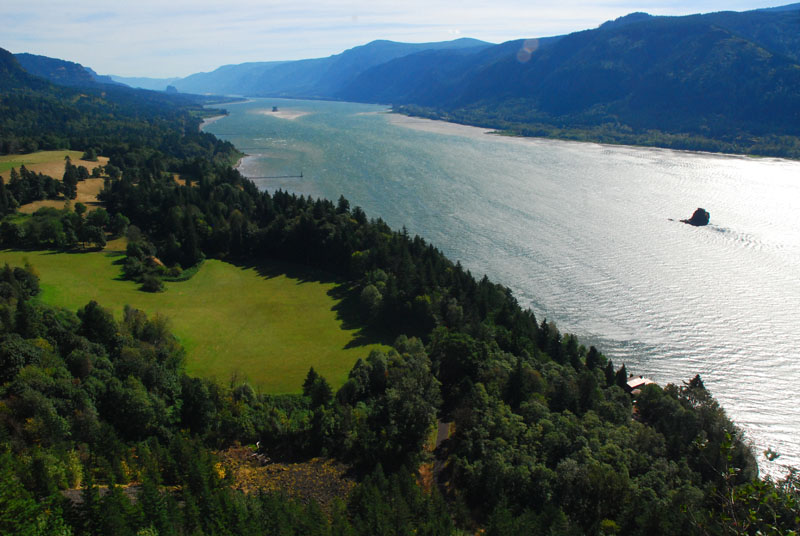 The Columbia River Gorge, from the Washington side . . . . . spectacular. I had flown into Vancouver, driven down to Vancouver, Washington for a night, then slipped along the Gorge and finally reversed course and took back roads, past Mt. Hood, to McMinnville, Oregon, where I ran the Oregon Wine Country Half-Marathon in the beautiful Williamette Valley, then slipped up to Seattle for a day of Bumbershoot, an Arts and Music festival, and finally a day up in Vancouver BC again before a three day conference at Whistler.
Southern California, March/April, 2010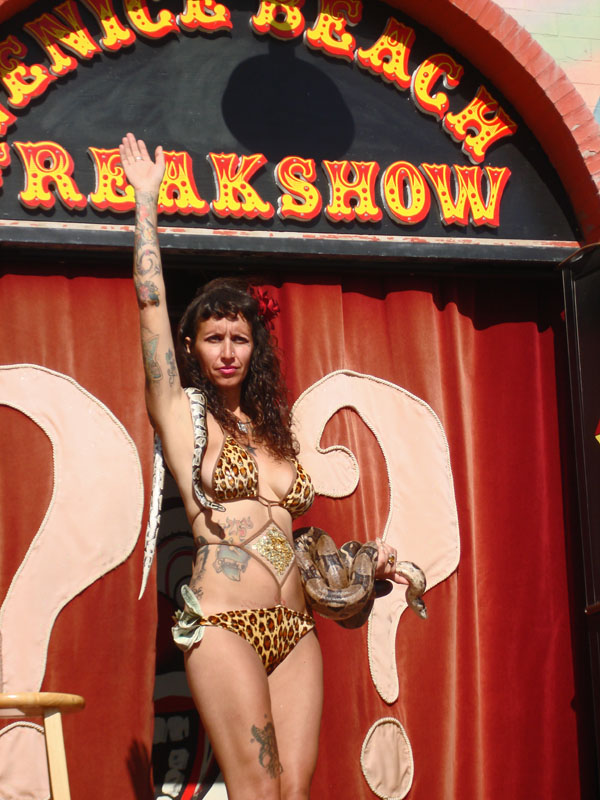 Anything goes at the Freak Show on Venice Beach. This lady and her slithering friends were boldly outside hustling customers for the $5 show behind the curtain. Ironically, on the flight back home, we watched a Dog Whisperer episode where the owners of this very same Freak Show had a five-legged, holy terror little dog that needed the help of Ceasar Millan's to settle down. The ownes seemed like fun-loving, nice people.
For more on this trip and other international trips, visit www.goldentales.ca/guestlogtrips.htm or other links below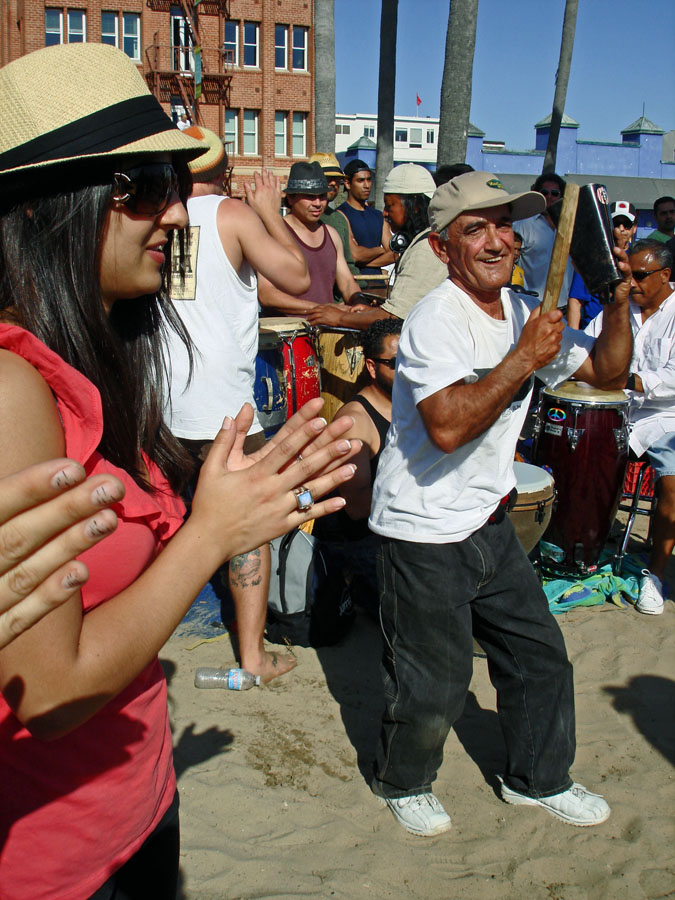 "Bang A Gong Guy" was popping a groove along with his rythmic companions at a packed Venice Beach on a Sunday afternoon. How he isn't completely tone deaf from banging that gong in his ear all day long is beyond me.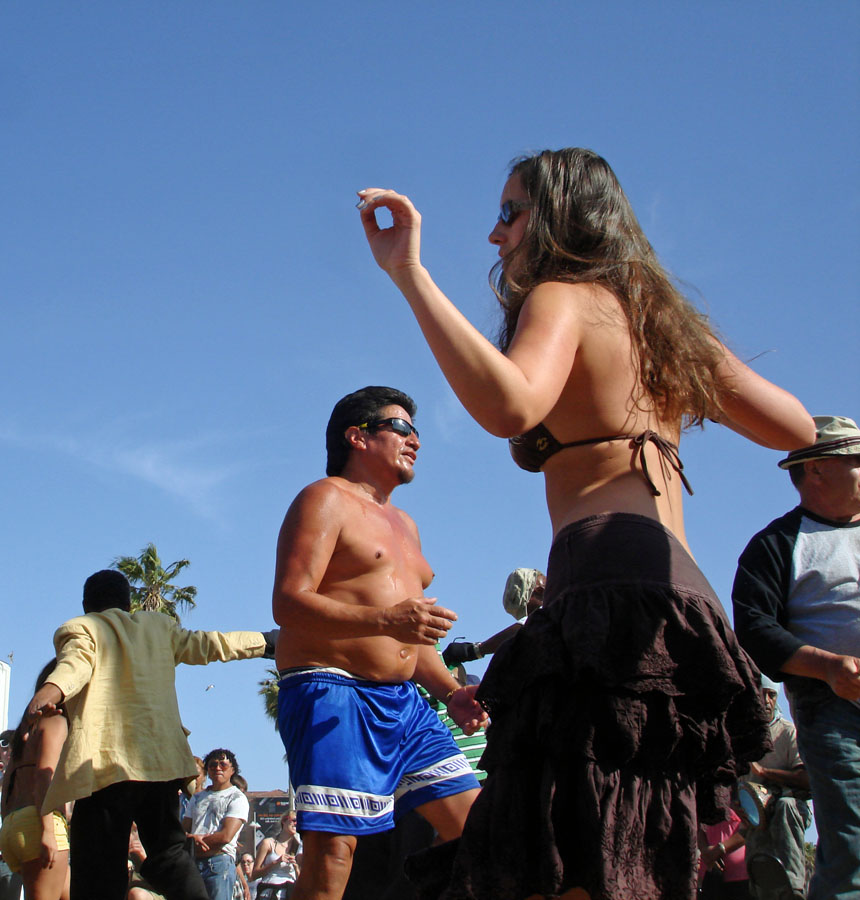 The crowd was groovin' though . . . . . . Venice Beach on a Sunday is a place to see at least once. It's a bit run down, to tell you the truth, populated by many you might not want to see at night, yet a sunny day like this is when all the other folks show up for the never-ending craft stalls and impromptu beach groove-in's like the above. It's about a 1.25 mile walk/run from the Santa Monica Pier.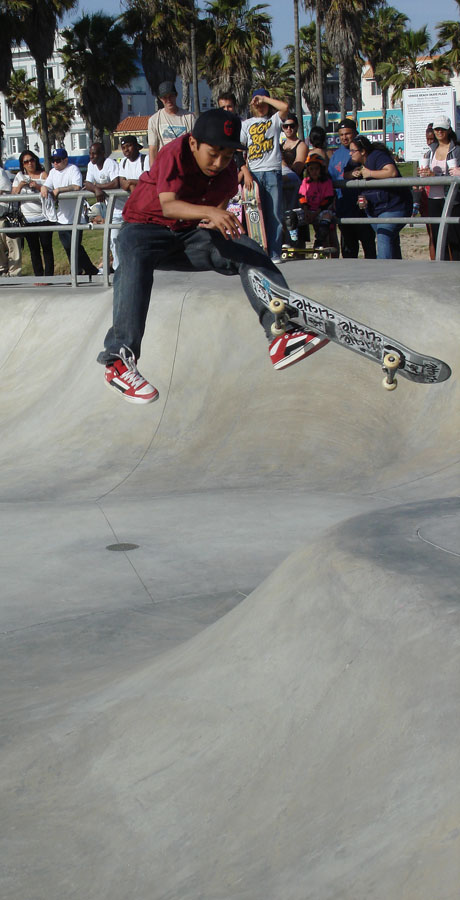 It's a long way down for this kid at the Skateboard Park on Venice Beach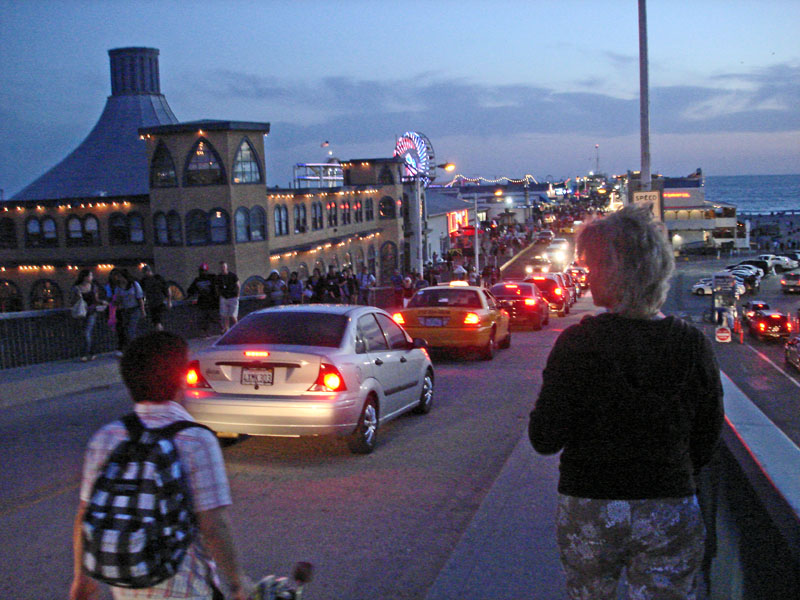 Carol walks down to a bustling Santa Monica Pier at sunset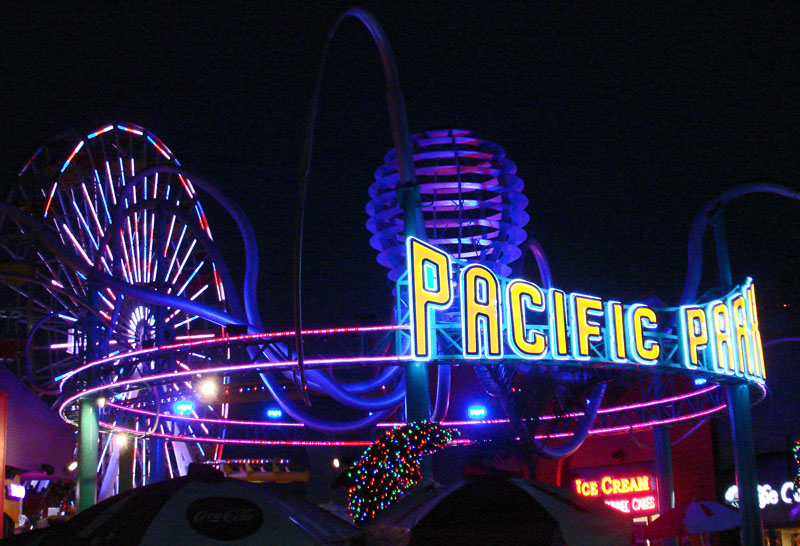 Evening fun on the Santa Monica Pier . . . . . also a little run down in the clean light of day but a popular place anyway.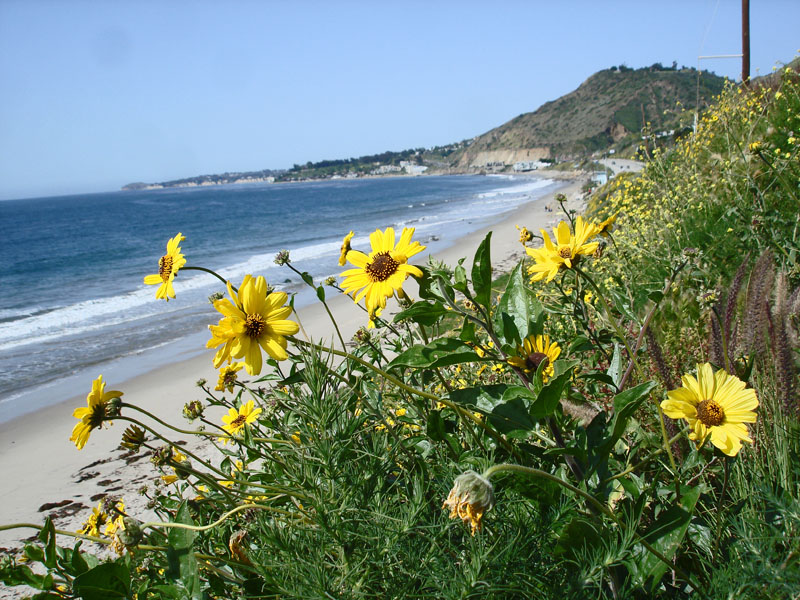 Wildflowers along the Malibu coast. March is a time of blossoms along the coast from San Francisco through to the Mexican border. We brunched at Coogies in Malibu but no sightings of Jon Cusack and John C. McGinly (Scrubs) like the last time.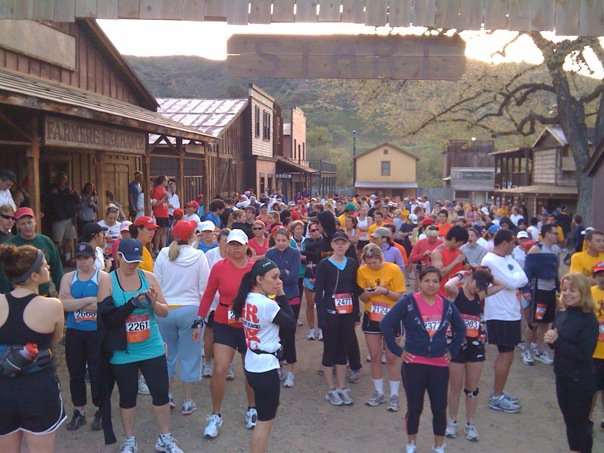 The start line for the Pacific Half Marathon on a chilly morning at Paramount Ranch, the old set for movies and television shows like "The Virginian." I'm in the background somewhere, near the tree to the right I think. I was 147th of 524 in the race which was mostly straight up and down on a very hilly, tough but beautiful course. Some running along Mulholland Way and along Lake Malibou. Wonderful event and I had a fun time. This is near Agoura Hills, which is a little northwest of Malibu. I stole this photo from the official race Facebook page. Throughout the trip, I was out running along the beaches near Santa Monica, Venice and San Clemente. Nice trip for that.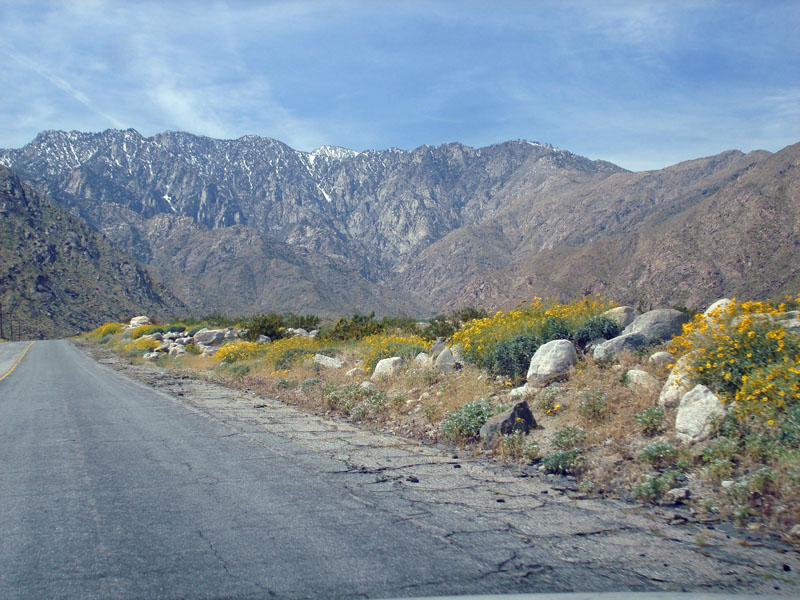 Up in the snow, crossing the mountains from Palm Springs to San Clemente. We had driven to Palm Springs from Santa Monica, then headed to the coast via backroads and Lake Elsinore. We found Palm Springs to be a place not to our liking . . . . . very, very desert with some pavement and a little grass thrown on top to spruce it up. We like the green of the coast better.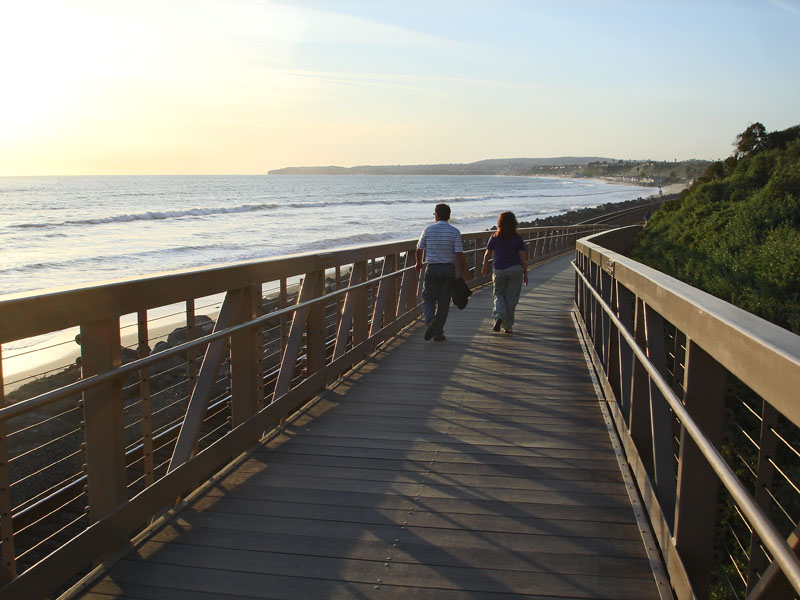 Nice walking along the San Clemente shoreline at sunset. San Clemente was a peaceful coastal town for us. Charming.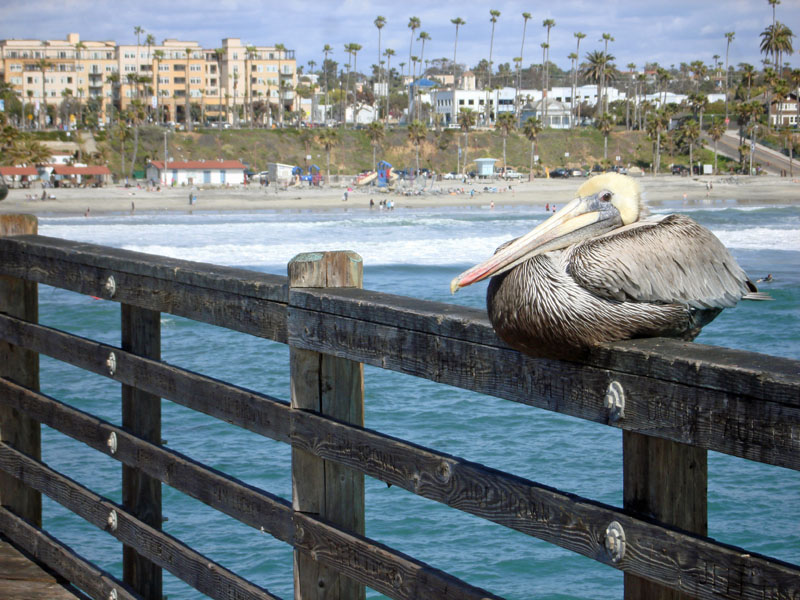 A relaxed pelican on the pier at Oceanside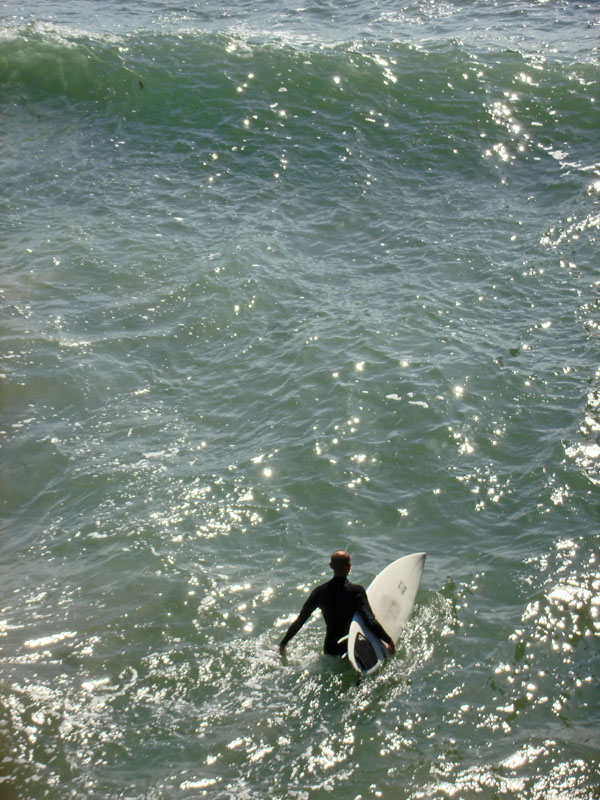 Testing the waters . . . . . classic southern California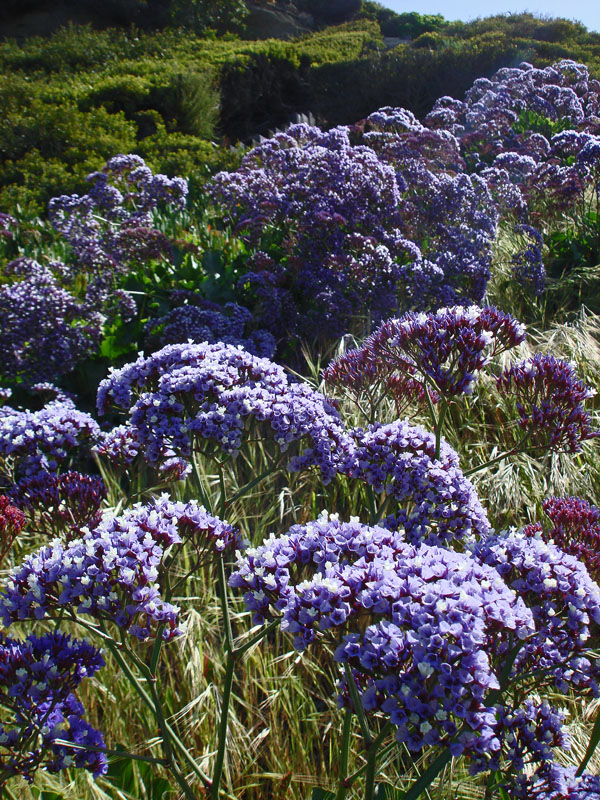 Green and other colours everywhere around San Clemente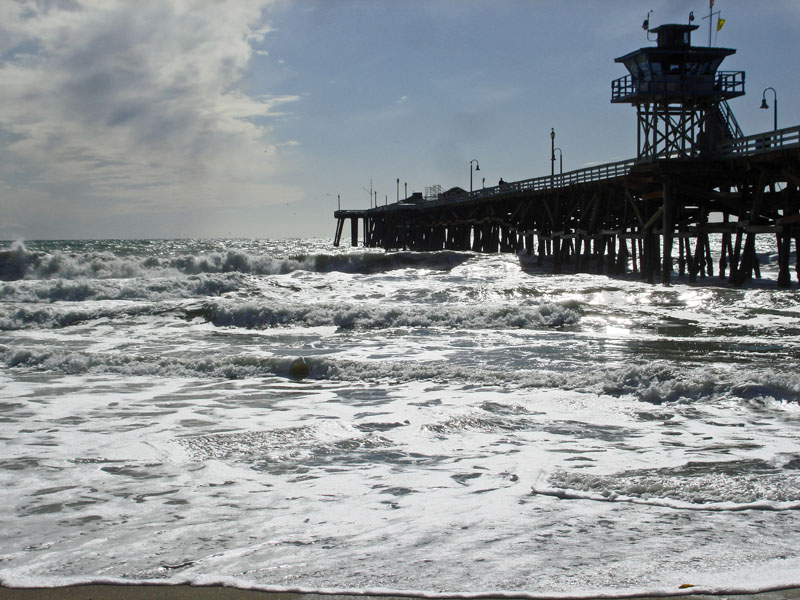 The old pier at San Clemente . . . . . . Richard Nixon's home is down the beach a few miles. One morning, I ran down there along the beach and Amtrak track to see if I could get a looksee but it's hidden by a cliff.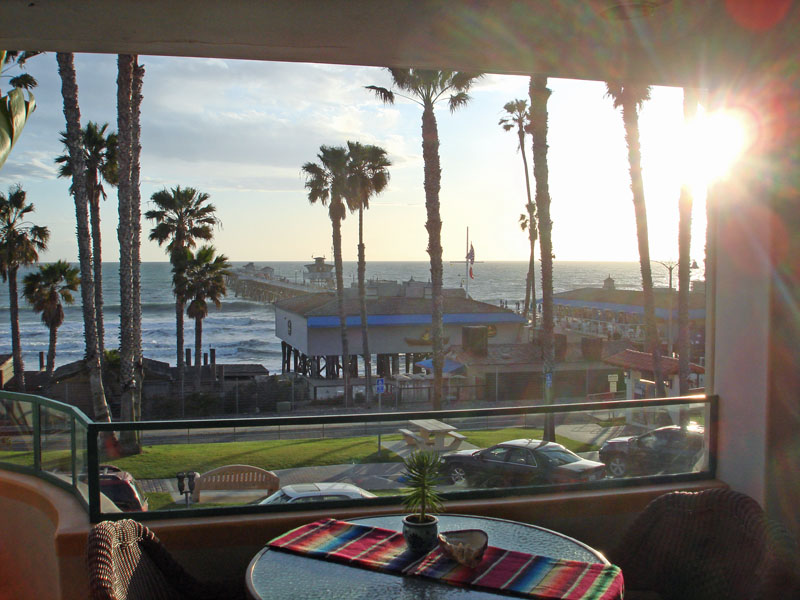 . . . . . and our view of the pier from our hotel. Very relaxing place.
MAUI OCEANFRONT MARATHON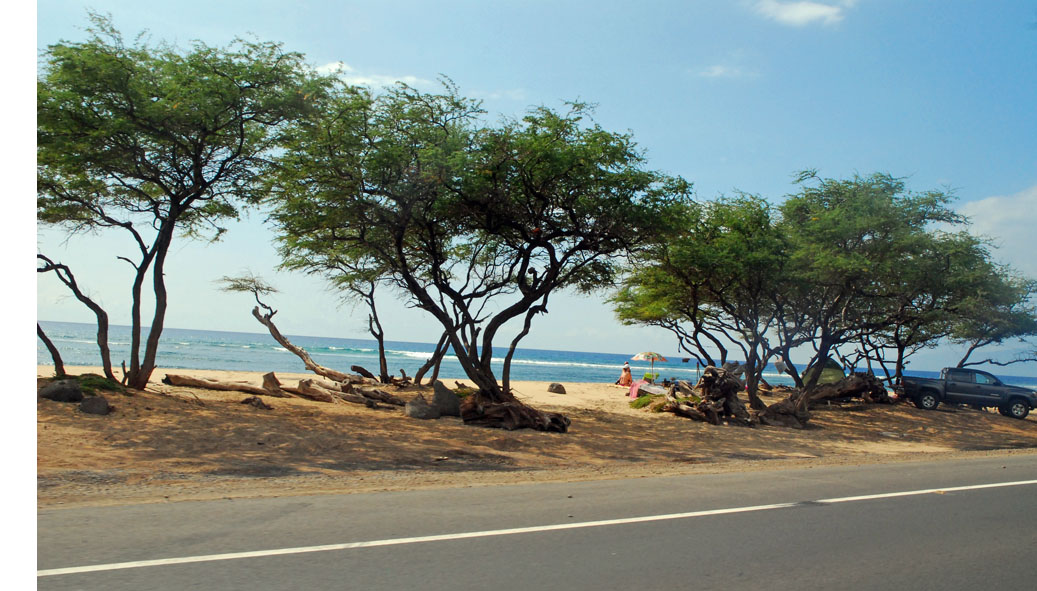 Above, along the route of the Maui Oceanfront Marathon, a 26 mile/42 kilometre run from Wailea to Lahaina . . . . . . the temperature was 70 Farenheit (21 celcius) when I picked up a shuttle bus to the start point in the darkness of 4:15 a.m. and 81 Farenheit (27 celcius) when I got back into the vehicle after the race, so about 85 or more (about 30 celcius) on the pavement running in the scene as above.
As I pushed into the finish area a very large Hawaiian lady hung a gorgeous Marathon Finisher medal around me, then reached out and propelled me into her bosom saying: "Give Big Mama a hug." That was a great hug. I needed it. Moving on, as I lifted my sunglasses, my eyes refused to adjust to the light and I continued to stagger a bit as I moved down the food and beverage line. I laid down in the shade for about 15 minutes then got up but was still having trouble focusing and walking straight. Managed to find the car and drive back to the hotel anyway. Then I jumped into the ocean and that helped a lot.
Along the route, Hawaiian school kids were enthusiastically manning various water stations, with luxuries like homemade oatmeal cookies and oddities like M&M's as well as a barrel full of loud support.
It was all in a day's adventure.
Next morning, I got up early and hiked five miles (eight kilometres) with a 1,560 foot elevation gain on Waihee Ridge Trail (below).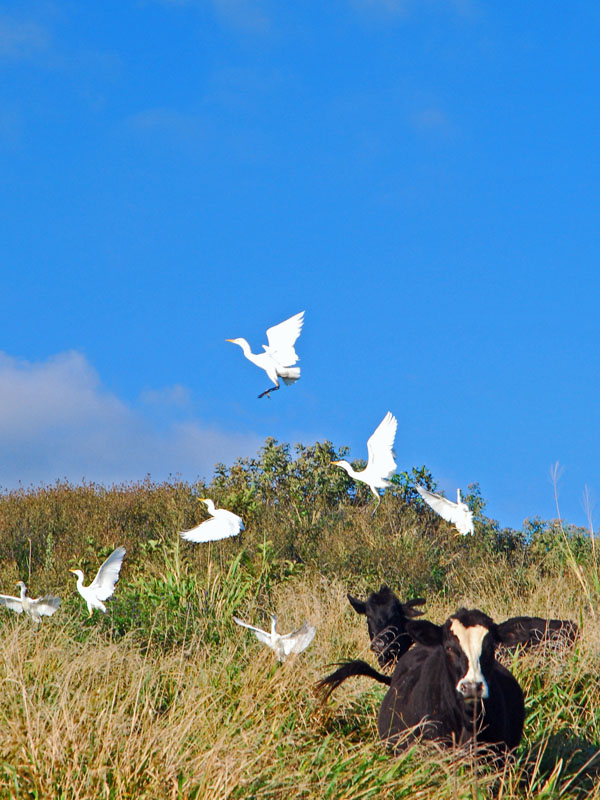 Starting up Waihee Ridge Trail, some cows eye me balefully as their bird friends take a hike.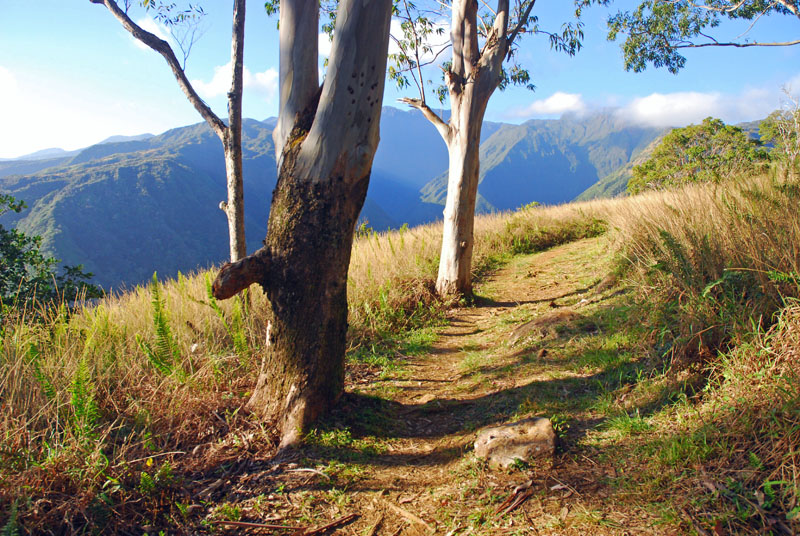 It was a wonderful morning and a beautiful trail. My legs were very stiff from the marathon the day before.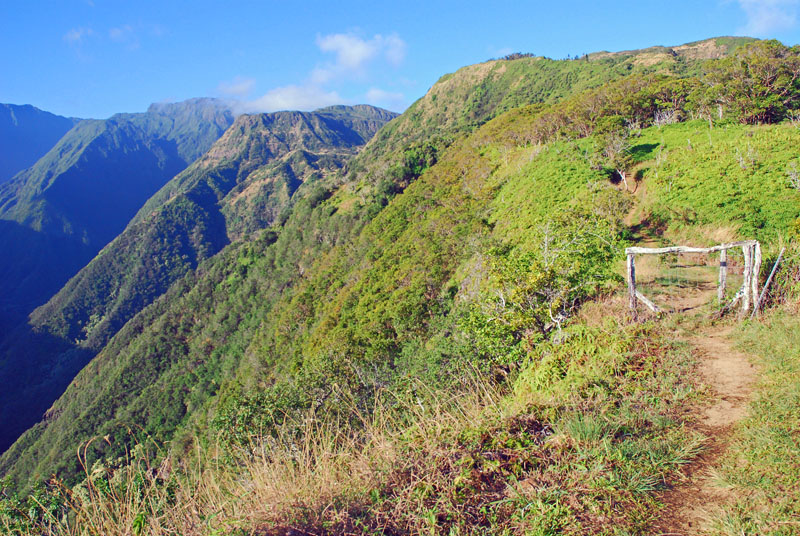 I might have wished Abby and Keeper were with me but it was also very hot . . . . ..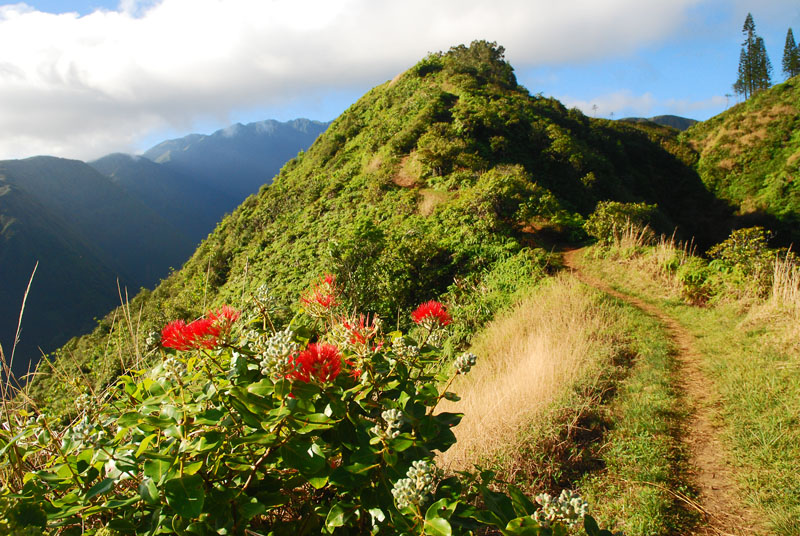 . . . . . and colourful. I was first up here this a.m. and managed to clear all the spider webs for those behind me . . . . and Maui has some pretty gruesome looking spiders.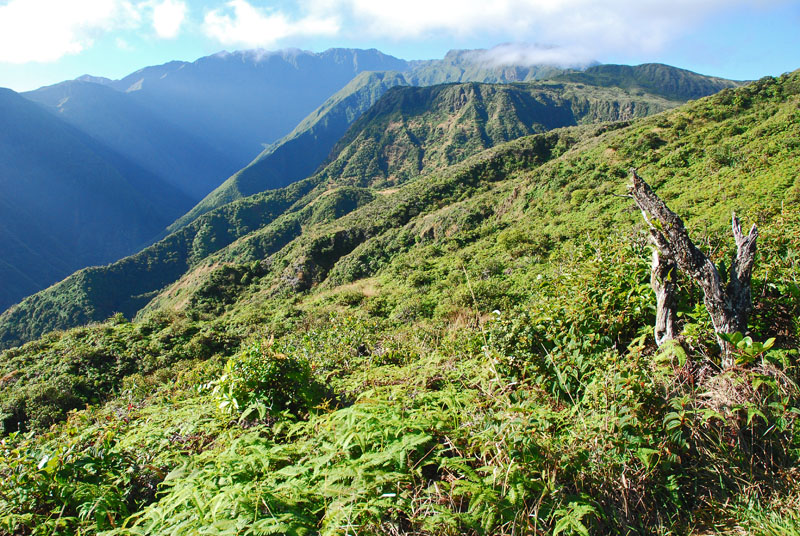 I'd recommend anyone give this trail a try . . . . . I was lucky as this is frequently rain-splattered and muddy but not this day.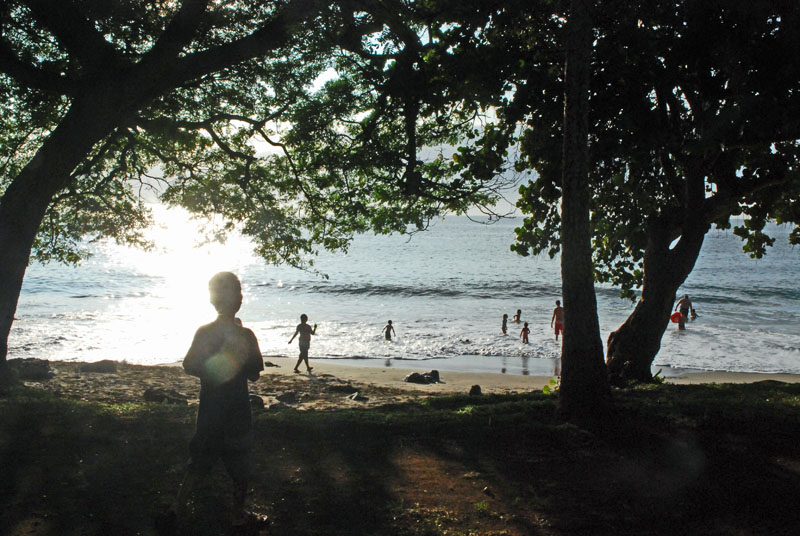 A family moment on Maui . . . . . . . just another day and a common setting in parks on weekends.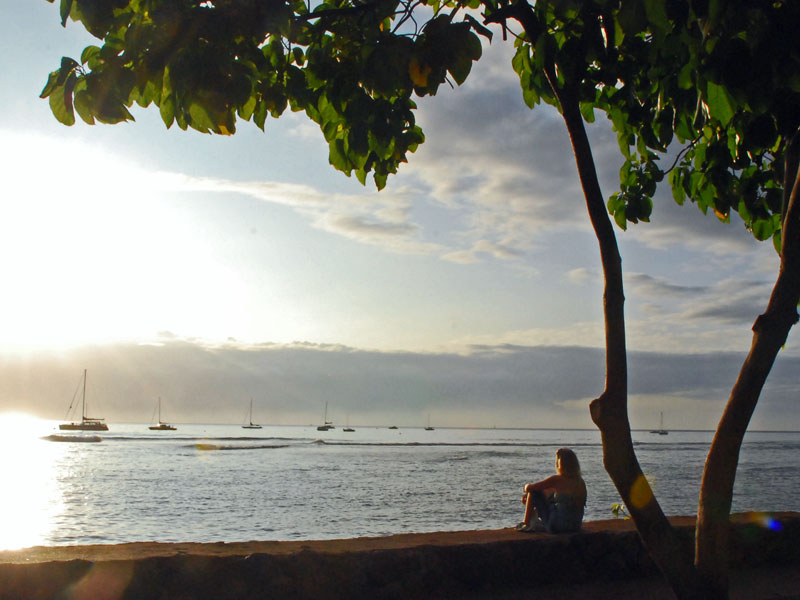 A woman enjoys a Maui sunset from the waterfront of the old whaling town of Lahaina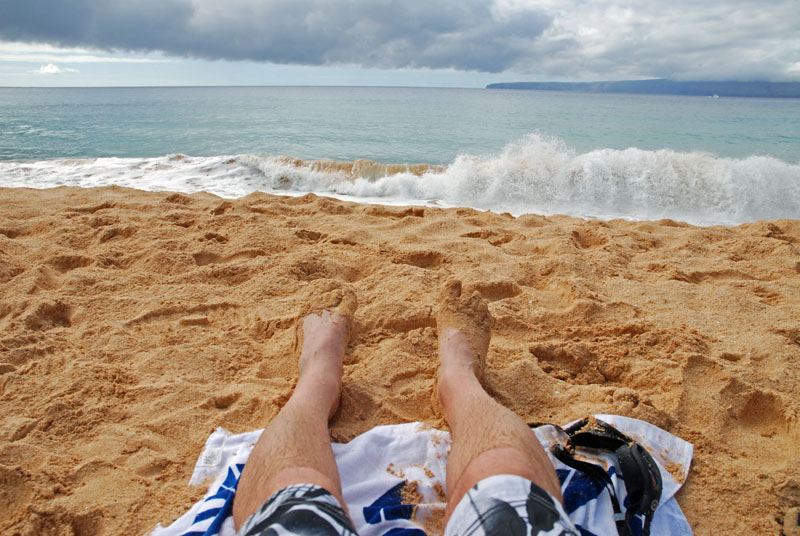 Even a cloudy day is a great day on Maui - Big Beach with it's big breakers.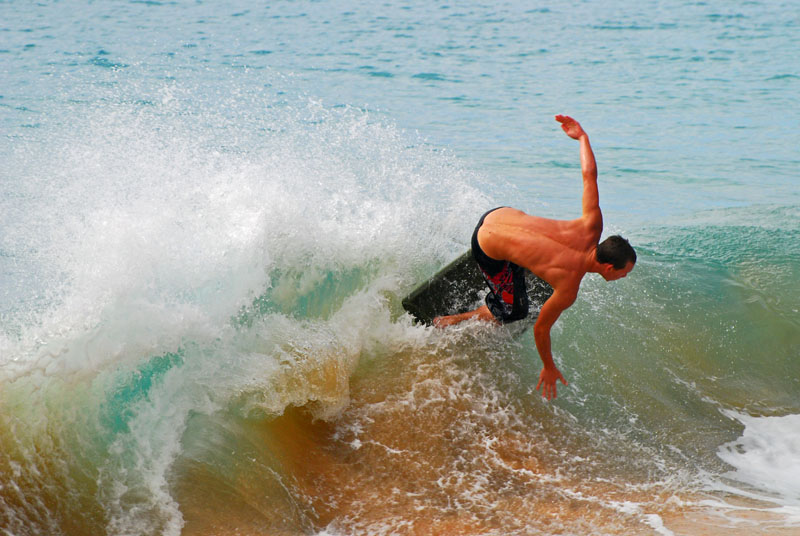 Boogie Boarding on Big Beach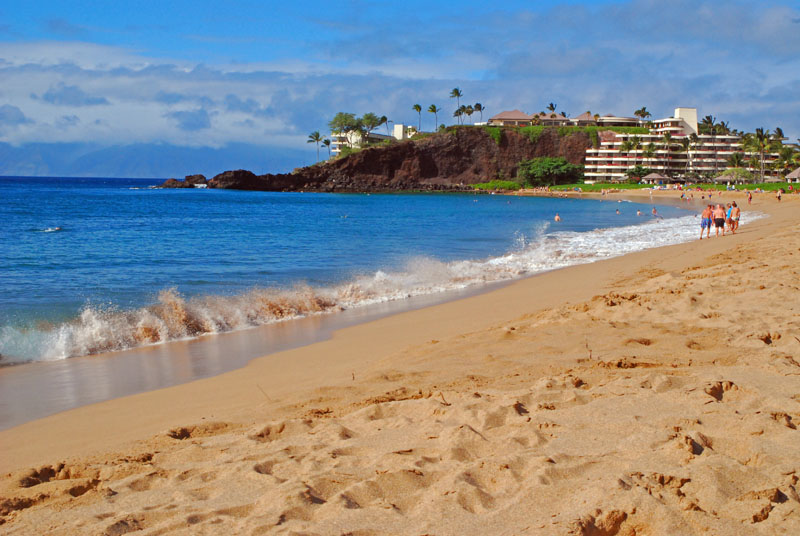 Ka'anapali Beach, out front of my hotel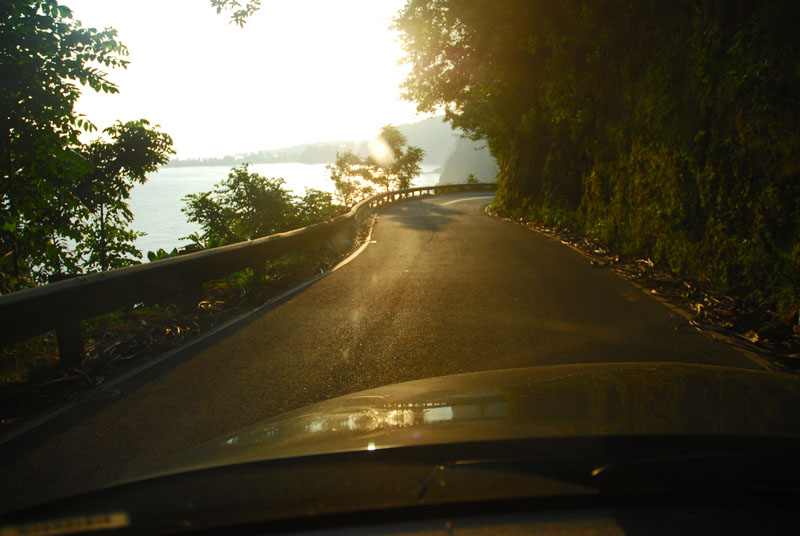 Driving the hair-raising, often one-lane Road to Hana at sunrise. The road has 600 curves in it's 42 miles and, if you don't want to go insane with road rage, you'll tackle it early, before anyone else gets there. It's prettier that time of day anyway.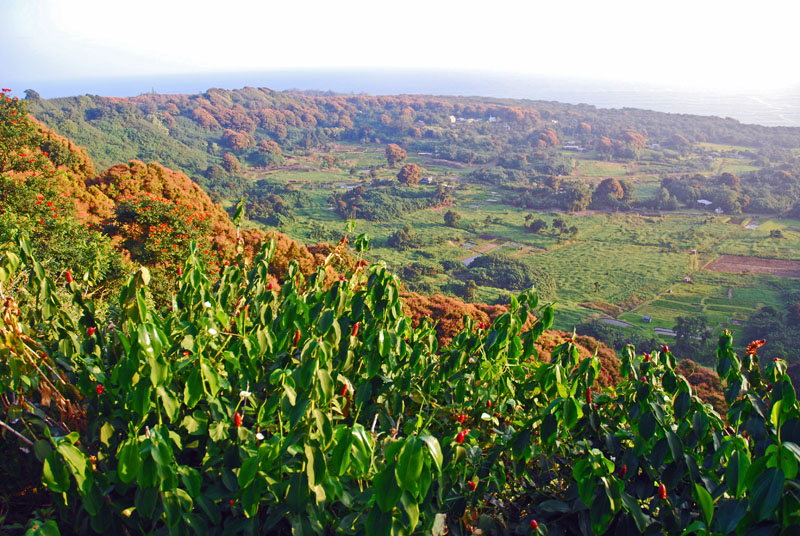 The Keaenae Peninsula on the Road To Hana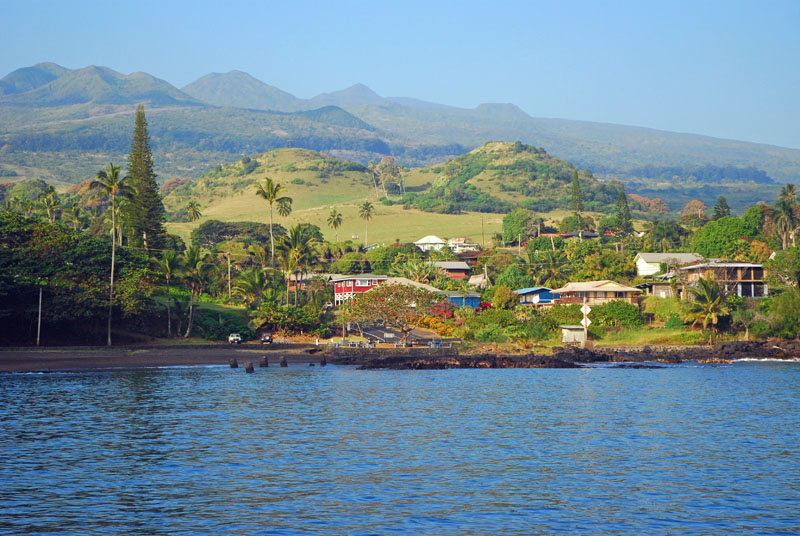 Hana, with 10,000 foot Haleakala in the background . . . . . . an unusually clear day. This can be a very rainy place.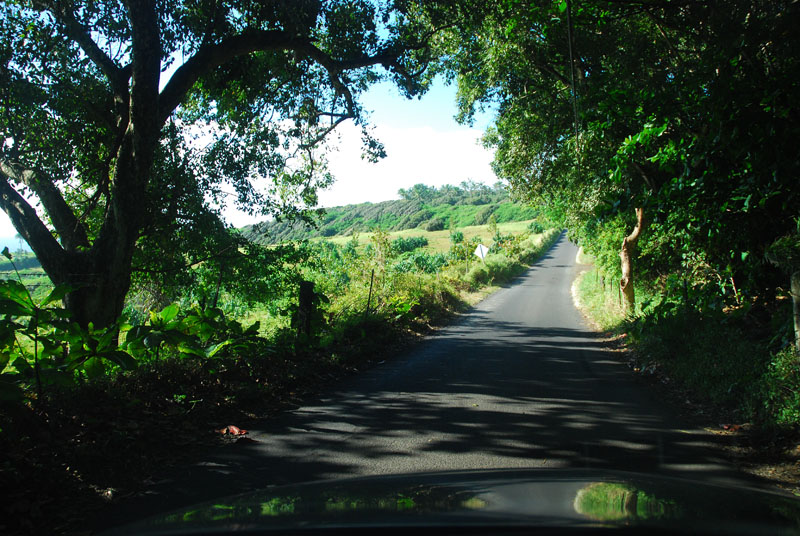 Driving the cattle country on the backside of Haleakala, near Hana. Charles Lindbergh, first aviator to cross the Atlantic, is buried in a small church cemetary down this road.
Hamoa Bay, on the backside of the Hana
Riding the big surf of Ho'okipa, Maui.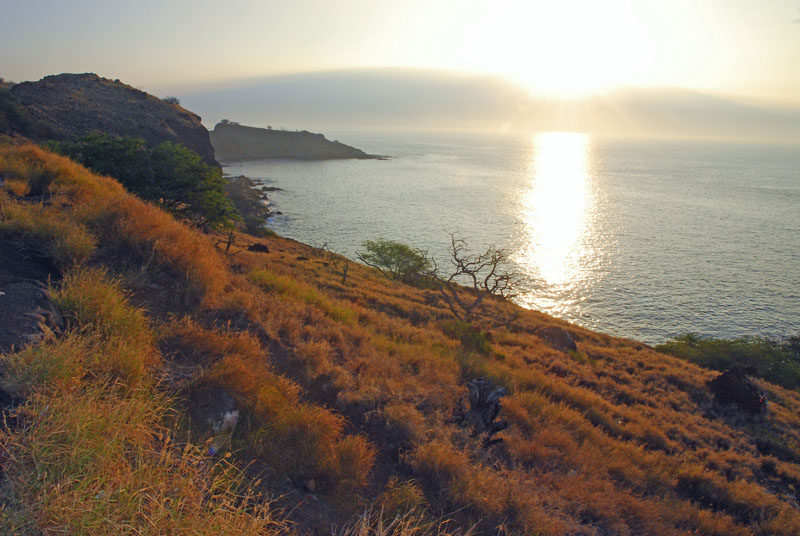 The Hawaiian Islands were plagued by something called "Vog" when I was there . . . . . . .it looked a little like a light forest fire haze. Vog is where local air pollution combines with volcanic venting. Apparently this was also bad for everyone running the marathon. This scene is also along the marathon course.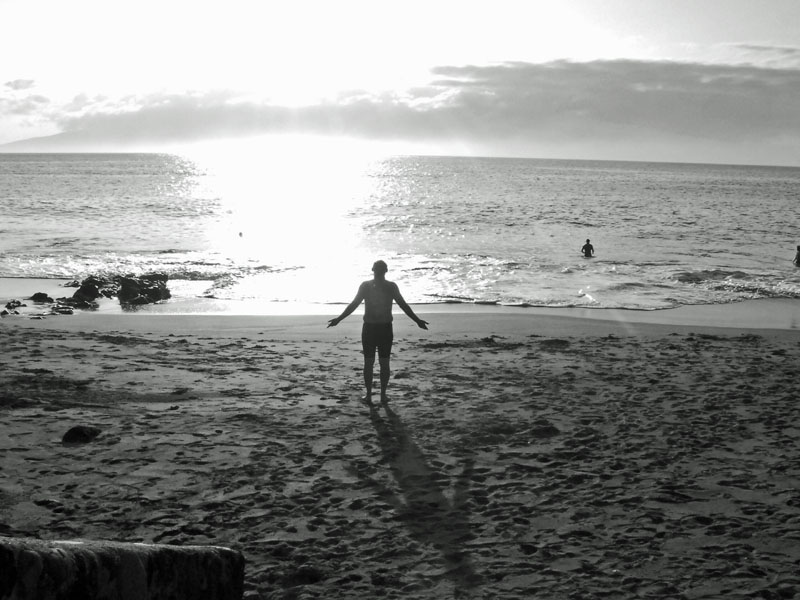 Enjoying the moment . . . .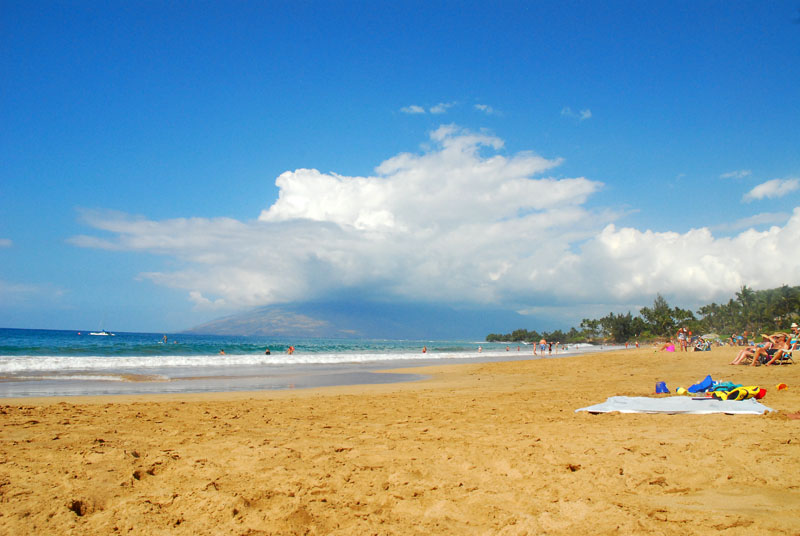 Hanging out on Little Beach, Kihei side, also along the marathon course although in total darkness when we were passing here near the start.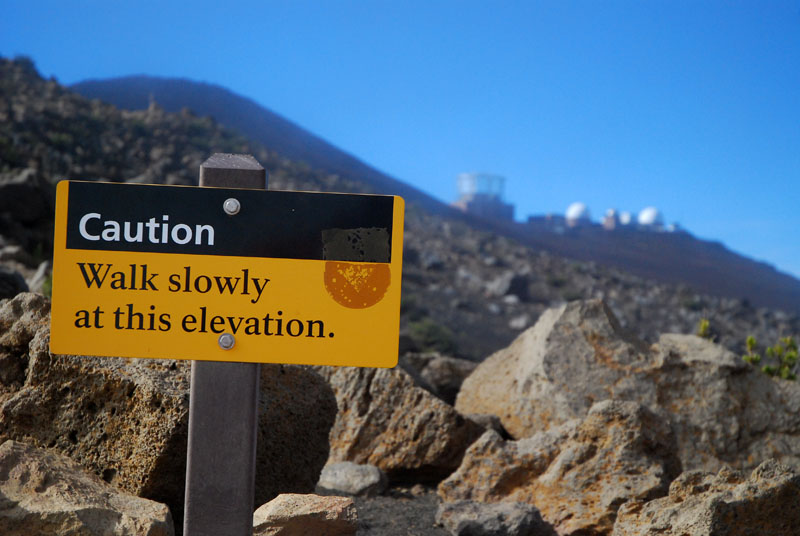 I hiked down into Haleakala from about 10,000 feet. Going downhill is easy. Climbing back out is hard. This particular place has the fourth clearest skies on the planet, hence the astronomy and military tracking installations in the background.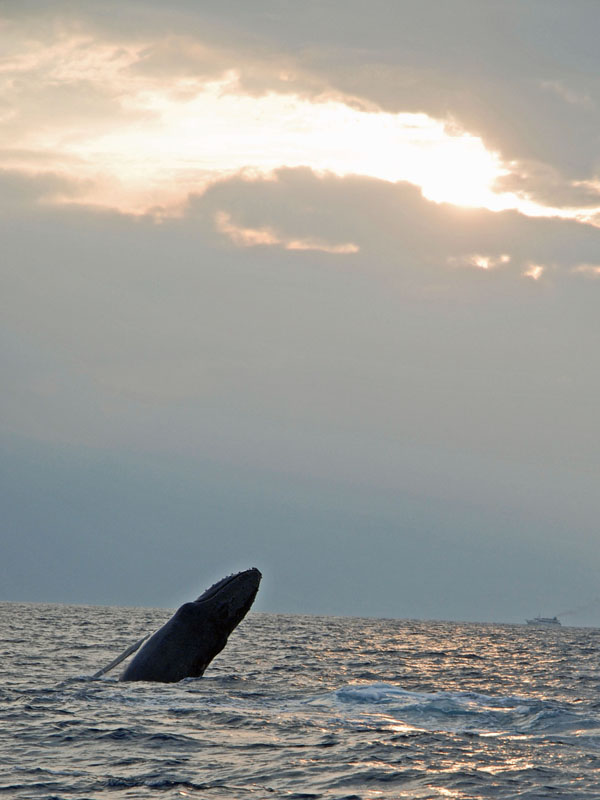 A humpback whale calf launches itself out of the water, practicing a maneuver it will need to catch food in Alaskan waters later in the year, as well as strengthening it's tail muscles for the long voyage north. Surprisingly, there is virtually nothing for the humpbacks to eat in Hawaiian waters, according to our guide on a catamaran trip I took and Humpbacks can go as long as six months without eating before gorging themselves in northern waters. They come to Hawaii to calve and mate.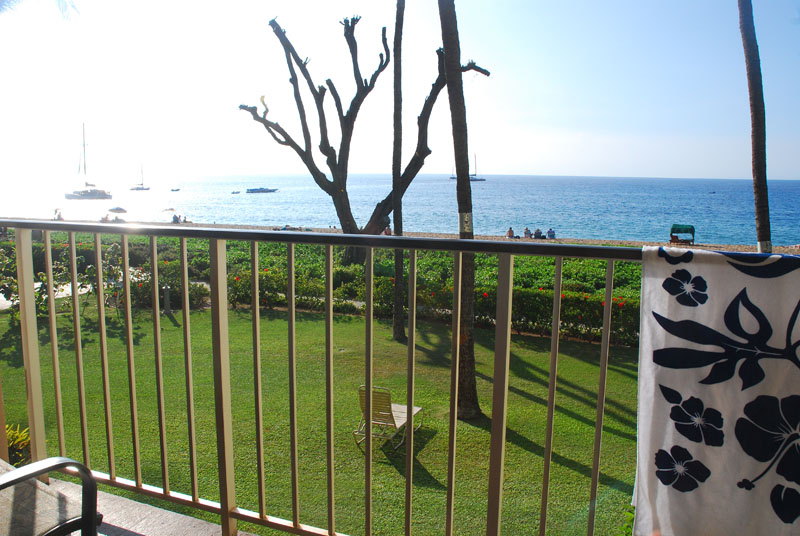 Home Sweet Home, Kaanapali Beach Hotel
CALIFORNIA, NOVEMBER 2007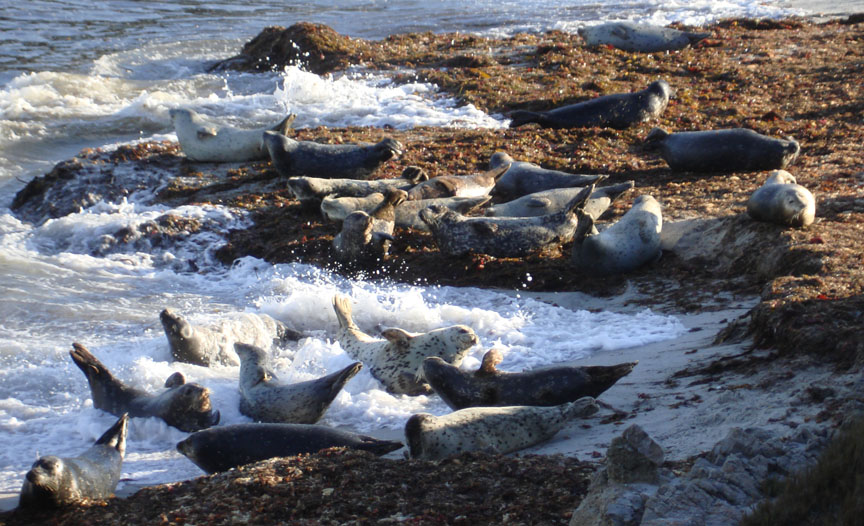 Seals revel in the surf between Pacific Grove and Monterey, along the Big Sur half-marathon race course run by Rick.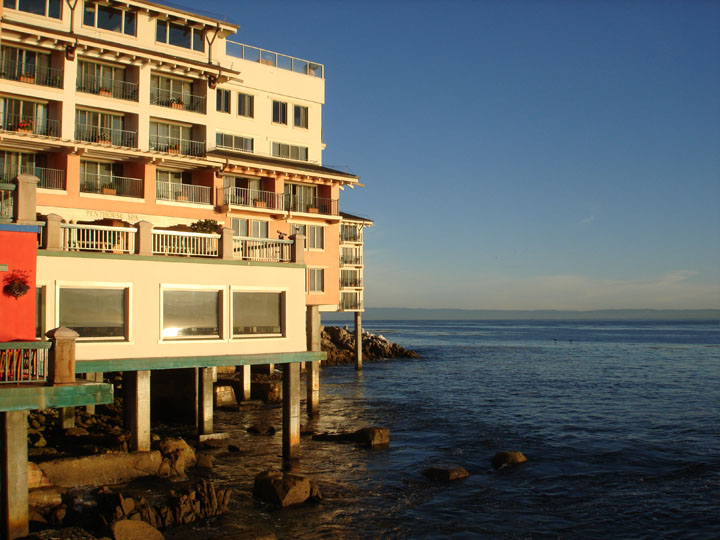 In Monterey, we were in the orange balconied room on the corner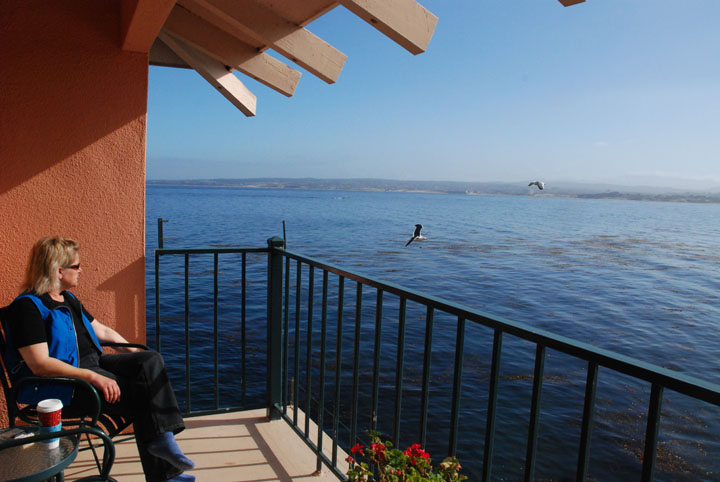 Life on the balcony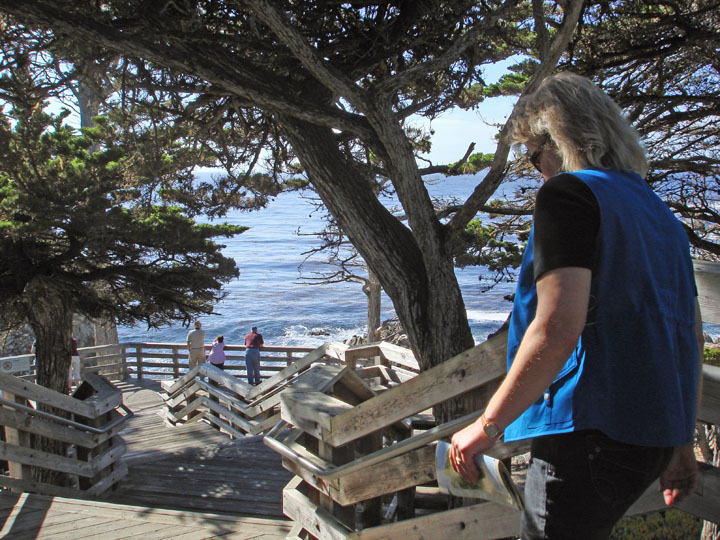 Descending to the ocean, along 17 mile drive between Carmel and Monterey, along Pebble Beach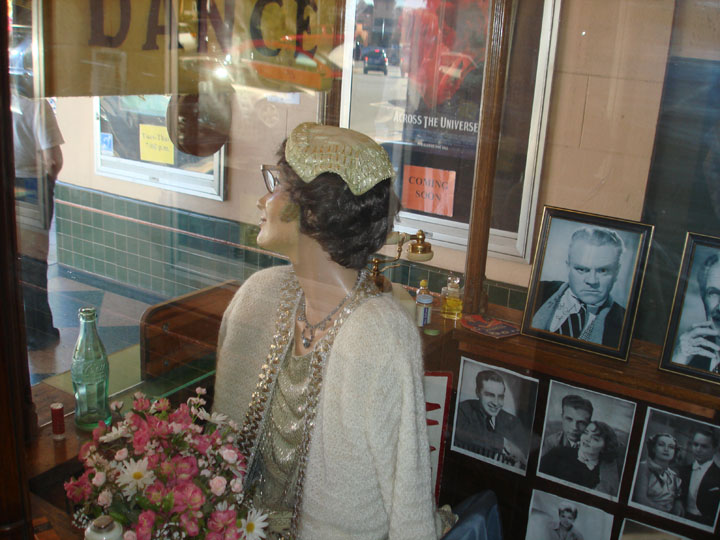 A look inside an old theatre ticket booth, Sonoma.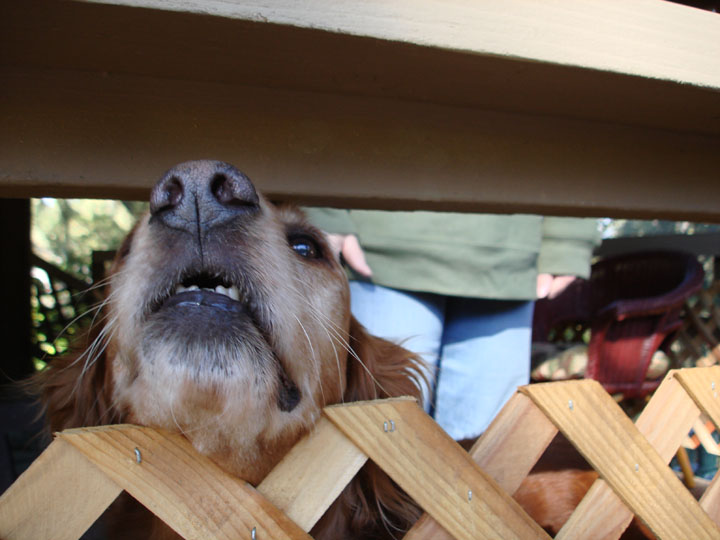 Who's that!!!??? Joy checks out the newcomers. We drove a few hours south from Carmel to see Susan Marie and her brood of rescue goldens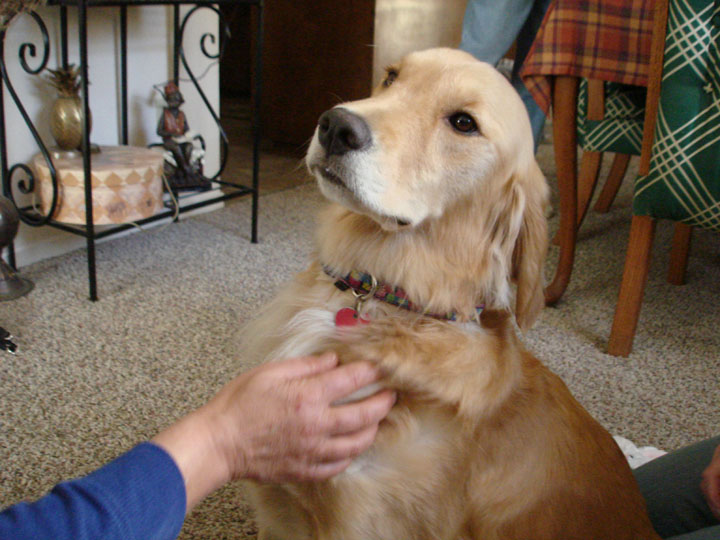 Visiting Susan Marie in California. Morgan is epileptic and is having a seizure and Carol is coaxing her through it. Morgan is a special needs pup requiring constant vigilance. Two years later, in 2009, Morgan was still with us in spite of her significant medical challenges, a tribute to the commitment of Susan Marie.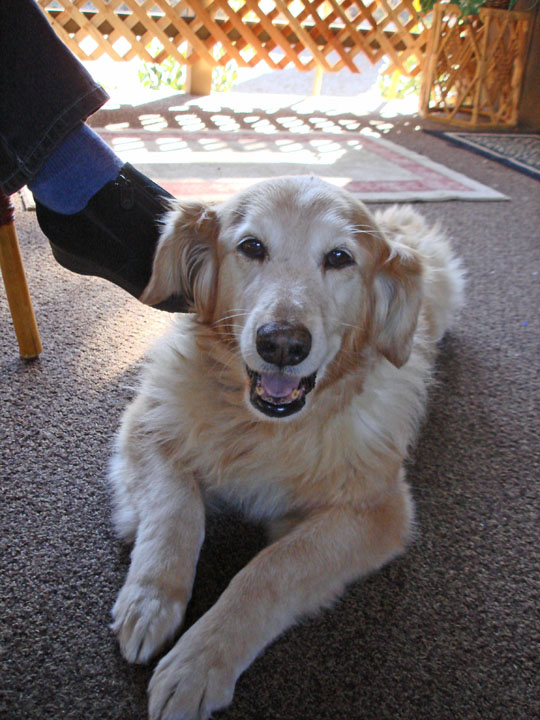 Erin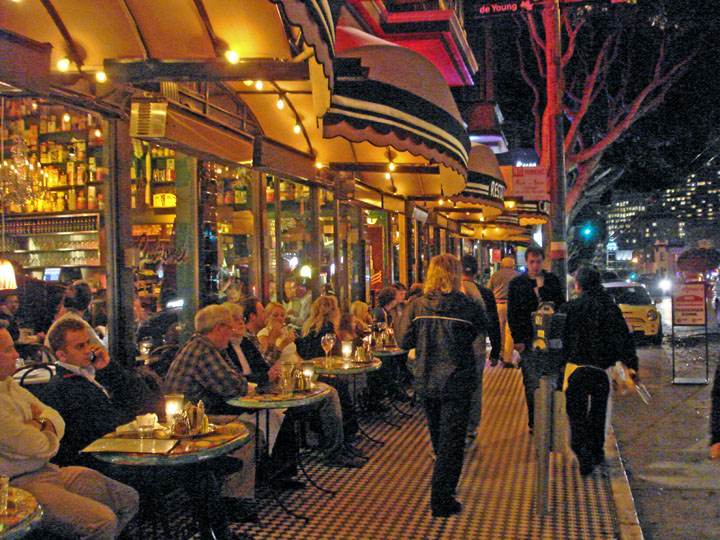 Walking through Little Italy, Columbus Ave in San Francisco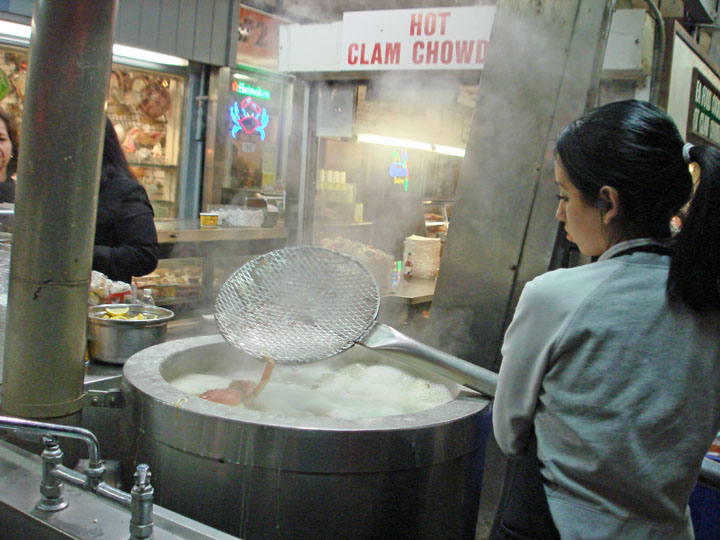 Turning the crabs, Fisherman's Wharf, San Francisco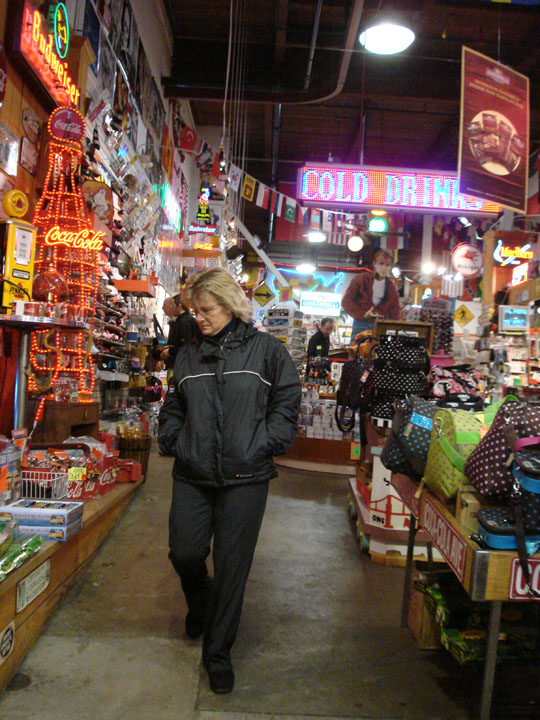 Carol scopes out the trashy tourist spots on Fishermans Wharf, San Francisco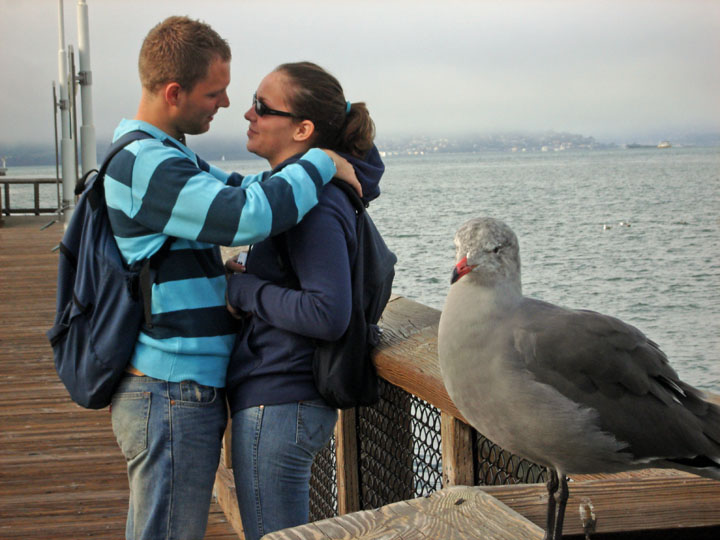 This gull was turning a blind eye to the goings on behind him, Fisherman's Wharf, San Francisco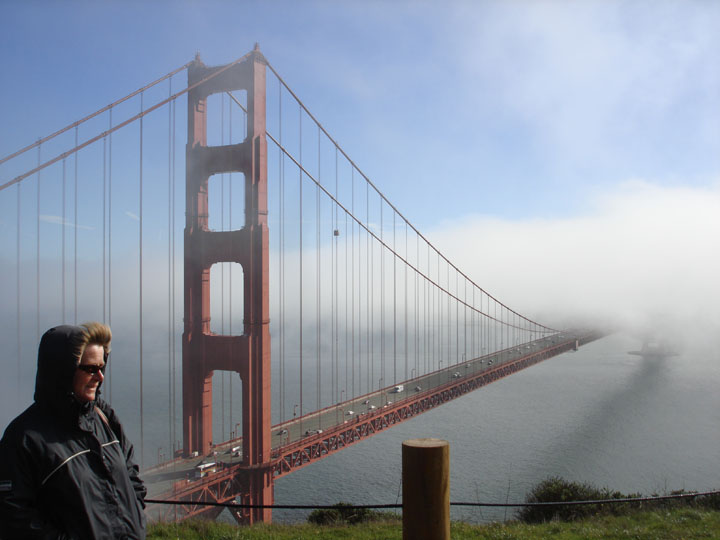 Fog closes in on the Golden Gate while Carol buttons up
LAS VEGAS!!!
March, 2007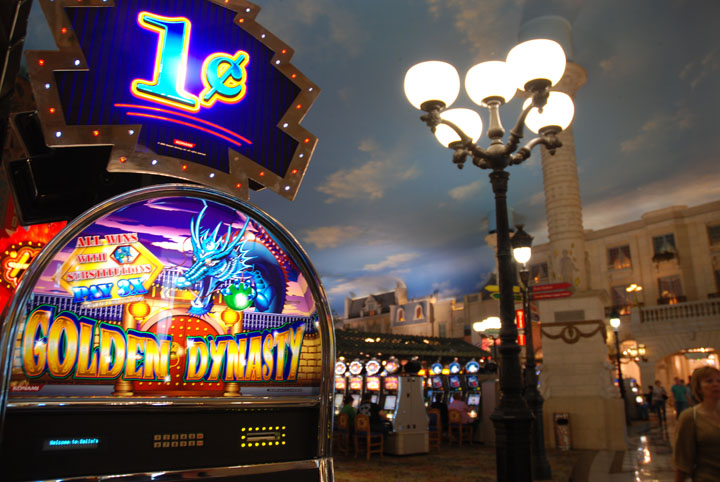 The one cent slots at Paris . . . . . under the phony blue sky.
Victoria/Tofino/Long Beach . . . . late August 2006 . . .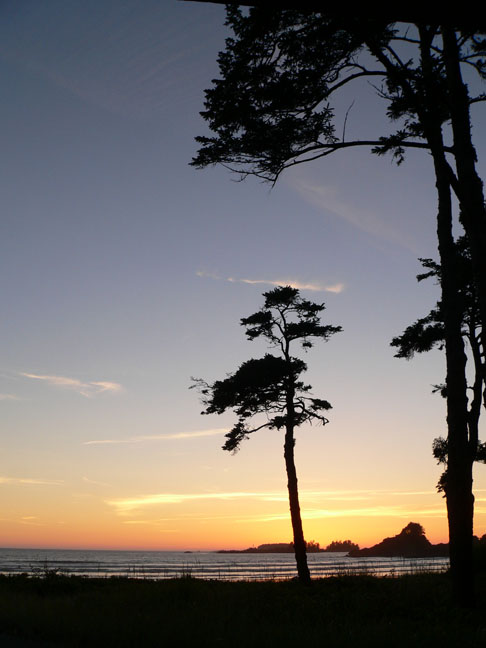 First night sunset near Tofino . . . . looking out from our room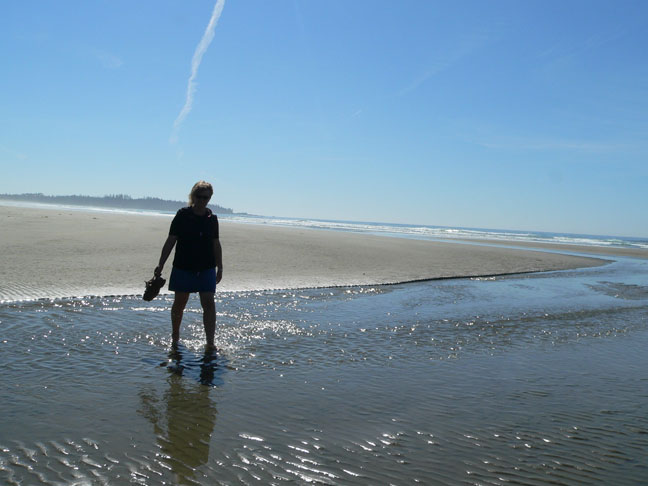 Beachcombing with Carol at . . . . Combers Beach, Pacific Rim National Reserve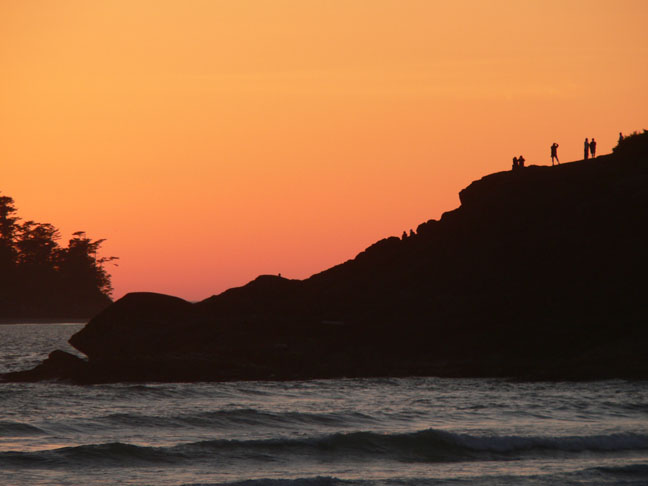 Last sunset . . . . . and some others shared it with us on the rocks.
SOME ATLANTA REMNANTS - late Oct/early Nov 2005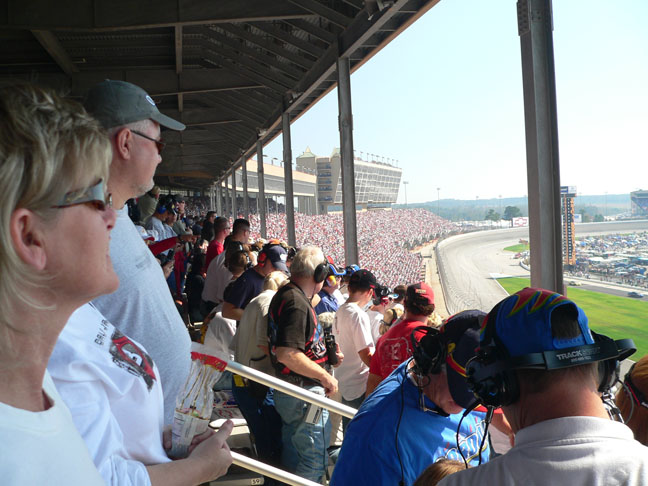 Carol in our seats, row 60 right on the finish line at Atlanta Motor Speedway for a NASCAR race!!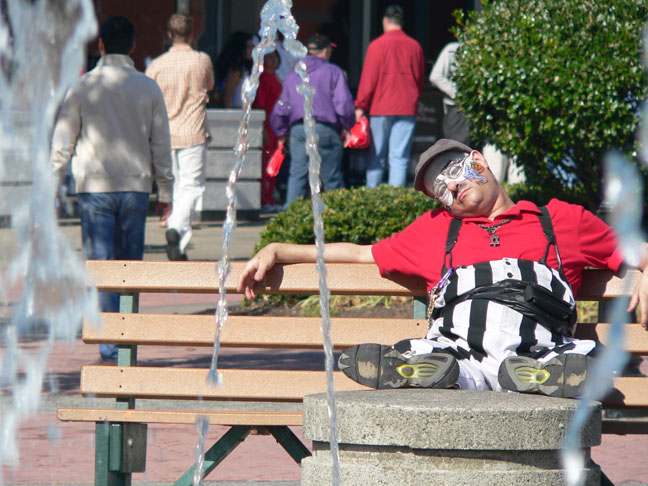 Nice day for a clown-break at a fountain outside Underground Atlanta . . . . temperatures were in the 70's and low 80's. Underground Atlanta is an old railway depot built under the city to allow for increasing traffic above.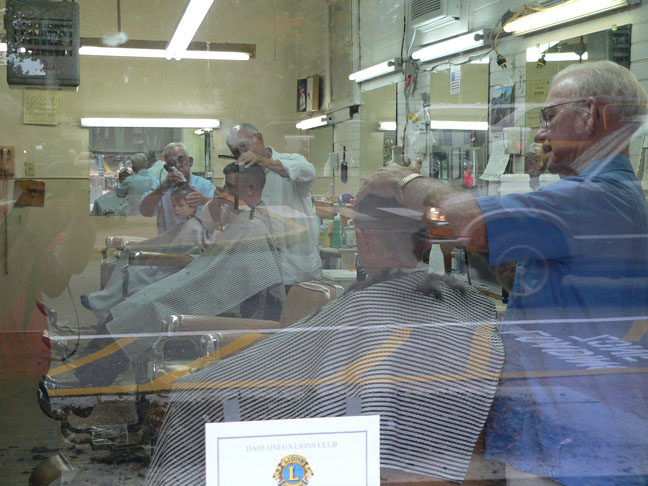 A timeless look in a barbershop window in Dahlonega, Georgia . . . . old men torturing young boys.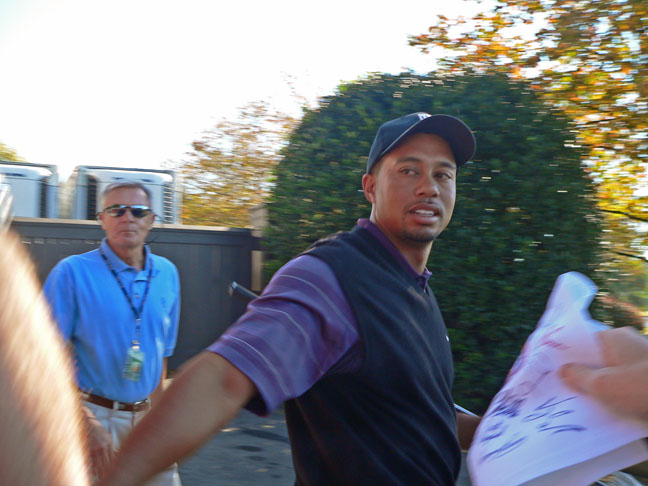 Starting a practice round at the East Lake Club in Atlanta, Tiger Woods saunters by . . . . that's Rick's brother Kenn's desperate hand on the right reaching out with a flag containing the autographs of 29 of the 30 golfers at the PGA event that weekend, autographs he had collected the day before. The only one missing? Tiger Woods. No dice. . . . . although Kenn reports Tiger actually brushed the flag with his hand, which is apparently about half as good as an autograph.
LINK TO GOLDENTALES.CA, THE HOME OF ABBY & KEEPER