Pets are our good chums through thick and thin, giving us love and support whenever we're feeling down and blue, no matter the troubles we might be seeing.

Here is a tribute to the friends of Rick and Carol through the years.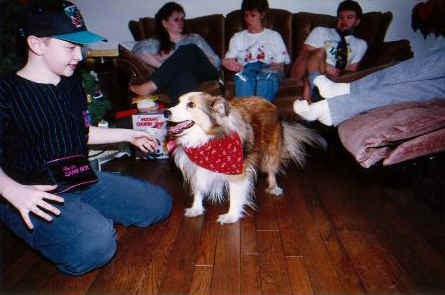 BECKY - 1987 - 1997
Although Abby and Keeper didn't know Becky, she was a big part of the lives of Rick and Carol.
Becky came to them in Grande Prairie, Alberta.
She would chase a ball until Rick's arm fell off, often for an hour or more at a time.
Although Becky didn't live in the country, her favourite place was Nose Hill Park, a vast open prairie on a plateau overlooking Calgary. There she would run and 'splore as Abby and Keeper would, looking down gopher holes and even seeing badgers and mooses too. It was there Becky had a few encounters with coyotes and being a small dog these were perilous times. One time Becky and Rick were walking along a dusty dirt road when a coyote sprang up beside the road and ran away. It was trying to lure Becky to some other coyotes and fortunately, Becky obeyed Rick's command to stop. Another time, they were walking through the tall, waving grass at Nose Hill when they came across a momma coyote guarding her den. She too sprang up beside them and tried to lure them away. But she didn't run away like a normal coyote did - instead she was simply trying to draw them from her den where her pups were.
Becky would go anywhere and do anything Rick and Carol might want to do. That included climbing to the ice caves at Kananasaskis Park and walking to the summit of the Nakiska Ski Hill in K-Country.
She was a very good watchdog.
Becky eventually developed a cancerous growth that was gradually limiting her ability to breathe and she eventually passed from our lives amongst great sadness.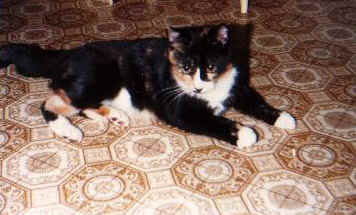 MARCIE - 1985-2000
Marcie Charlton passed away earlier today, Feb 9, 2000.
Marcie came to us as a little kitten in late Oct. 1985 in Grande Prairie. We called her Toady to start but she kept doing strange things like laying on her back and playing with her feet so we kept saying to her "You're weird Marcie!!" And that's how she got her name.
Her tail was broken at birth and it was stubby as she was part Manx. So she had a tail that went straight out and then straight up at a 90 degree angle.
She got tubby later in life but at the end was very, very skinny due to her kidney's failing. She hadn't eaten anything much in the last few days. And she was very weak. But last night she came, as always, to say goodnight when we went to bed.
Taffee, her brother, came to us a few months after Marcie arrived and grew up with her. He will miss his sister too.
We'll all miss her.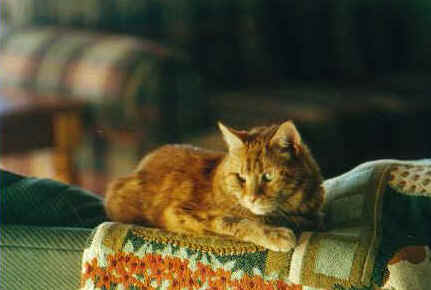 TAFFEE - 1985-2000
Taffee Charlton passed away peacefully this late November afternoon.
He was 15 and everyone was his friend. Taffee never saw a lap he didn't try to sit on.
I'd like to say that Taffee never had a bad day in his life but he almost died about eight years ago. He had swallowed a nickel. The metal was dissolving in his belly and was poisoning him. The malformed nickel was removed and was seen by schoolkids all over Calgary as the vet wanted to demonstrate the melting that stomach acids can do.
Taffee loved to rip underneath newspapers, loved to sleep in the sun, loved to swat puppies on their heads until they learned their manners and was always the first to welcome and mother a new animal into the house.
Our veterinarian was in tears today, her assistant was in tears, Carol was in tears and yeh, I was in tears too.
But we are happy for our friend Taffee today as the pain from his cancer was too much to bear.
As the sun was setting tonight, just touching the mountains, a jet was flying from east to west, its contrails glowing from the fading light. The jet took about ten minutes to cross from one side of our valley to the other and as it passed into the distance while I was sitting on the deck with Abby and Keeper, I thought maybe that was what our good friend Taffee would look like as he went to some place better.
Fifteen years is a long time.
WILLIE - 1992 - 2001
A gentle giant was our Willie.
A Maine Coon, weighing 20 pounds at one point, Willie was released from his suffering in late November 2001.
We got Willie as a kitten from a pet shop in a Calgary shopping mall one dreary winter day.
If there was ever a cat which enjoyed a life of leisure it was Willie, living true to the cat ideal of sleeping as much as possible and working as little as possible.
Willie liked to watch hockey games on Carol's shoulder, nuzzling her neck and chewing her hair.
Later in life Willie developed problems with diabetes and needed insulin shots every day. And then the pain became too much.
His life was too short for everyone.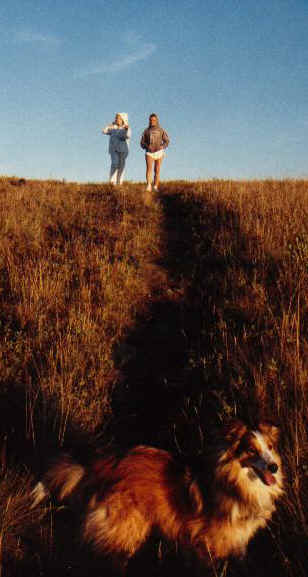 Becky on an Epik Journey at Calgary's Nose Hill Park with gramma Kay and Carol in the early 1990's.