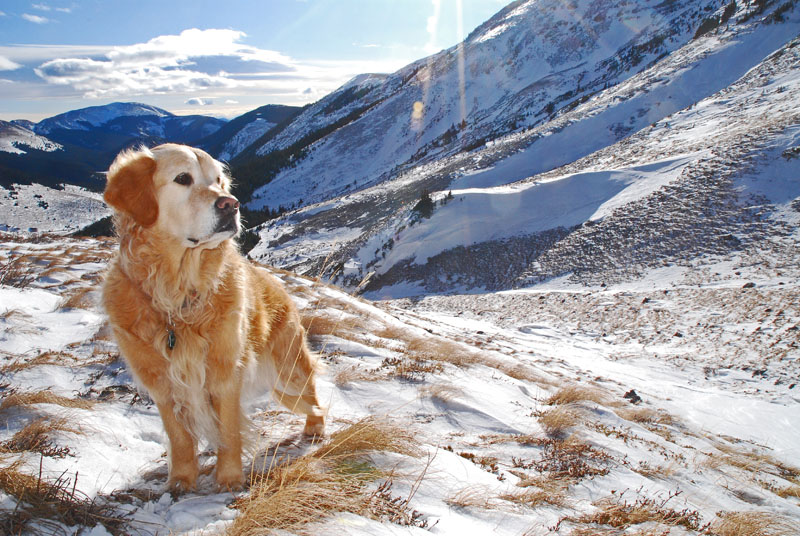 Abby, in memorium, August 17, 1998 - Oct. 28, 2010.
Dogs can't spell.
That will be the first thing you learn as you continue into the world of Abby and Keeper, two Golden Retrievers who once lived in the rolling foothills of the Rocky Mountains near Okotoks, Alberta, Canada.
The stories contained here are the "Epik" Journies and otherwise adventures of Abby and Keeper as they explored the vast plains, soupy swamps, echoing forests, towering peaks and cavernous gullies of the pasturelands and mountains near their home.
We hope you enjoy these Goldentales as much as Abby and Keeper enjoyed writing them.
The stories, originally written for two special children in Ottawa, Canada, date back as far as 12 years, written in the first person, the point of view of our two heroines as they remembered them.
Sadly, we must tell you that our beautiful sprite Abby passed away in late October, 2010, after a short battle with cancer at the age of 12. Less than a month later, Keeper too crossed the bridge, joining Abby, we hope, in adventuring together once again.
Abby & Keeper's latest news was captured in their photo blog sunder "What's New?" at the top left of this page while you can re-live the wonderful life that Abby & Keeper had through their stories and other blogs.
WHO ARE ABBY AND KEEPER?
Abby and Keeper had the very special privilege of being Golden Retrievers, a breed of dog without peer the two of them would have said if you could have gotten a word in edgewise and and asked them an opinion of themselves.
Abby was the first to arrive as a puppy and lay claim to Carol and Rick who live on four acres overlooking a beautiful valley framed by the Canadian Rockies to the south and west. The land where Abby grew up has a distinct feeling of four seasons, the snows and harsh temperatures of winter followed by the green pastures and blistering heat of summer.
Since Abby grew up in the country she thought nothing of seeing moose, elk, coyotes, deer, cows, horses, badgers, gophers, weasels and other critters in her back yard.
Abby was very pretty and very smart . In fact, she was almost TOO smart as even from when she was a puppy she liked to go do her own exploring and make her own decisions.
Abby kept Rick and Carol around because they gave her food. Otherwise, what good did they do but keep her from otherwise looking after her own interests?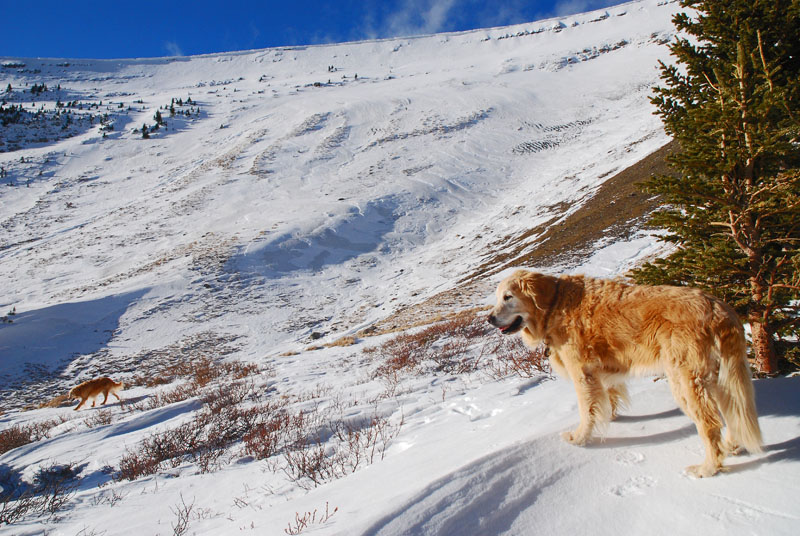 Keeper, in memorium, June 27, 1998 - November 23, 2010
When Abby had been at her country home a year she got a new sister.
Keeper grew up in the small foothills town of Okotoks with a family of a mother, father and three kids. They thought she was a "Keeper" when they got her as a puppy but she grew up and then Keeper wasn't so cute anymore so she didn't get a lot of walks or other stuff and mostly sat in her small backyard and howled at the moon.
So finally the family did the smart thing and asked their veterinarian to find Keeper a new home in the country where she could bark and no one would care.
You see. . . . . well, how do we put this? There is something about Keeper you need to know. Keeper SAW things in the day and then when it got dark she REMEMBERED them and even though she couldn't see them anymore, she barked anyway to warn them away.
Keeper was awful careful about villain's lurking in the night.
But in the town where Keeper grew up, that kind of loud carefulness wasn't as fully appreciated as you might expect.
So one day Keeper was in her yard in the town and suddenly she noticed an eyeball looking through a hole in the fence at her and then the gate opened and in came Rick and then in came Carol and then came Abby. And everyone was instant friends and it was so great for Keeper to have company she got to go live with Abby in the country.
These are the stories of Abby and Keeper. We hope they live forever through them. All the events described here are true as far as the two of them remembered!!!
Rick and Carol
Visitors to this page since Feb. 22, 2011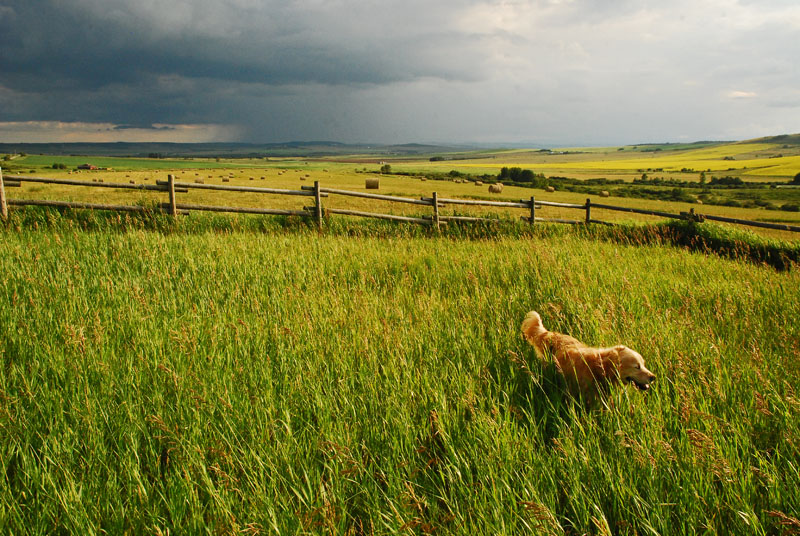 Abby turns away from a passing summer storm at her prairie home . . . . .
All aspects of www.goldentales.ca, photographs and copy, are copyright Rick Charlton, Okotoks, Alberta, and may not be used for any other purpose without written permission.