OUR FRIEND SAFFRON GREW UP IN A COYOTE DEN!!
BY ABBY AND SHANNON THE HUMAN
Keeper and me don't often get mail on account of we are dogs and so far we are the only dogs we know who can write so good!!
Mostly we get mail just once a year from Dug and also from Dana, Sky and Maverick from Ontario. They send us presents at Christmas.
So . . . . to get three letters in one year was just great!!!
Okay, so maybe it was Rick who got the letter, this one from his cousin Shannon, who lives near Alder Flats which is a long way away to the north, probably 100 miles away says Rick.
I didn't know our valley was that big!!!
Anyway, in her letter, which Rick read to Keeper and me, Shannon described the perilous and otherwise hair-raising adventures of three Golden Retriever puppies named Saffron, Roy and Mandy, who were discovered all alone on the forbidding prairie.
But I will let Shannon describe the events as they happened. You will have to excuse her spelling as she can't write as good as us dogs:
The tale begins:
"June, my mother, Bern (Shannon's husband) and myself had just finished checking the cows that we pasture at June's ranch when I noticed this little pup sitting in the middle of the cow trail. We drove toward her and she headed toward a coyote den and disappeared. My first thought was, "Who would drop this little pup sitting in the middle of the cow trail?"
"As we called and coaxed her to come out she brought her brother Roy with her.
"We calmed them by talking to them and petting them.
"As we were discussing where to start looking for their owners, I noticed another reddish pup sitting watching us just outside the bush. We called to her and she finally came to the full run to us.
"They were all so beautiful that in my heart I hoped we wouldn't find the owners, but realistically knew we would have to try.
"Once we loaded them into the truck and settled them into mom's place we started phoning around the neighbourhood looking for their family.
"As fat as they were they hadn't been on their own long, only enough to be leery of strangers and to know that the coyote den was their new home.
"All the area residents that we phoned had no idea whose dog had had pups or where they could have came from. Bernard and I decided to adopt Saffron and Roy. June gave Mandy a home until we could find out who they belong to.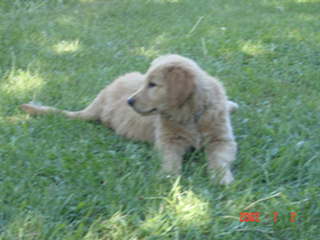 Roy the Golden Puppy
"About a week later mom's phone rang and it was a landowner that lived about two miles across country who had her female Retriever and her pups disappear. She called to just say that she had been just sick with worry, she thought the coyotes had made dinner out of them. The momma dog had come home with her rear-end chewed (by coyotes) and was lame for a few days.
"It seems they (the landowner) had started to give away some of the pups and mama dog didn't take kindly to this so she went and hid the kids.
"The landowner's husband had rode the quad all over looking for the pups and could not locate them. The mother dog must have been sneaking back and feeding them at night (or when the landowners weren't home) for the pups to be missing for two weeks and still be in such beautiful shape.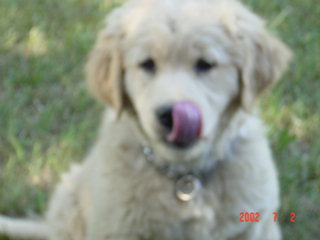 SAFFRON AS A PUPPY
"The landowner said she was happy they were okay but she did not want them back (she had been giving them away), so we kept Roy and Saffron and June had Mandy (whom Uncle Bucky totally loves) join our families.
"The sad part of this tale is that Roy, who was the most kindest and loving one of them all, was run over in a farm accident and we had to put him to sleep. That was hard to do, but seeing him in so much pain was worse. Still, to this day, I miss him, even though was with us only a couple of months.
"Saffron is totally the ruler of Ozzie the Basset Hound, who also lives with us . Saffron leads him around the yard with his leash and is determined that he doesn't belong in the doghouse when she wants to play.
Well, when Rick got done reading that story to us dogs we weren't sure what to think!!!
Keeper and me are happy that Saffron and Mandy are okay but we are sad, as sad as when our friend Sam got shot with an arrow, that Roy was hurt.
I have chased coyotes before along with Keeper, and we have sniffed noses with coyotes through the fence sometimes, but maybe coyotes aren't as friendly of folk as we might have thought.
We will have to think about that.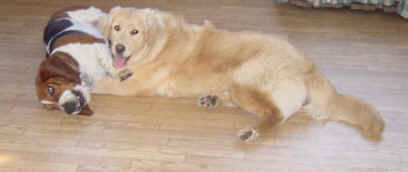 Ozzie the Basset Hound and Saffron play around!!!