Springtime swamp walking with Keeper . . . .
Spring to spring, which, if you think about it, includes summer and winter, for 2006-07 was the eighth and the start of the ninth years in the lives of Abby & Keeper, intrepid heroines who live on the trackless prairie in western Canada.
It's only one year but it was a year when the dynamic duo had many adventures both at their home and in the nearby Rocky Mountains.
What happens in the lives of Abby & Keeper?
Well, it can be downright boring sometimes, sleeping out in the shade under the big trees as the tall grass prairie waves in the breeze . . . . or downright exciting like the time a cougar came out of the high country right behind them.
Spring to Spring with Abby and Keeper and a few other friends and critters.
These are the photo's from that year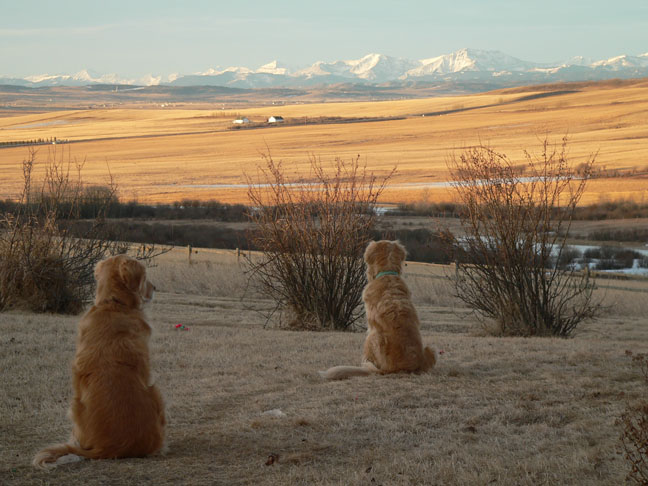 The beginning of the story and a new day, sunrise, early Spring 2006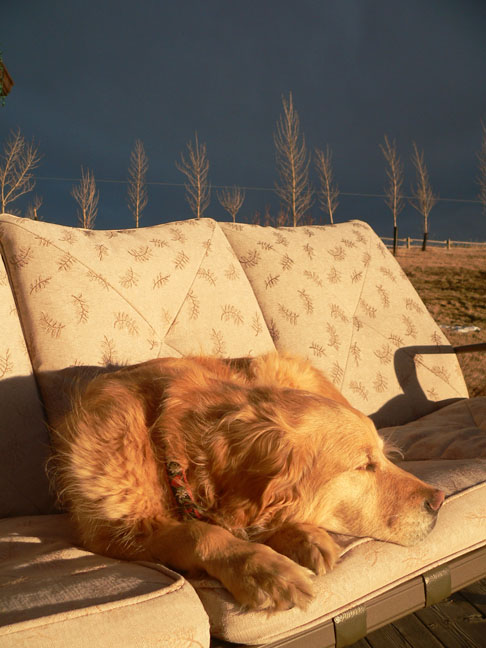 Abby, asleep at sunset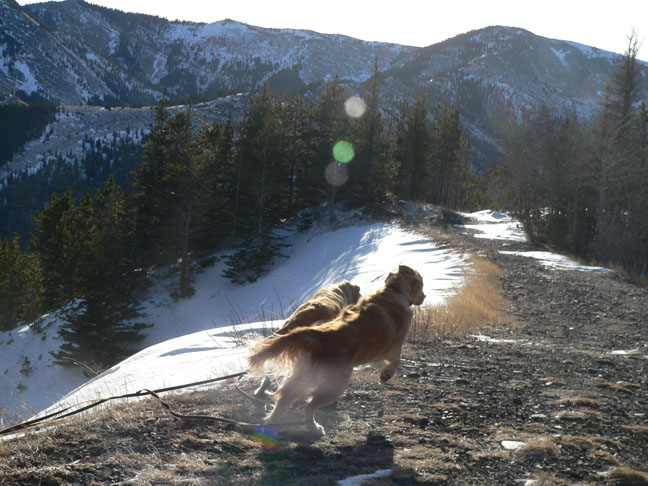 On an adventure to Bear Lake, there's still snow high in the mountains, Keeper and Abby nearly blown off a ridge by high winds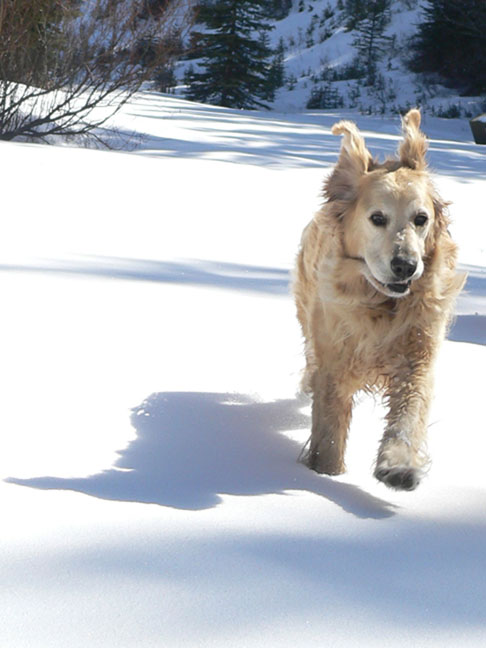 Keeper and her shadow run happily at Kings Canyon in Kananaskis Country. It's late April.
It's early May in a lake at Alix, a small village in east central Alberta, as Keeper makes like a crocodile while ducks look for a place to land.
EARLY MAY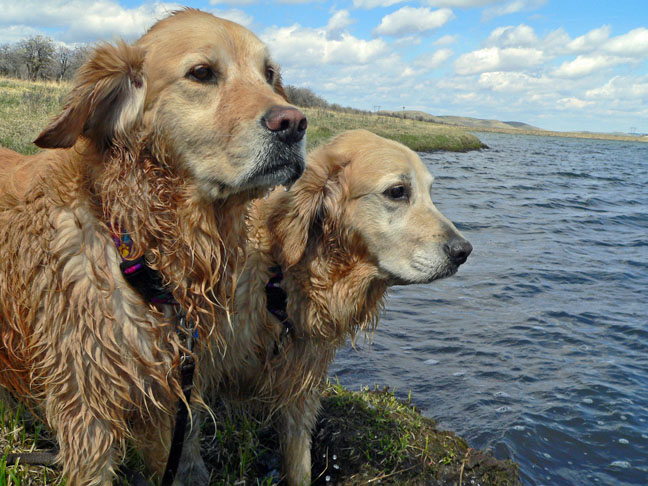 Abby and Keeper at Chain Lakes in early May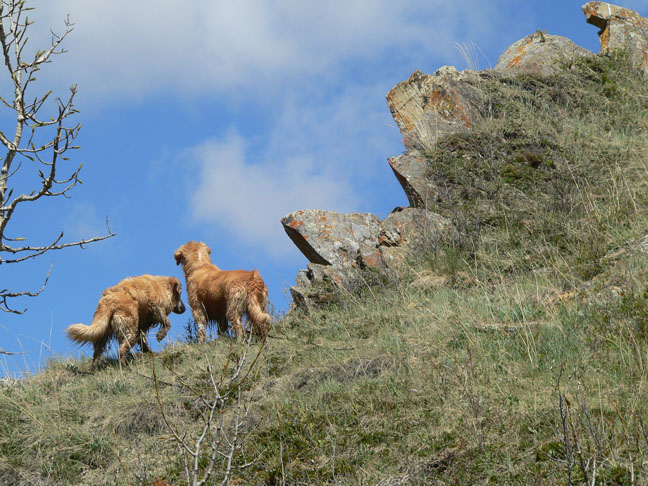 There's always something better over the next hill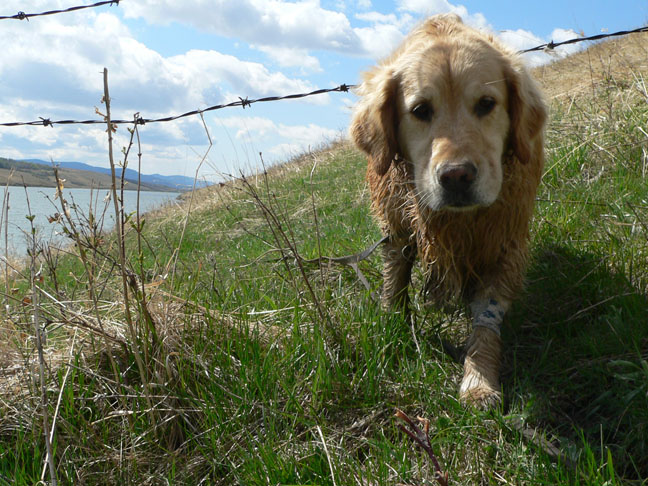 Abby shows the proper technique for cutting under a barbed wire fence. . . . . when Keeper first came to the country she used to run right into them which, understandably, hurt. Then she got scared of them for a while but now she's okay.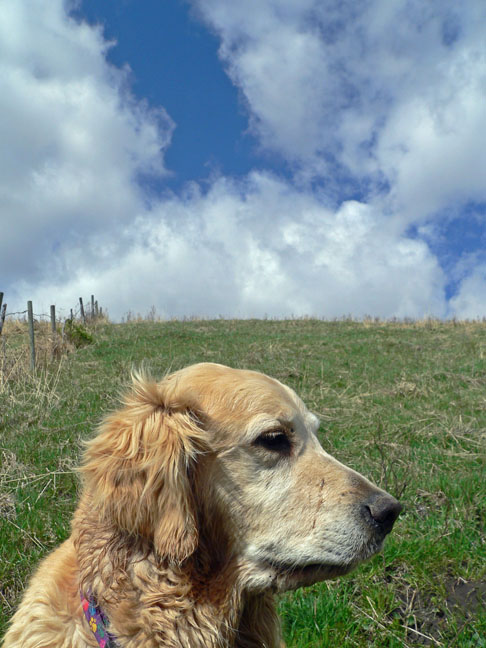 An alert Keeper ignores the clouds boiling up behind her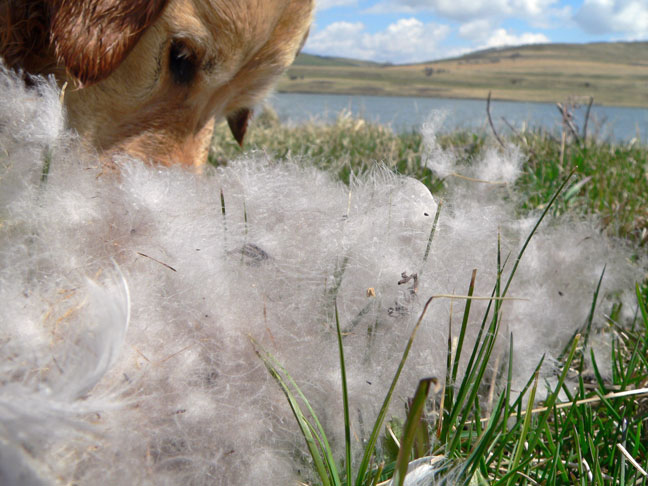 Wind blown wisps of goose down are investigated by Abby . . . . . . a goose probably met its demise here.
A windy sunset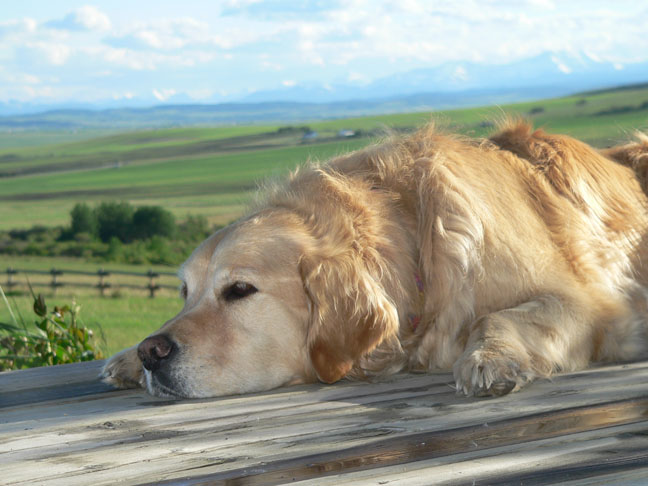 Late spring snoozing for Abby . . . . . but the mountains remain snowcapped.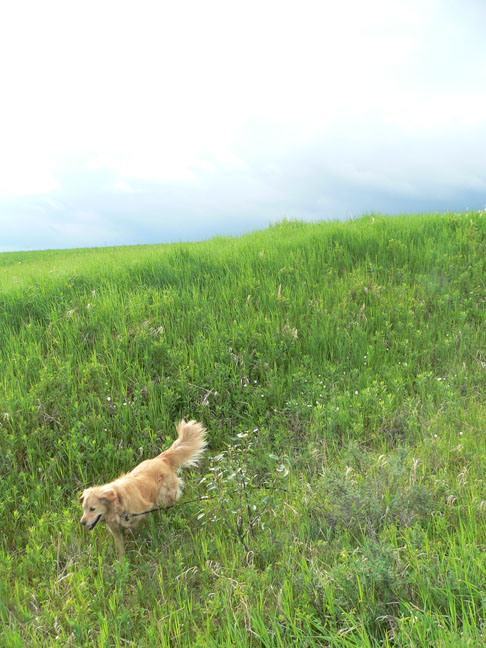 Gully running in early summer with Abby, a storm forming up behind her.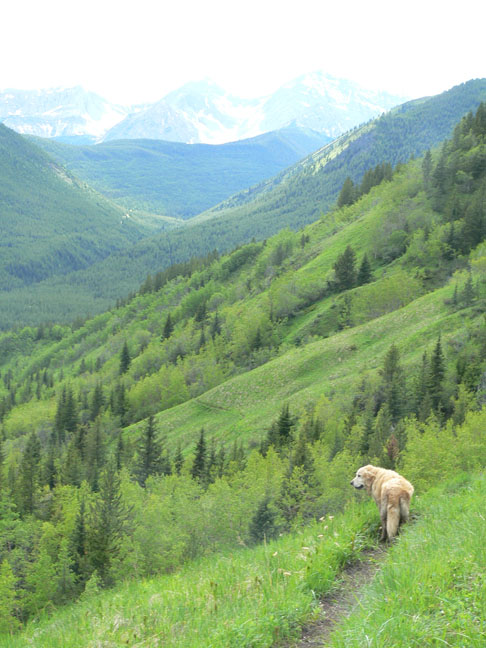 Keeper descends, the vehicle still miles away, far off in the distant valley after Picklejar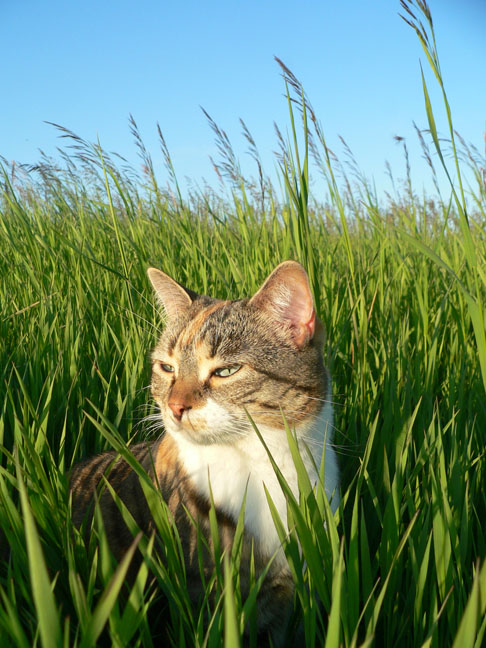 Polly at sunset in the wind-blown tall grass . . . . Polly has only two front feet but gets around well on her hind stumps. . . . . she's only outside with constant human supervision though.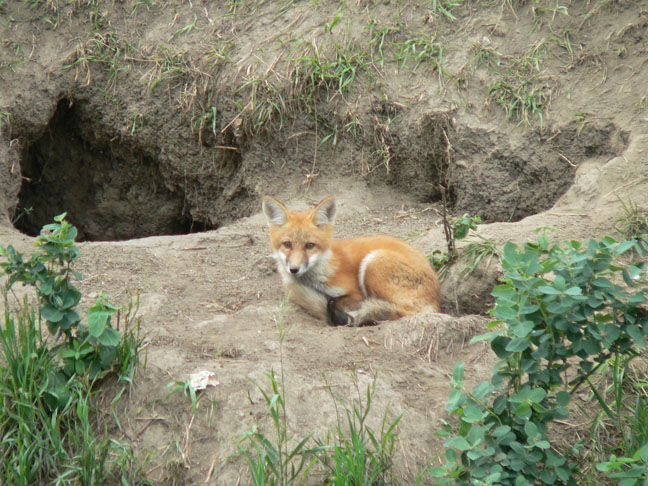 A momma fox guards her den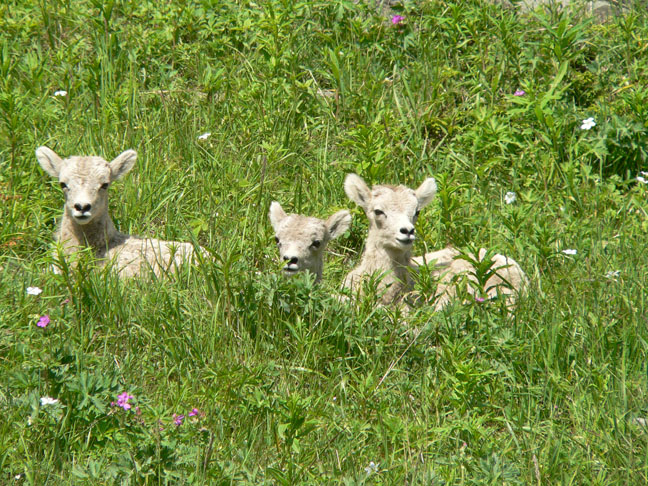 In the mountains, baby mountain goats nestle in the grass, mothers nearby.
LATE JUNE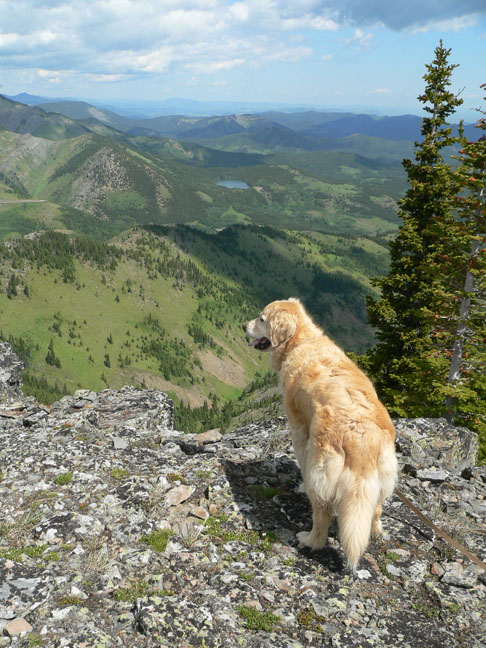 Ridge walking with Keeper in the Whaleback area of southwestern Alberta, on the Eastern Slopes of the Rockies. . . . . . the view is directly east and as you look out it might occur to you that there would be no higher place than this as you went 3,000 more miles in the same direction across Canada, then crossed the Atlantic until finally hitting, probably, the French Alps. The small lake in the distance is Bear Lake, where Abby and Keeper had a windy adventure in late winter.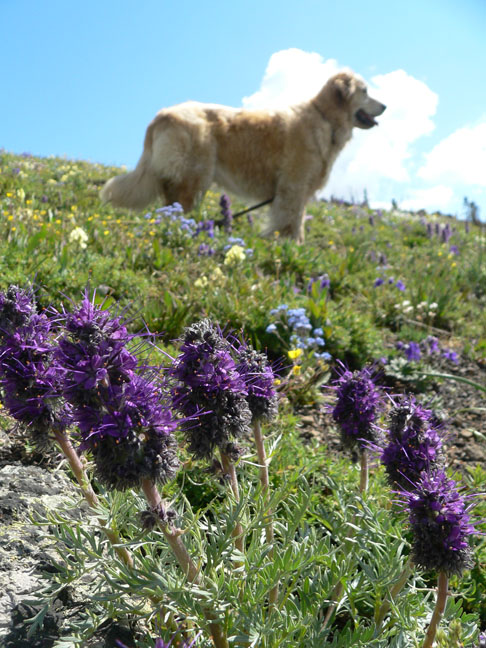 t made us feel guilty to walk here . . . . . the ridge was covered with hardy flowering plants . . . . . a colourful bonanza in a harsh environment.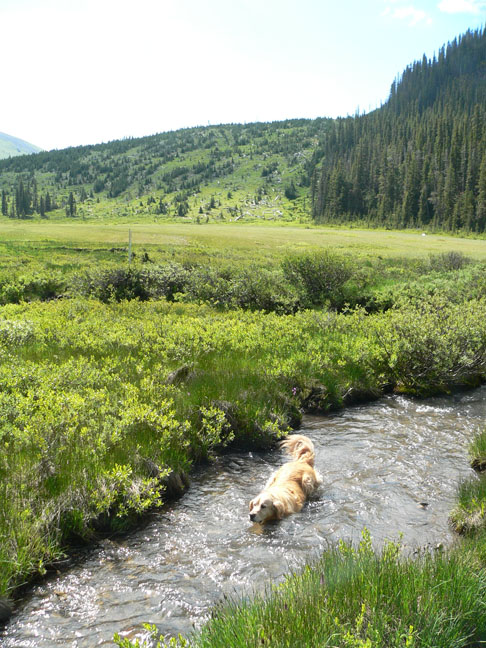 Abby settles in for a cooling soak in a mountain stream . . . . an area of clear-cut logging is visible in the background. More of this area is scheduled to be clear cut and there is controversy about it right now.
Early July and Abby and Keeper and Rick do the 17 km (about 10.5 miles) hike around Upper Kananaskis Lake west of Calgary . . . . . with lots of dips in the water for Keeper on this hot day.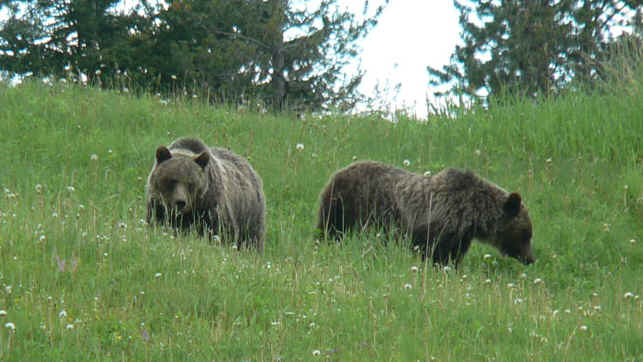 A couple of grizzly bears made an appearance . . . . but we saw these bruins after our walk had ended and from the safety of our vehicle!! Last year, there was a mauling of a human on the lake trail we had walked above.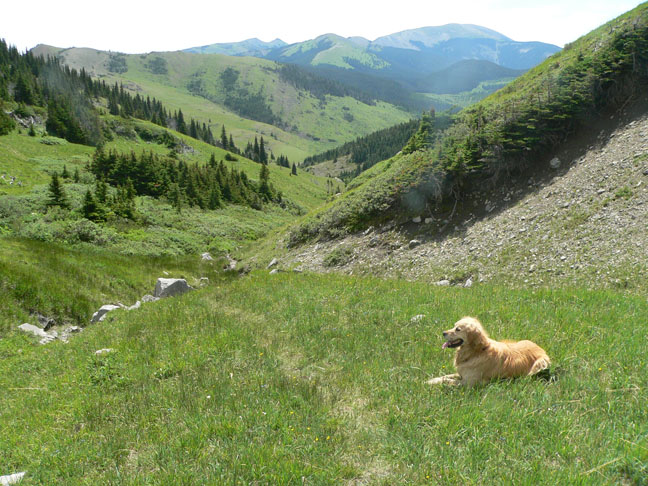 Another hot day . . . . Abby pauses for a rest on an unnamed trail in the Whaleback. We kept going higher for some ridgewalking, but the stream we were following and using to cool off ran out . . . . . too hot on this day to continue.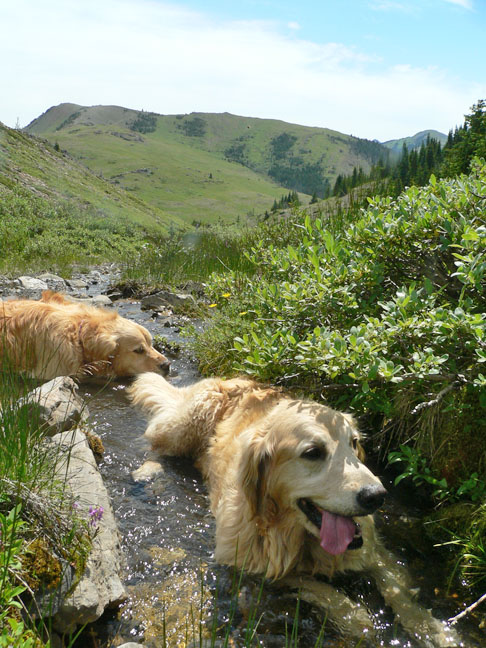 Blessed relief . . . . . Keeper in particular needs some water - not just bottled water - handy to keep cool . . . . . her hips bother her a bit and a cool stream can keep her going indefinitely.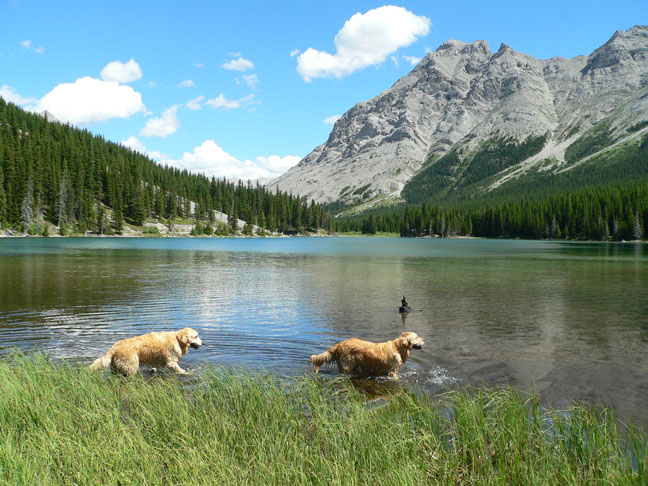 Elbow Lake looking towards Elbow Pass . . . . . very hot day even at this high altitude and a respite in the lake was welcome. We walked down the pass for a few kilometres . . .
MID-JULY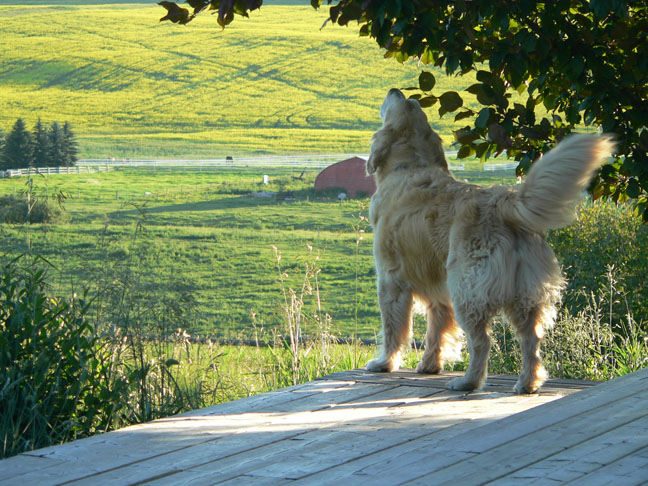 Towards sunset . . . . . and Keeper barks at the impending dark, a yellow canola field in the background. Keeper does this every night . . . .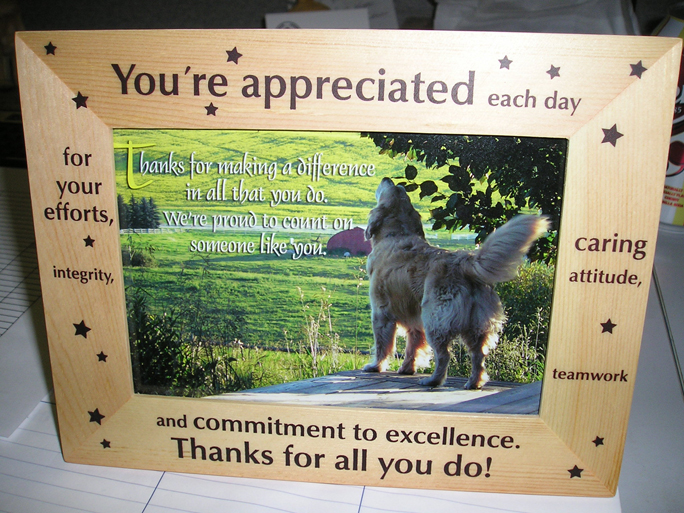 . . . . . and her image was translated into an award for volunteers of the Golden Retriever Rescue of The Rockies (GRRR of Colorado) . . . . . thus Keeper became famous even further away than the mailbox.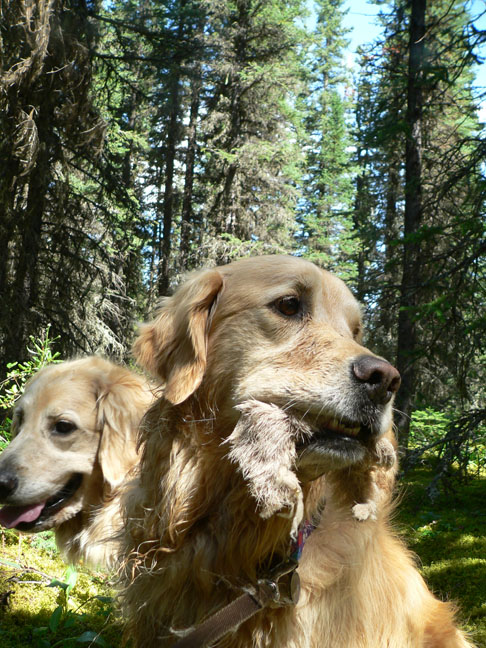 A little earlier . . . . . Abby and Rick engage in a battle of wits as he tries to get her to drop this "hide of a long-expired dead rodent" she has liberated from the bush . . . . not even a handful of berries would entice her to drop it . . . . . . finally, after carrying it some kilometres, Abby needed a drink of water and together we watched it float away down the river.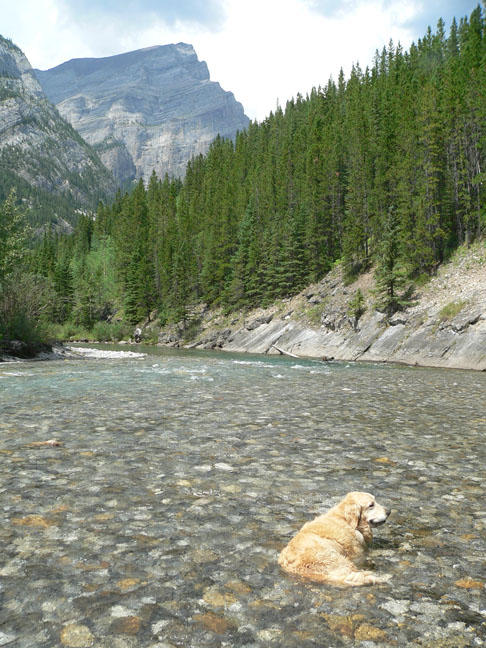 The temperature is 34 Celcius or 93 Farenheit as Keeper cools down in K-Country on the Galatea Trail to Lillian Lake.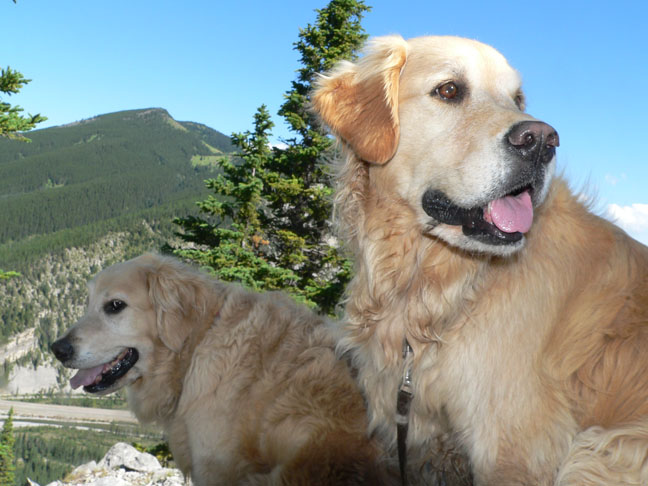 The Dynamic Duo struggling up Forgetmenot Ridge . . . . no problem for Abby but the beating sun is too much for Keeper in this waterless place.
A TRIP TO CHAIN LAKES IN THE SUMMER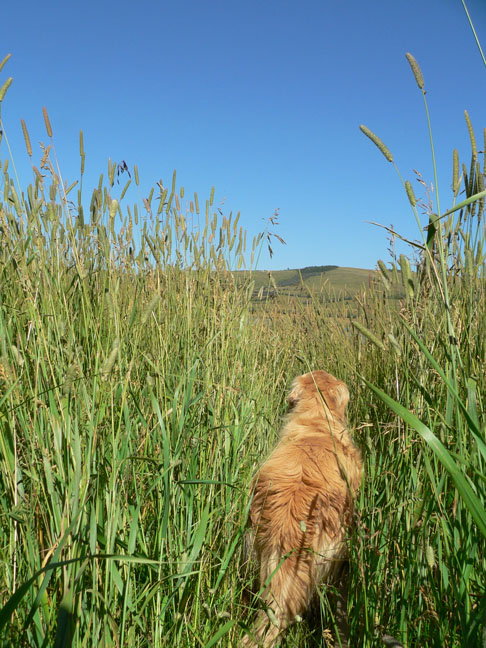 If you're short like Abby, running the tall grass around Chain Lakes can be a blind adventure
Keeper finds her way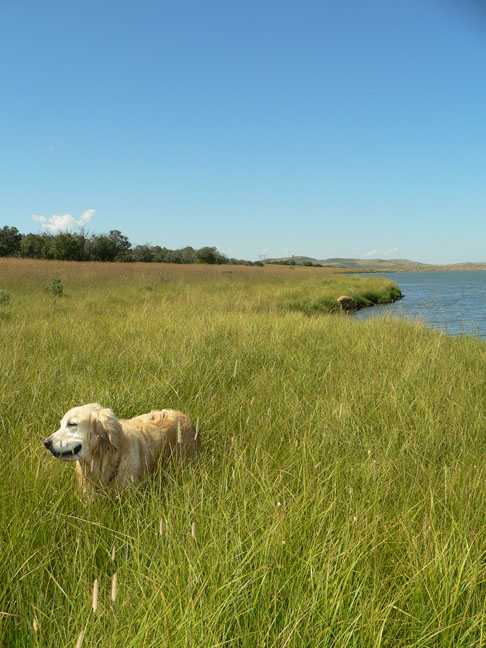 A summer day, no leashes, running for miles through the grass and and a lake to keep a dog cool . . . . Keeper lives her dream
AUGUST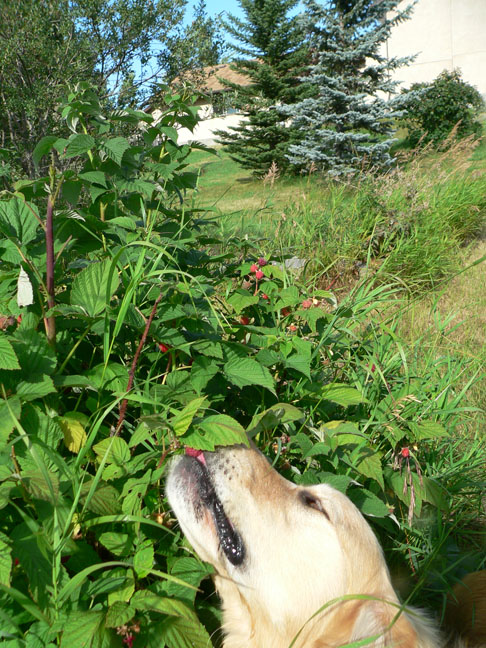 Pickin' raspberries with Abby in August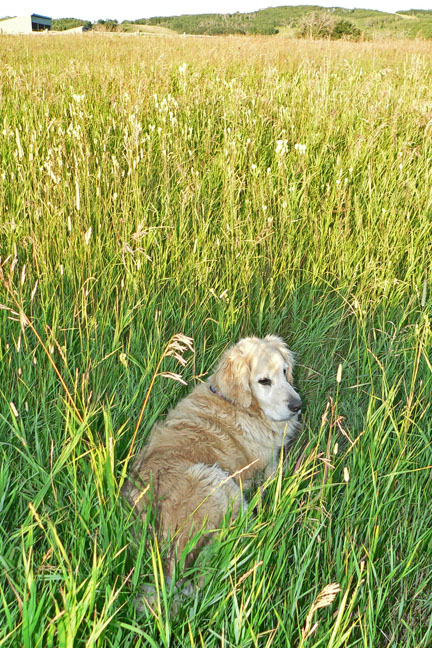 Keeper lays in the tall grass of her home on the prairie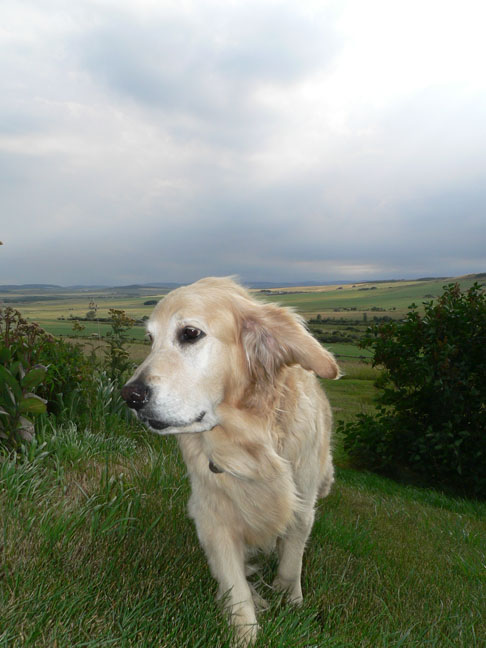 Keeper runs from a storm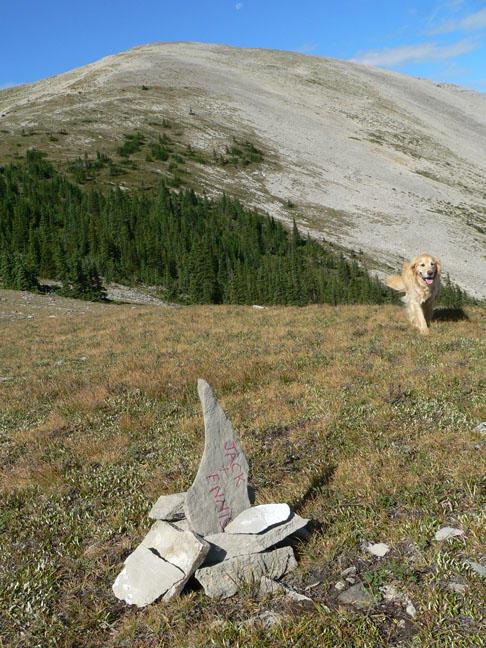 A new memorial cairn for "Jack + Ennis," spotted up on Brokeback Mountain . . . . er, Moose Mountain, Abby strolling by. We were last here in January.
Passing Elk on the other side of Abby & Keeper's fence . . . . this herd has about 100 members and live in the valley and area.
A nice day to chill out in a spectacular setting, snow on the mountain behind in mid-August, Rawlings Lake.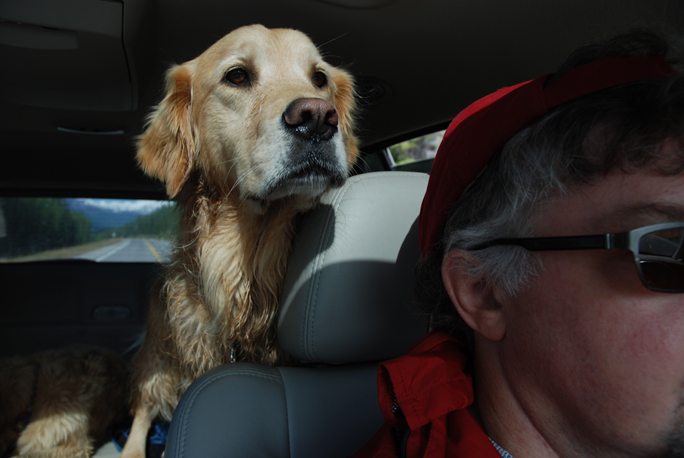 Backseat driver . . . . . Abby will do this for hours on the road
EARLY FALL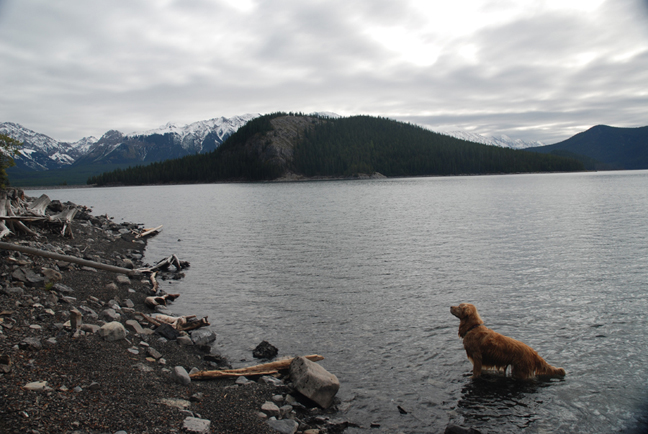 Snow has already descended on the upper reaches of the mountains on Upper Kananaskis Lake where Abby comes to attention after noticing movement in the logs on shore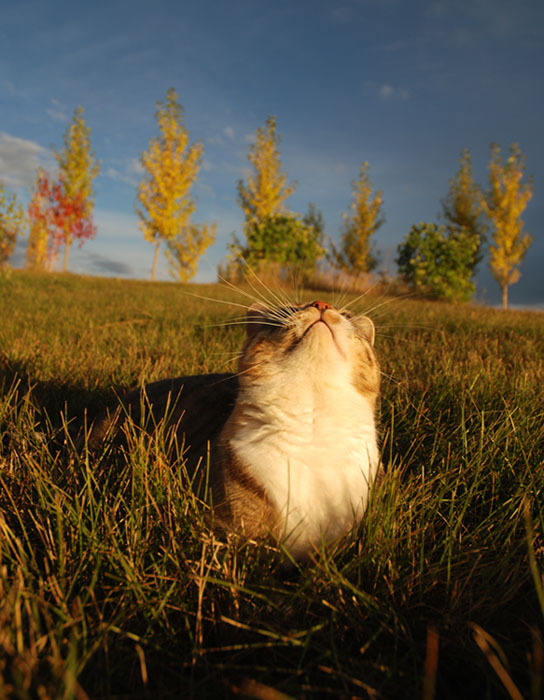 Polly checks the sky . . . . . . cats do that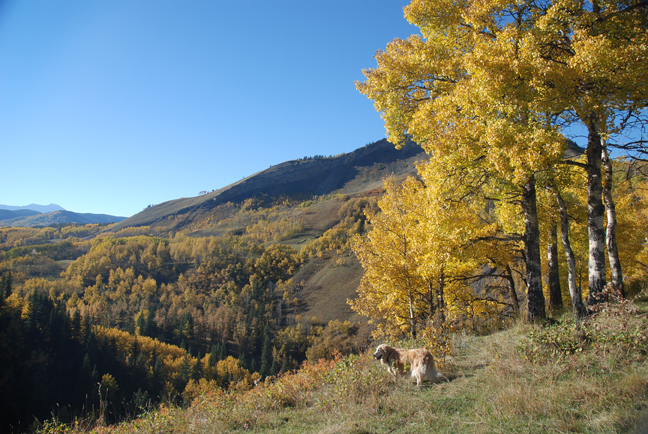 This is what Keeper saw in the Fall in the foothills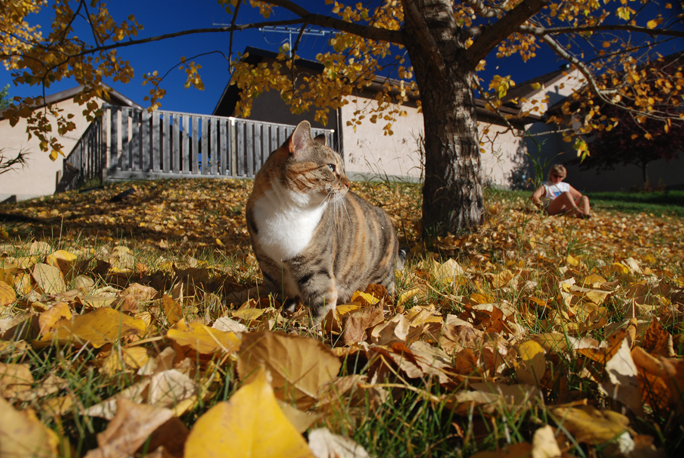 Two-footed Polly and Carol on a warm fall day in early October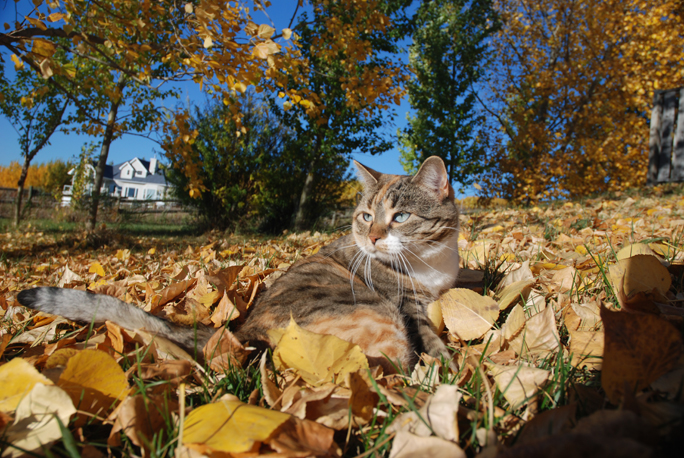 Polly plays in the leaves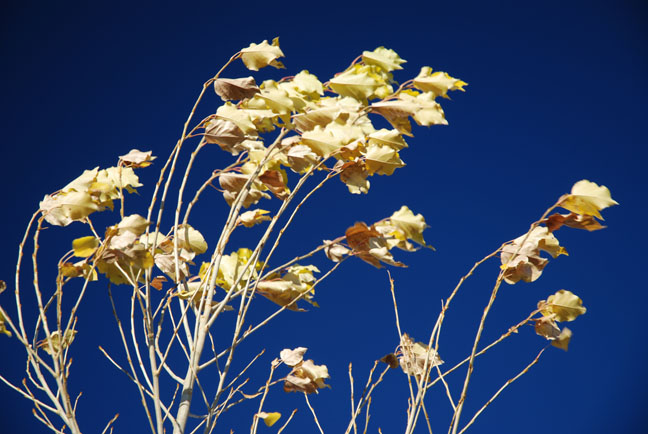 Fall remnants, barely hanging on in a stiff breeze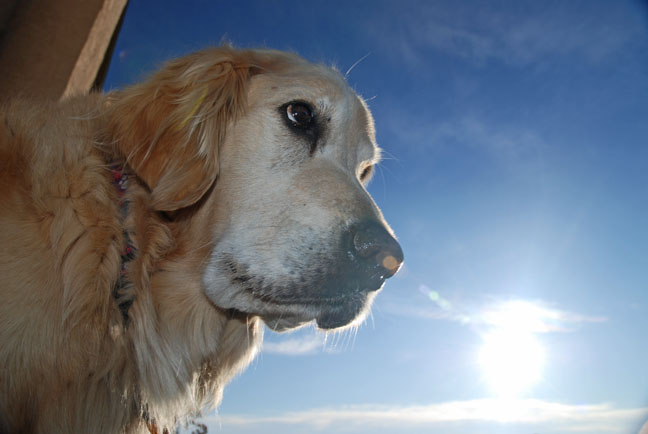 Thoughtful Keeper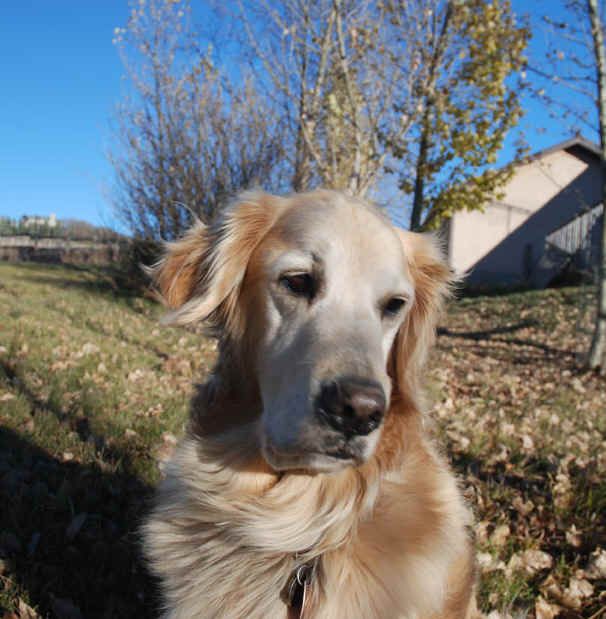 Windy and bemused Keeper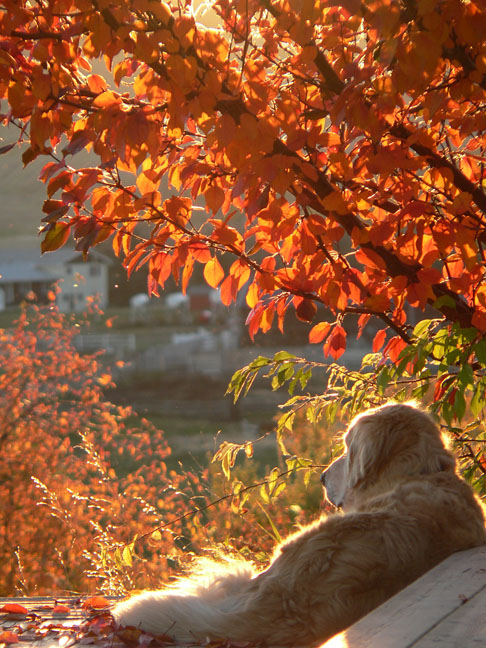 Keeper at sunset under the plum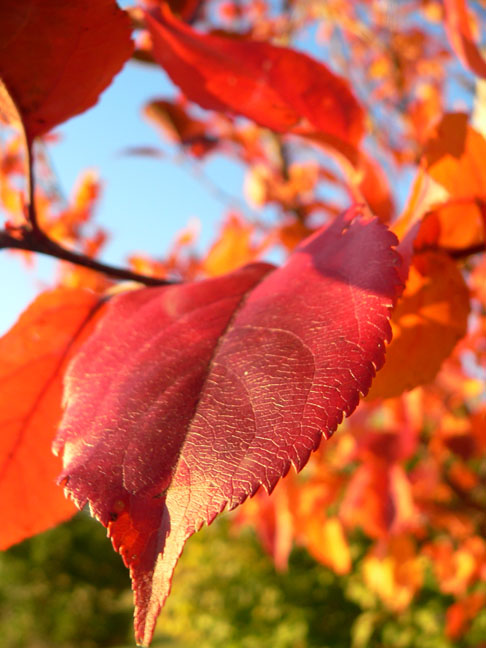 The plum in the fall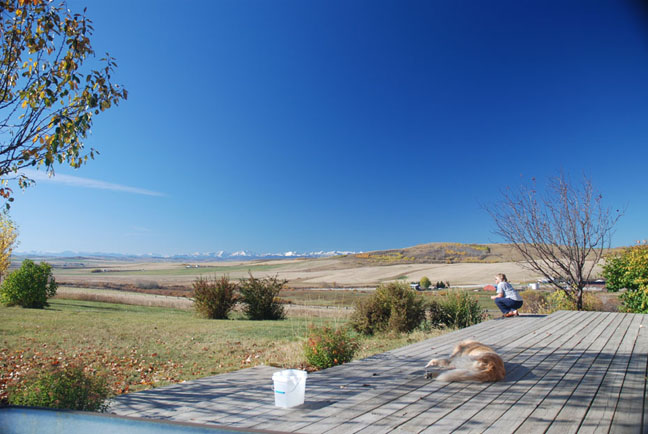 The big picture . . . . . . early Fall morning . . . . . Carol and Abby on the deck, the snow bound Rockies in the background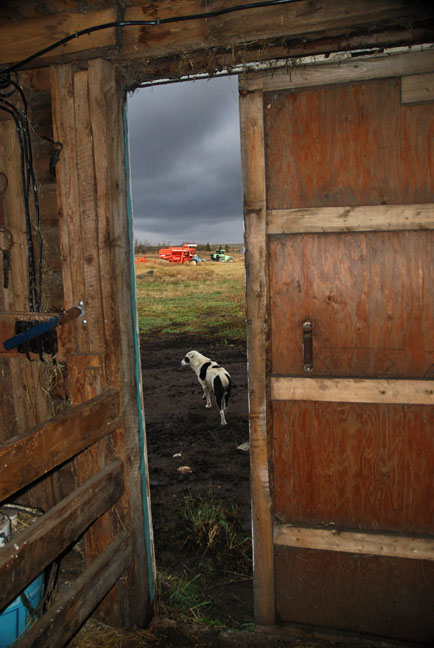 Buddy the farm dog through the barn door, a muddy and dark day . . . . in east central Alberta, near Big Valley.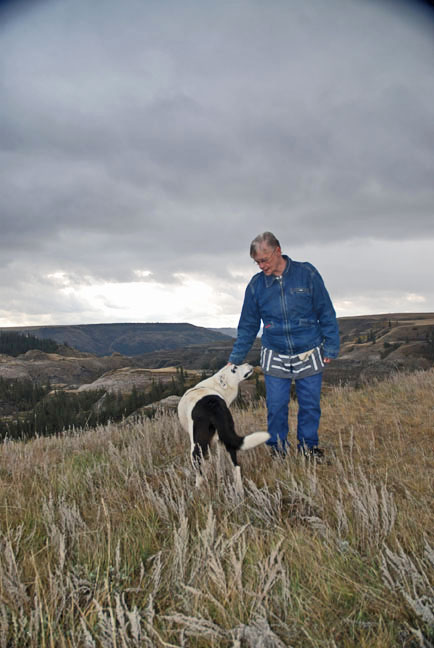 Buddy with Elaine, overlooking Dry Island Buffalo Jump Provincial Park
LATE FALL RIDGE CLIMBING
Abby toboggans down a steep slope on her back while Keeper cools down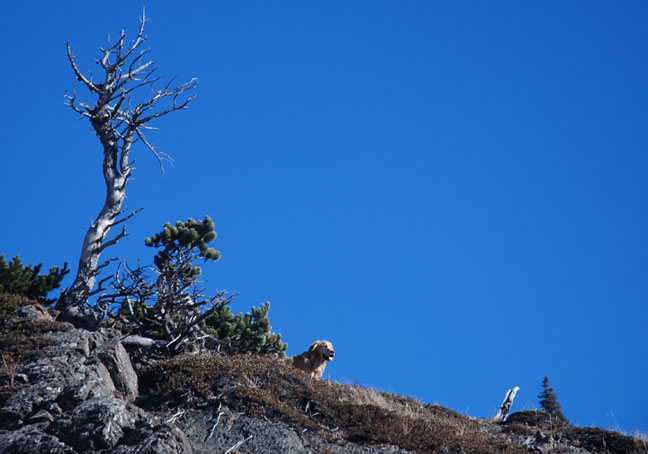 Abby reaches the top . . . . .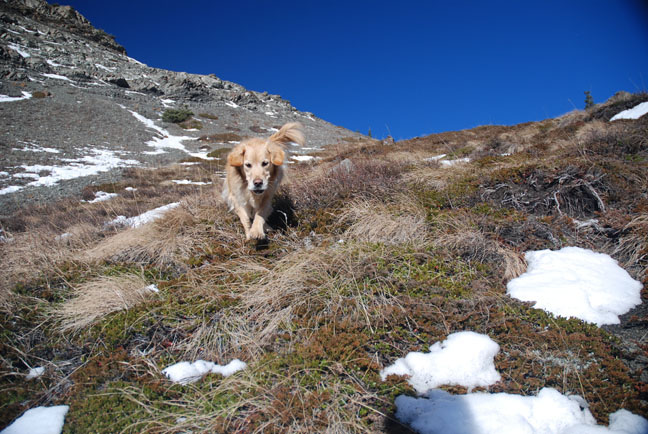 . . . . . and Abby flies to the bottom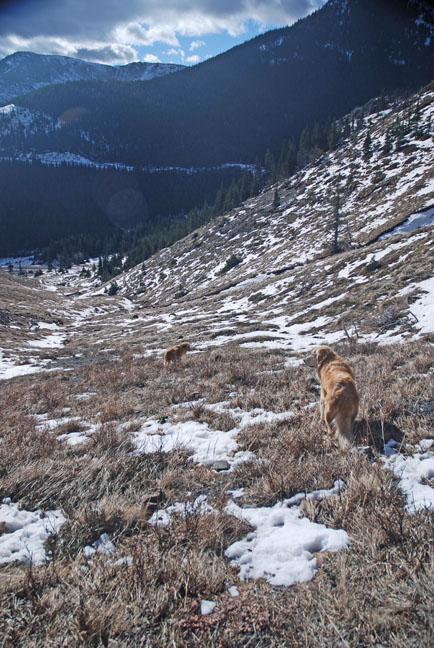 Windswept . . . . . even on the way down
Winter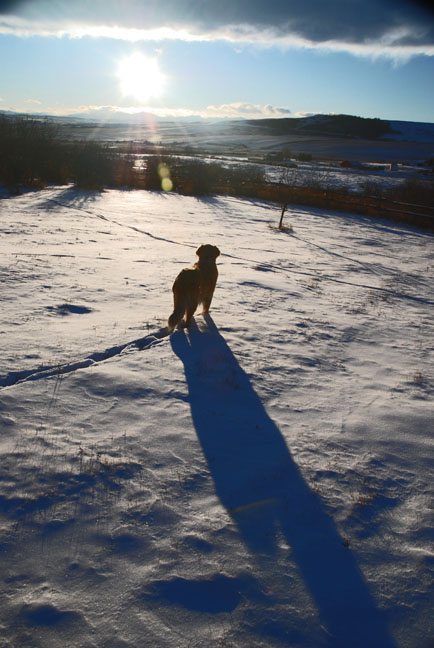 Low winter sun, long shadow for Keeper under a Chinook Arch
Y'all look good says Abby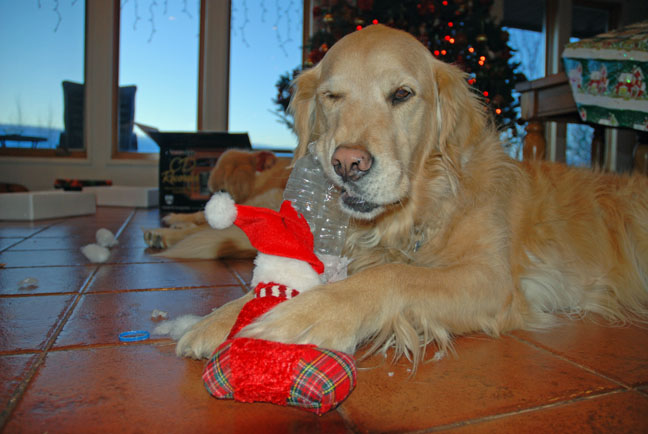 Abby digs into her presents at first light on Christmas morning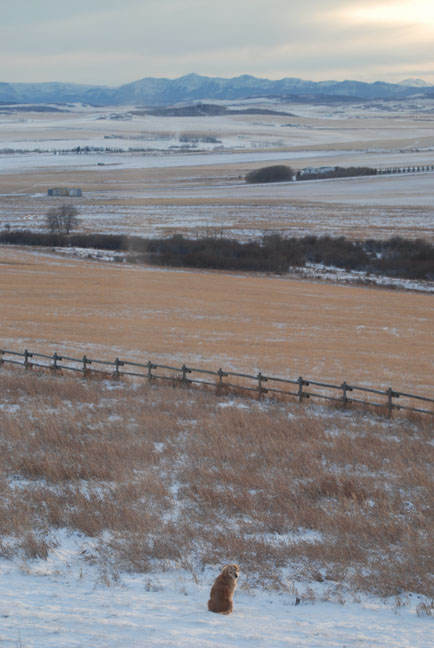 Abby . . . . watching the end of day. I was inside the house with closed windows and snapped two frames before she turned around and looked directly at me.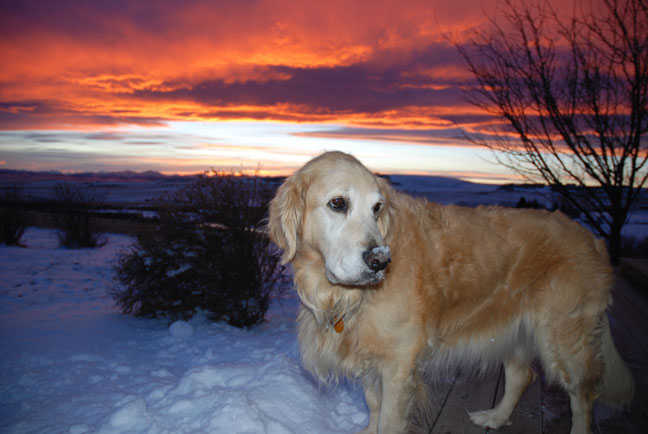 Keeper at sunset
A WINTER WALK TO RAWLINGS LAKE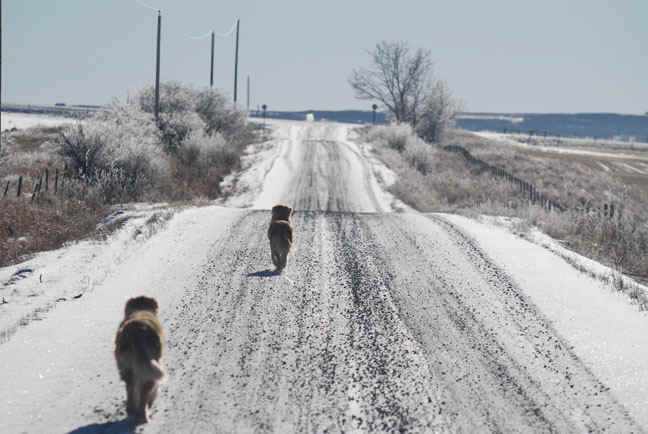 At home, an afternoon walk on our country road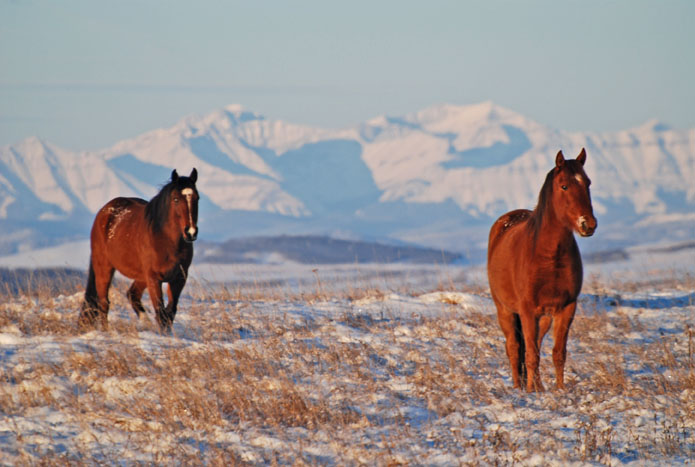 Our favourite horses pose again in the early morning south of Okotoks . . . . these two have been waking up to this view, if they only appreciated it, for years.
ONE FINE DAY . . . .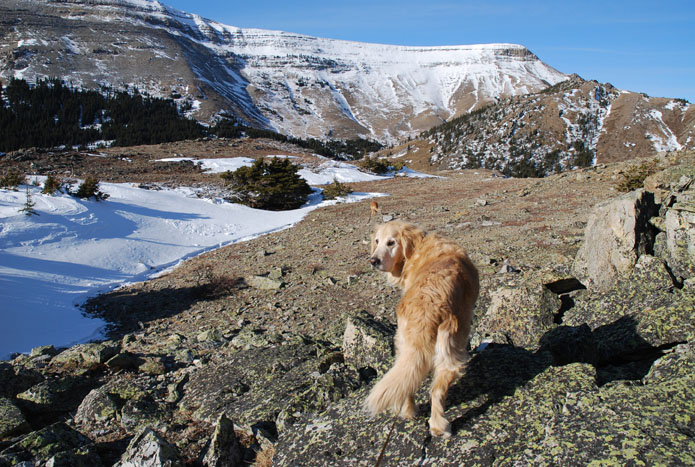 "Come walk with us," invites Keeper with Abby up ahead as usual, ridge walking at the end of January in Kananaskis . . . . .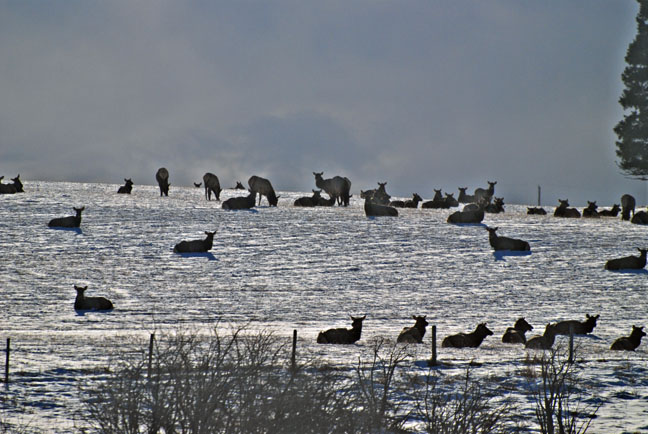 A field of ears . . . . . a herd of elk resting in the early morning glare.
Bird society . . . . the feeder is a busy place in the winter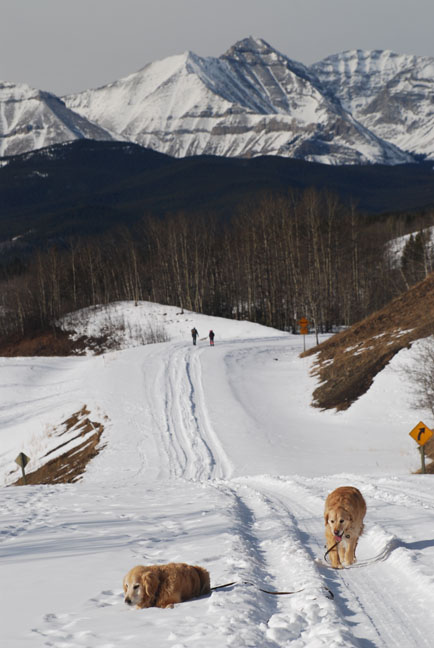 A few minutes after a cougar had passed behind us . . . . . we were unaware, as were the people ahead of us in the picture above, until some others we had just passed told us what they'd seen when we were turning around to go back home. They had watched the cougar lounging afterward in the river gorge but when we went back half an hour later, with a big rock in one hand and a big lense on the camera in the other, we didn't see him. The phantom encounter . . . . but a lucky day for Abby and Keeper who would have made a nice snack for such a predator.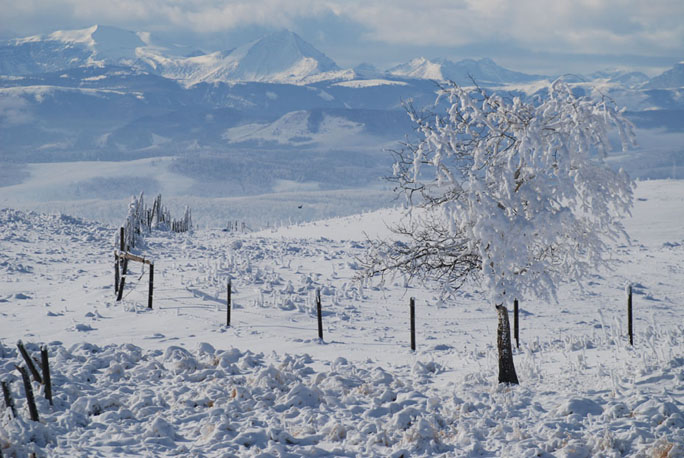 After a week of off and on snow and ice fog . . . . the sun broke through.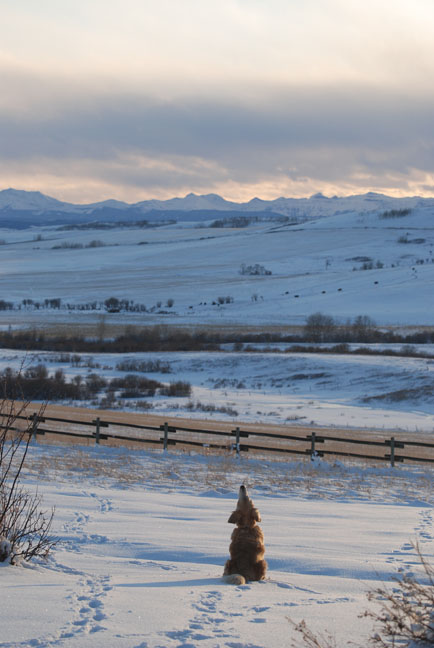 Keeper barks towards sunset, keeping the villians away
A SPECIAL DAY IN LATE WINTER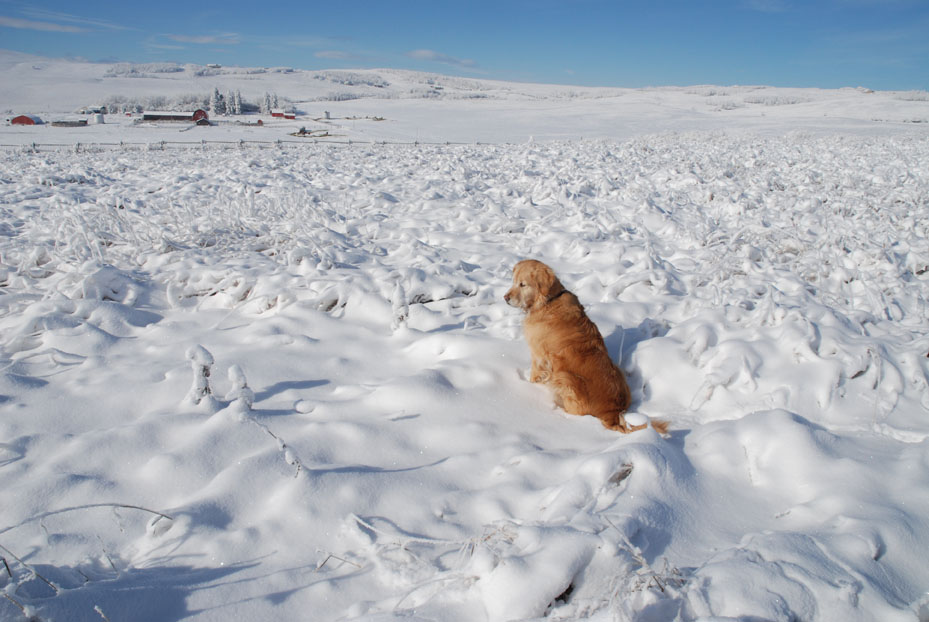 There are some days that stand out more than others . . . . including this one with a fresh blanket of frost and snow . . . . . Abby's world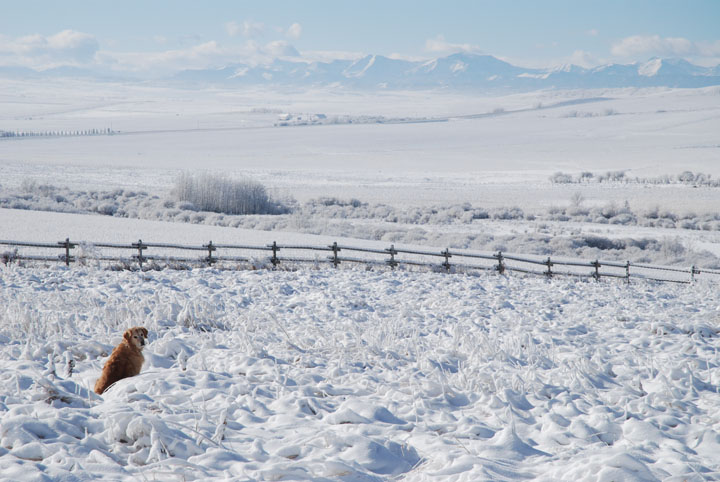 Same spot, different angle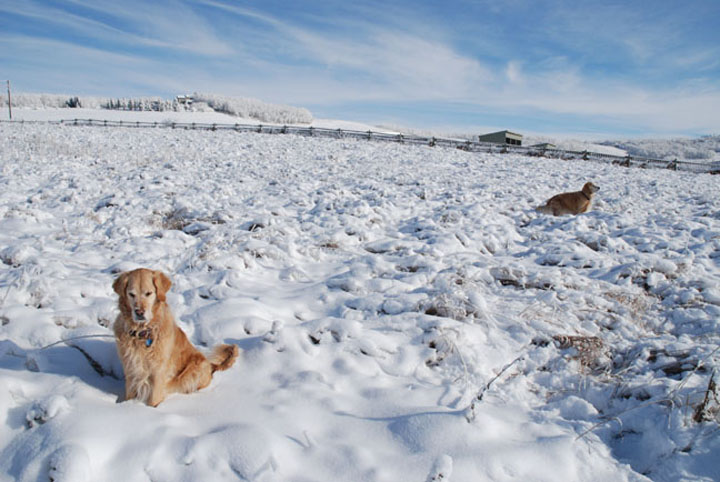 Same spot again, different angle, Keeper in the background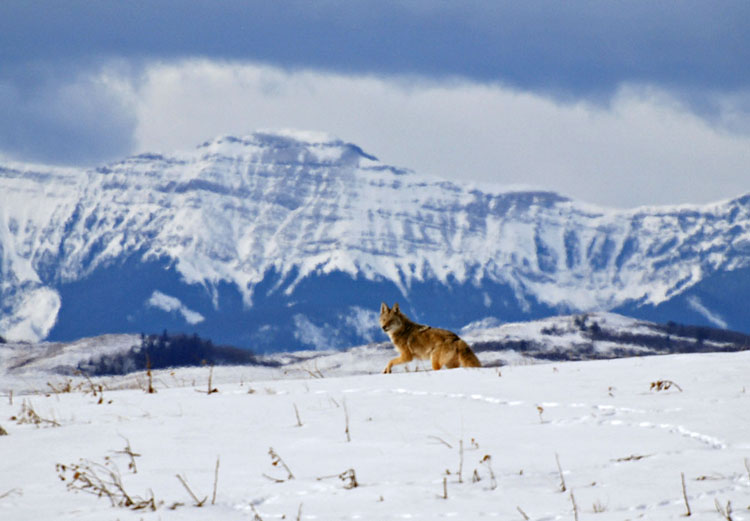 Canus Latrans . . . . the common coyote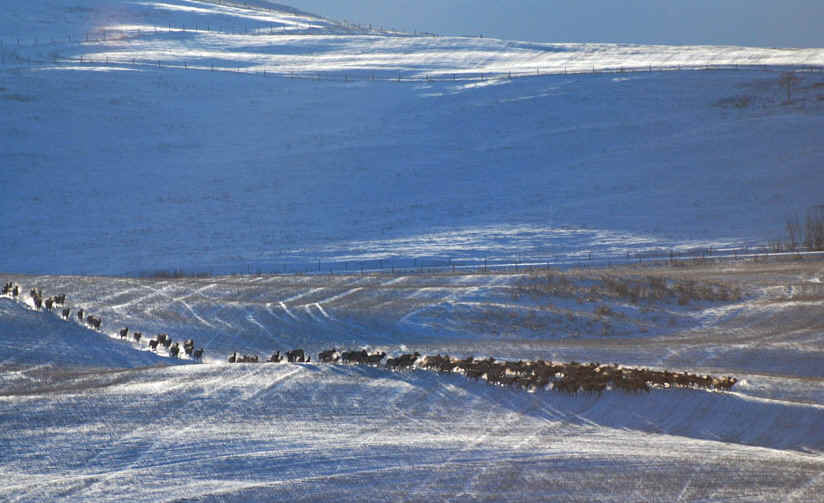 Elk stampeding across the valley at sunset . . . . . a rancher on a snowmobile, upset they'd been eating his hay, had chased them off the ridge in the background
Abby hunts for mice, ready to pounce and listening intently for movement under the rapidly diminishing snow
EARLY SPRING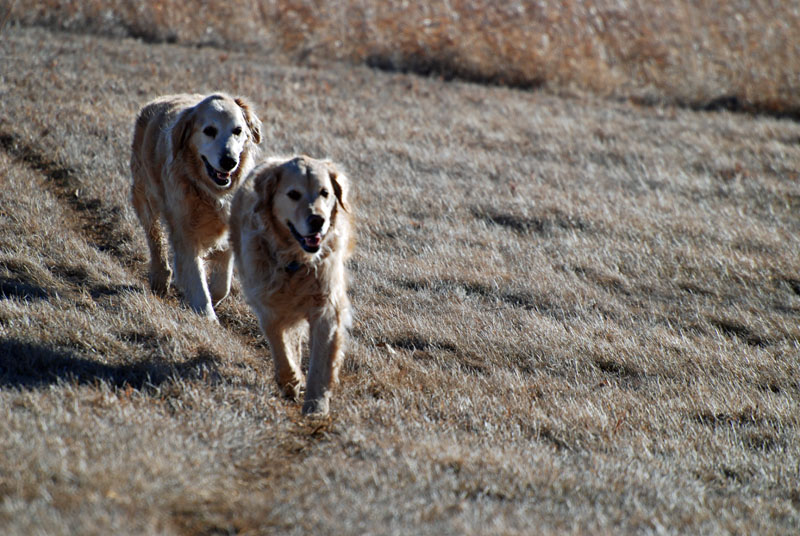 Runnng for home . . . . . Abby and Keeper have worn spoke-like grooves or "cow trails" in the lawn grass, going in all directions, that they faithfully follow.
Winter Returns . . . .Again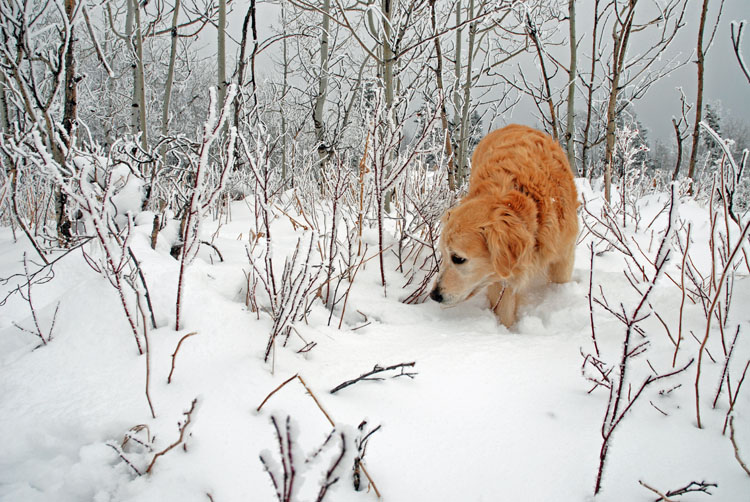 Good Friday in early April . . . . . not so good with a big dump of snow, gloomy fog and a big wind . . . . but Keeper liked it fine for a walk through the forbidding forest near their home in southwestern Alberta
Abby explores a hillside under low-lying cloud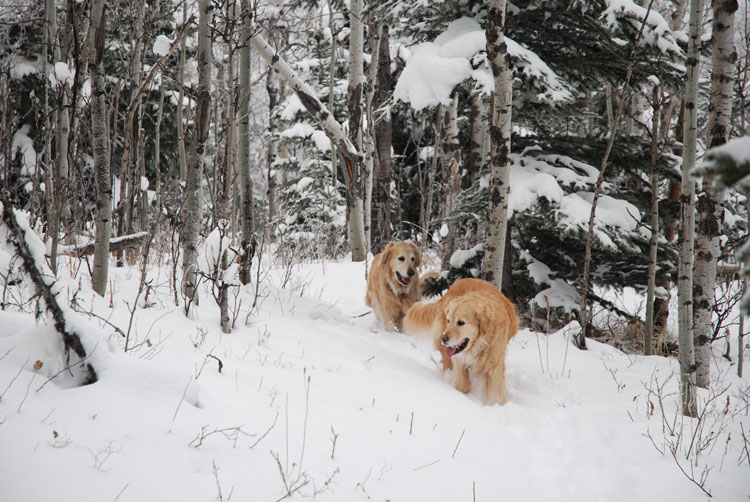 On the trail . . . .
Ice Cold In Alix . . . . Keeper Goes For An Unexpected Swim
It's Good Sunday in early April and we're walking around the lake in Alix, Alberta. I've kept them off the lake given the time of year but Keeper and Abby disappear around a corner and I come across the scene above, Keeper having gone through the ice at the shoreline weakened by the local beavers. I rapidly scramble through the brambles, shooting these scenes from the hip with a forgiving 18 mm wide-angle lens . . . . the camera would record 18 seconds passing between the picture above and the rescue below. Never let your kids out of your sight!!!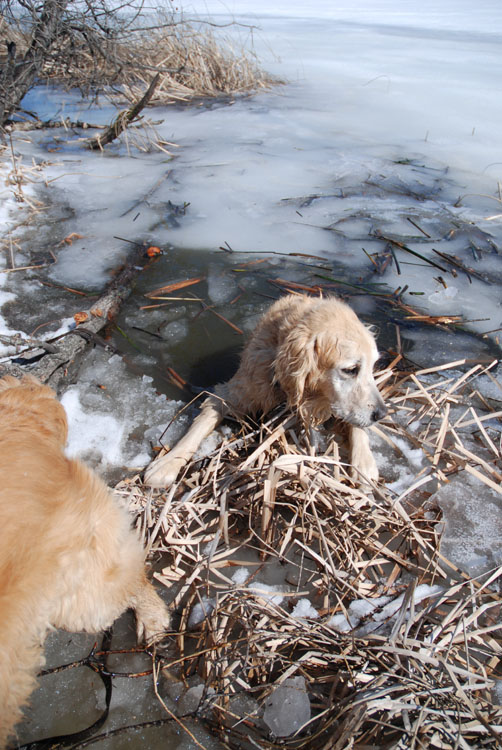 Seven years ago Keeper went through the ice of a slough near her home but that predicament was far more dire, only her head and paws above the ice as she struggled to find purchase. In this case, her feet seem to be touching bottom but she's still too far in to get leverage to push herself out.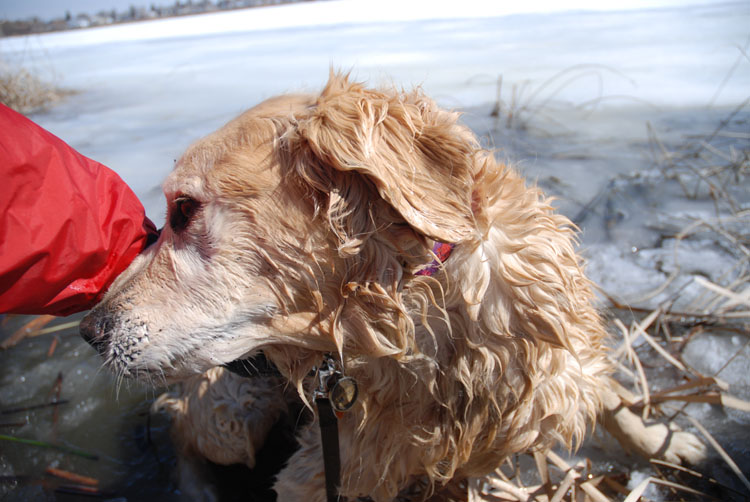 The rescue, I grab her by the collar and haul her upwards and out . . . . . soaked for sure. Fortunately, less than a minute had passed from the moment she went in to her rescue.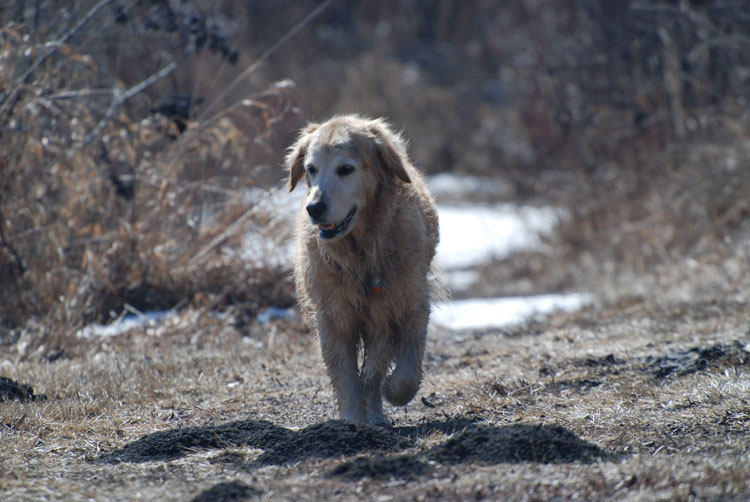 A few minutes later, a happy-go-lucky Keeper trundles down the path, the scenes above already a fading memory.
CATS!!!
They don't get much publicity, but Abby & Keeper do share their home with other four legged critters . . .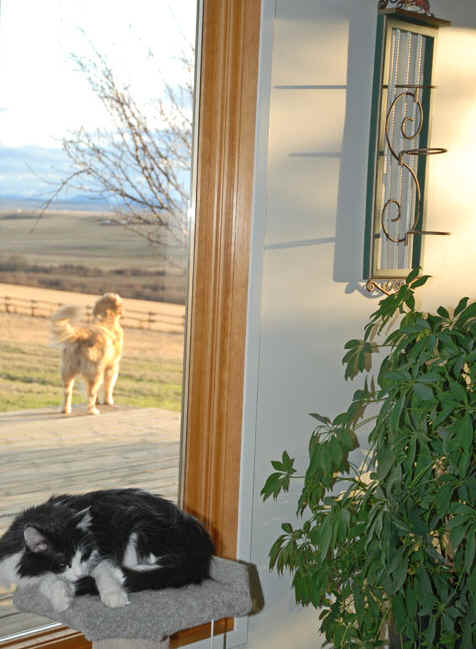 Maude snoozes while Keeper barks towards sunset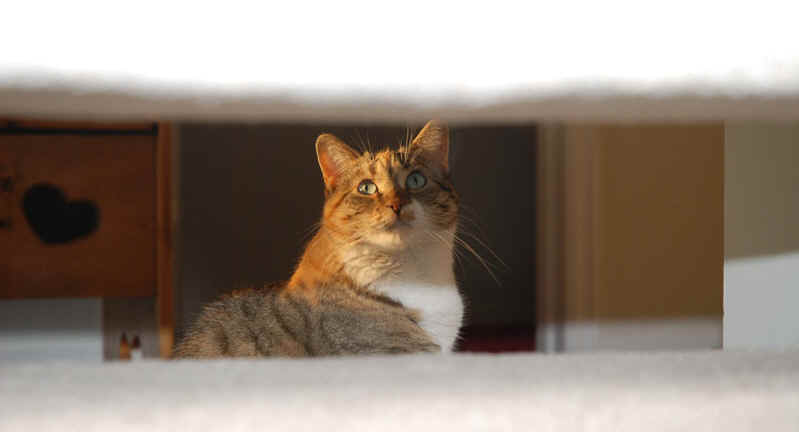 Polly at sunset, through the stairs
Upside down Skyler . . . playing on the stairs is one of his favourite things to do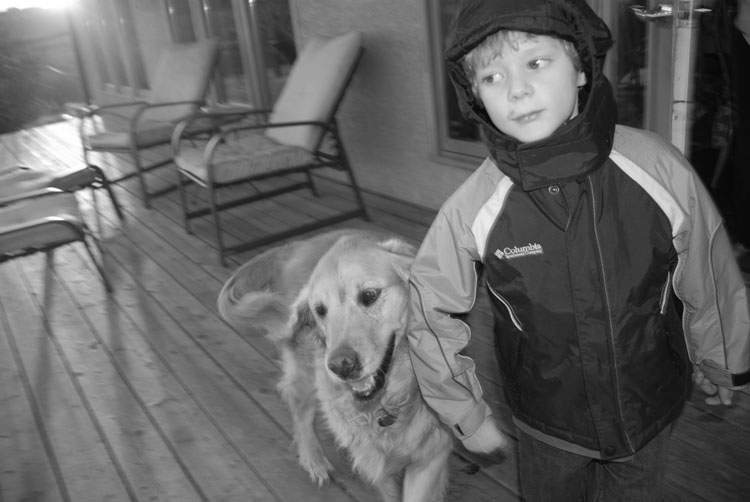 Abby attends a visiting friend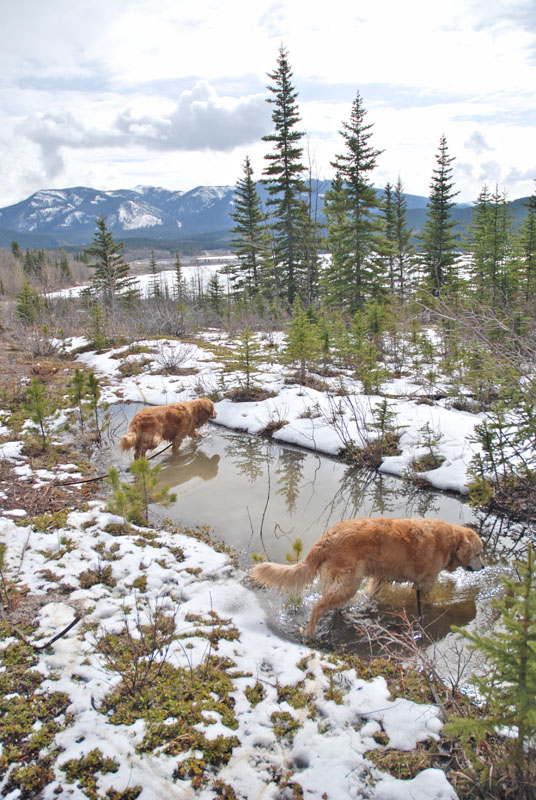 Abby and Keeper explore the Jewel Pass/Barrier Lake area in Kananaskis in the third week of April
Early Spring 2007
A Golden dream . . . . . Abby and Keeper run free across the endless, windswept prairie.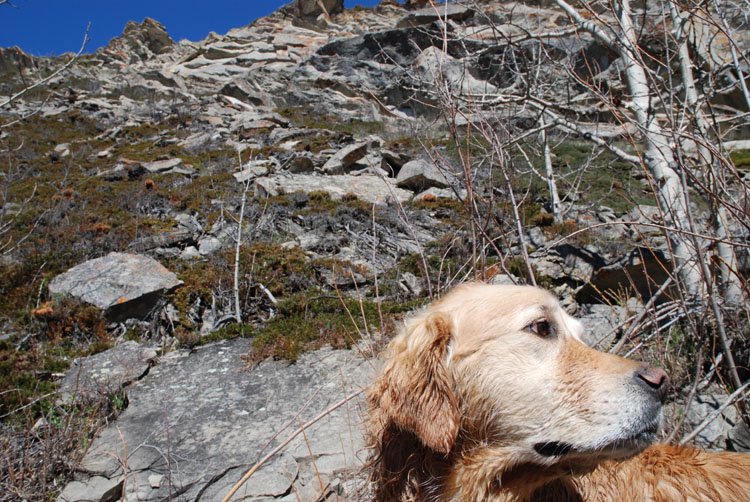 "We have to go up there??!!" Abby contemplates a steep climb . . . . but we took another way around.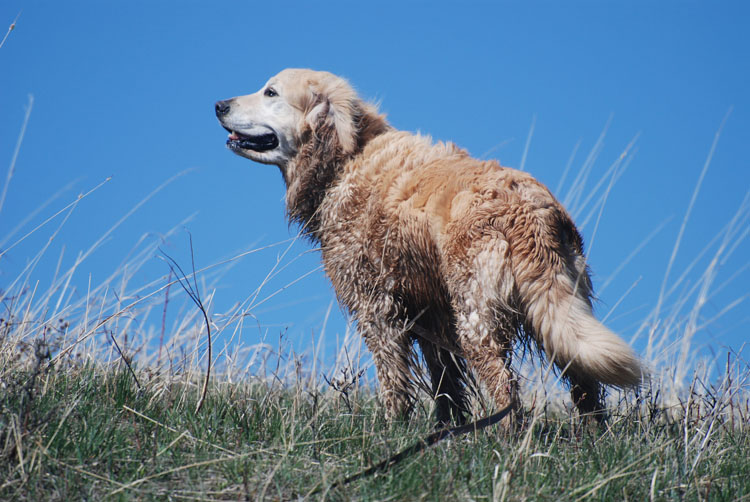 Windblown and wet . . . . . a happy Keeper leans into the wind.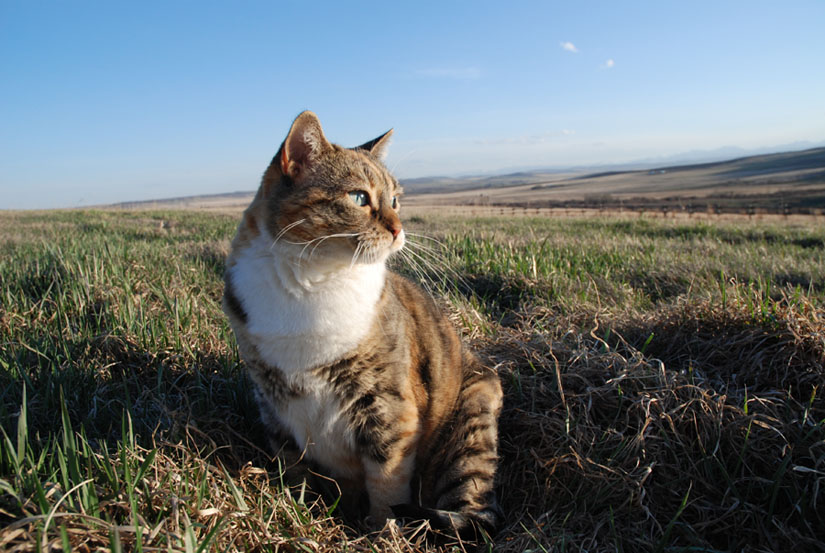 Polly at home in her yard
Coming in for a landing
Some notes from earlier . . . . .
Polly, who lost her back feet two years ago, gets to go outside with constant human supervision and is beginning to overcome her handicap. She astonished everyone by catching a mouse the other day near the deck and although it later got away when she was playing with it, the principle of the thing still stands!!!
Awhile ago, in the twilight of the early evening, I went down to the far corner of our property to investigate a disturbance and found a couple of coyotes baiting Abby & Keeper.

They were just outside our fence, putting our dogs in a very frothy frenzy . . . . coyotes are very clever that way.

I broke that up and sent the coyotes scurrying but poor Keeper was so exhausted - and its been over 90 Farenheit here the last few days - that she couldn't make it back to the house and collapsed on the grass.

We ran back and got a bucket of water and gave her a few gulps then I carried her the rest of the way.

It took about an hour and a half for her to finally stop breathing heavily and settle into a quiet snooze on our cool marble floor.
The same two coyotes were howling up a storm at six this morning, sitting on some bail rolls outside our fence. I chased them off again . . . . but they were beautiful in the early morning sun on top of the bails.
Abby and Keeper and me were out in the Bluerock area west of Turner Valley, Alberta, in the Rocky Mountains, in early August and we were loping along the banks of the Sheep River looking at waterfalls and what not.
We were on the trail and I glanced behind me and a small black bear had emerged from the bush about 50-75 feet away and was eyeing us up and down. Abby and Keeper didn't see this as they were on a leash and forging ahead, pulling me along. I kept up a slow pace and glanced over my shoulder a couple of times. The bear pointed itself at us and raised its nose . . . . but the next time I looked back he had disappeared on the other side of the trail.